La Mesa, California, is known by its civic motto "the Jewel of the Hills." With sunny and warm weather year-round, outdoor activities should be on the top of your agenda during a stay in La Mesa. Located in San Diego County (only 9 miles from downtown San Diego) and on the San Diego Trolley line, La Mesa is a convenient base for a Southern California vacation.
Lake Murray
This massive reservoir is located within the Mission Trails Regional Park. Lake Murray is a popular destination for shore fishing, boating, kayaking, and more. Picnic areas (including some with grills) are available, and the gorgeous scenery is the perfect backdrop for a packed lunch or a family barbecue. Those more interested in stretching their legs can walk, jog, or rollerblade on trails around the lake.
Mt. Helix Park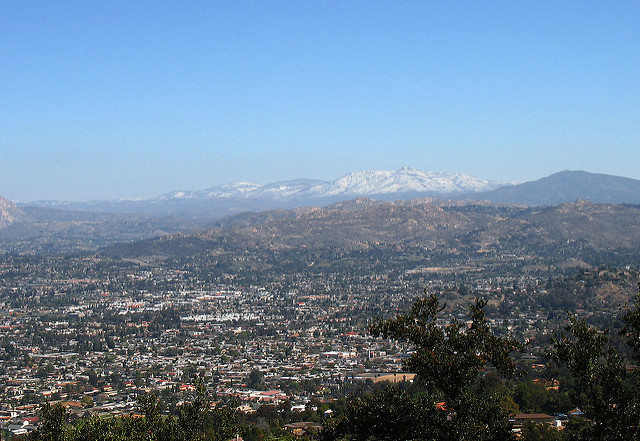 Image via Flickr by Allan Ferguson

With a catchphrase ("The Crown Jewel of East County") that mirrors the nearby town of La Mesa's, this park has ample opportunities for fitness buffs. The hike to the top of Mt. Helix is about a half-mile, and you can use the easy Yawkey Trail to walk down. Drop-in yoga takes place several days a week in the park, as well. This park has picnic areas but no barbecues (fires are not permitted). Mt. Helix is very popular with photographers who enjoy capturing the natural beauty and wildlife in the park through their lenses.
Sweetwater Summit Regional Park
If you're looking to spend a little more time in a park, camping is available 24/7 at Sweetwater Summit. The 500-acre park boasts several activities, including horseback riding, a splash park (seasonal), picnic areas, an exercise course, and around 15 miles of trails. You can also fish in the reservoir. If you have a large group, such as a wedding party or family reunion, a community room and large pavilions are available to rent.
Secret Stairs
Not so secret anymore, this pathway of public stairs in the Mt. Nebo and Windsor Hills neighborhoods was originally designed to move pedestrians through the area while staying off the roads. Many of the stairways have very steep ascents, so this circuit can be incorporated into your fitness routine! Follow the map on the City of La Mesa's website above to discover all the stairways tucked into corners around the neighborhoods. Bring a bottle of water and wear good shoes.
Oktoberfest
If you're not an outdoor fitness enthusiast, consider timing your trip to overlap with the famous three-day La Mesa Oktoberfest held annually in La Mesa. This huge German festival draws more than 200,000 people each year, who come for the beer, bratwurst, and entertainment. Beer gardens, a dance square, live music, games for children, and German food stalls galore make Oktoberfest a celebration to remember.
Though La Mesa is a small town, it has a lot to offer. You can find many more parks and urban trails in and around La Mesa. Take advantage of the beautiful weather and easy access to nearby destinations!