Working in the scuba diving industry for the last two years has opened up my eyes to a whole new world of dive travelers. I don't often get to travel on dive vacations, but I work every day with people who are on them. After seeing my guests have great trips (and some not-so-great), I feel like I can offer some useful advice to those planning a dive vacation.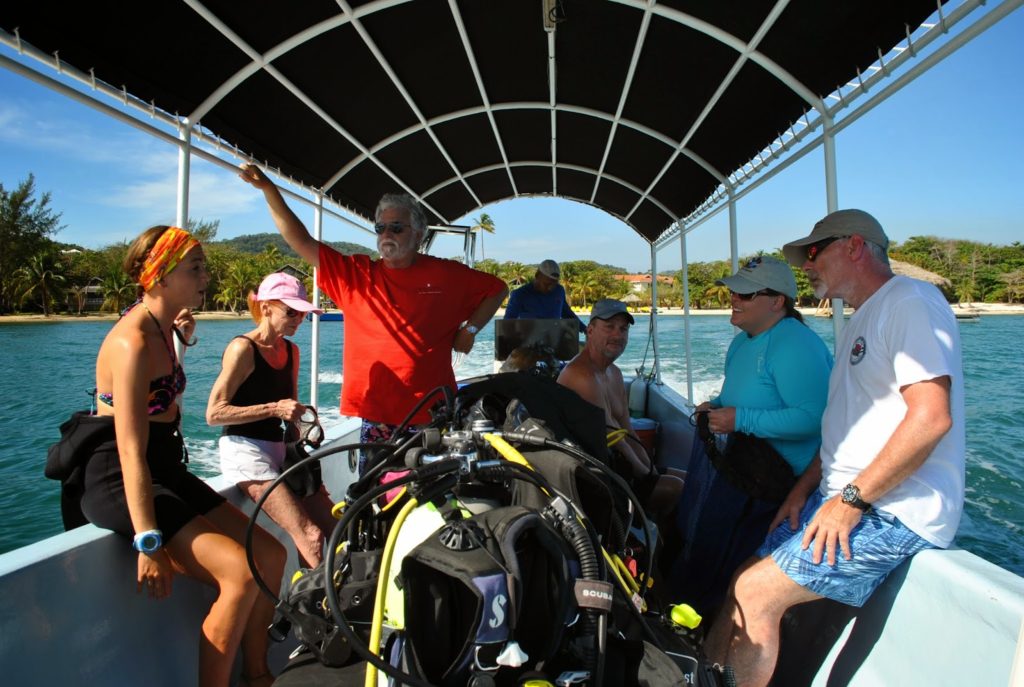 me at work, taking out some of my fave divers
photo courtesy of sarah
1. Choose your location based on what YOU want as a diver.


If you don't like diving in cold water, steer clear of most of Europe and northern parts of the Americas. If you like macro stuff, check out Bonaire, Australia or the Maldives. If you like big stuff, maybe the Galapagos or Palau is for you. Wrecks? Truuk Lagoon, or the Philippines. Crazy currents and swimthroughs? Cozumel. Super easy, warm water, no current, good viz, laid-back, varied topography? Roatan!!
The point is, you need to think about what kind of diving you want to do, and then research to find the right location for you. I've had divers come to Roatan and complain about the topography or marine life. Sorry, not my fault you didn't do your homework before booking your trip! If you're booking dive trips based on short flight times or cheap costs, then if it's not the kind of diving you like, that's bad planning on your part. Always check the time of year that you're going – there is usually a 'season' for good diving in most places.
2. If you're traveling with non-divers, you should think about them too.


A place like Roatan has a finite amount of stuff to do for non-divers. This is a small island geared towards diving. If your significant other/kids don't dive, they can zipline, go to an iguana farm, snorkel, go to a dolphin show, lay on the beach, or get drunk. That's basically it. So if you have other people to take into consideration on your trip, make sure you look into non-diving activities for them before booking to make sure they get to have an amazing time too.
3. Get your gear serviced before your trip.


And if it's 47 years old and falling apart, replace it or rent gear on your trip. That is all.
4. Take a refresher BEFORE your trip.


I feel like I can't stress this one enough. If you are a certified diver, and have been out of the water for more than six months, you should really take a refresher before you go on your trip. If you sign up for fun diving, you're expected to have your basic diving skills, equipment set up, familiarity with operating all gear, and hand signals down when you first step onto the boat. It is NOT the divemaster's job to babysit you while you flail around and/or give you a 'free' refresher on the first dive of your trip (you would be surprised how many people ask me this – would you do your job for free?) If you are that guy who does that, you better give your divemaster a big tip and apologize to the others on the boat.
If you live somewhere chilly, it's usually done in a local pool or dive tank and only takes a couple hours. You don't want to waste precious vacation time trying to remember how to put your gear together, or being that guy on the dive who can't control his buoyancy and isn't responding correctly to the dive lead's hand signals, so just pay the $50ish and do a refresher before you go. You can also schedule a refresher with almost any dive shop at your destination for the day before you start fun diving, so there is that option too, but why not save time and do it at home?
You can also use this refresher session to test out your newly-serviced or new-to-you gear to make sure everything is working before you depart. I can't tell you the number of times that a diver 'just got it serviced' and had something go wrong on the first dive of the trip. Better to find out at home that it wasn't serviced properly than on vacation where they may not have the parts to fix it.
5. If you're going to get certified on your trip, consider online learning to cut down 'homework' during vacation time (ie. more drinking-margaritas-poolside-time).


A PADI certification course can take anywhere from 3-5 full days to complete, and if you do the entire course on your vacation, there's about 12-15 hours of reading to do at night. Who wants to do homework while they're on vacation? Not me! Take care of the academics at home by signing up for online learning and completing it prior to your trip. You can even complete all your confined water sessions with your local dive shop in a pool too, and then all you have to do is 4 open water dives (just 2 half-days) at the beginning of your dive trip and you're certified! Most courses have mandatory medical forms that need to be filled out (and a physician's clearance obtained, if necessary) prior to the course, so save yourself the headache of trying to find a doctor in your vacation destination and get this taken care of at home before you go too – just ask the dive shop to email you the form.
6. Do your research on tipping customs where you're going, and budget accordingly.


Have I mentioned this enough on this blog? If you can't find the answer online about customary tips where you're going, ask the dive shop. Budget for a super-amazing-service amount of tips, and if for some reason you end up giving less than that, then you have extra beer money. Everybody wins.
7. As with all types of vacations, check entry/exit requirements, visas, etc.


Here on Roatan, you won't be permitted to board your flight to the island unless your passport is valid for at least six more months. You'll also be turned away at the airport if you are coming from a yellow fever country without proof of a vaccine. When you leave Roatan, there is a $40 exit fee you have to pay. Check luggage limitations if you're carrying scuba gear. These are the kinds of things you need to find out well in advance – getting denied entry to the country or a massive surprise baggage charge is never a nice way to start a vacation.
8. Make a reservation, and get confirmation in writing.


If you are one of those divers who thinks it's perfectly fine to show up at a dive shop with no reservation and then scream at the staff because they're full and can't accommodate you, someone should turn your air off underwater. If you didn't make a reservation, you need to keep your trap shut if the shop can't fit you in. End of story. Most shops don't turn away divers for fun (duh, they want your money!) so if they tell you they're full, then they're full. You snooze, you lose.
Everyone needs to make reservations, especially those looking to do dive courses, junior divers (who often require private guides at many shops due to their 40′ depth restriction), anyone diving during holiday times and those traveling in groups larger than a couple people. Dive shops often need to arrange extra boats or staff in advance for courses or big groups….usually owners don't like to pay a bunch of staff to sit around when there are no divers scheduled (weird, right?) Yes, some select shops operate on a first-come-first-served basis, but you should find out beforehand. If you don't make a reservation, then if you go to the one you'd like to go out with and they're full, your job is to politely say, "okay, thank you!" and head over to another shop to check for availability there.
9. Ask the dive shop for information.


You are our favorite kind of diver – you make your reservation, pay your deposit, ask for information and then do what you're supposed to with the information you've been given. Be that kind of diver!!
This is your chance to chat with the office staff before you arrive to get all the details down. Ask things like:
do I need to come the day before I start diving to get geared up, fill out paperwork and get a shop orientation? Do I need my certification card and logbook?
how far in advance of the dive times do I need to be at the shop? (Do not show up early, because you will be in the way of staff trying to get the boats set up for the day. Do not show up late, because you might miss the boat or make everyone else late. Show up at the time the staff tell you.)
if my wife/kids/friends are interested in snorkeling/doing a Discover Scuba Diving experience/ridealong on the boat, what is the cost and do we need to schedule this beforehand?
how are the dive sites chosen daily? Are they guided? Are there depth and bottom time limits? Do we come back to the dive shop for surface intervals or stay on the boat? How long is the ride to the dive sites? What am I allowed to bring on the dive boat? Is there secure storage at the shop for my belongings while I'm out diving? Do I need any special certifications to do any of the dive sites? Is there shade/water/fruit/towels on the boat? Is there valet service or do I need to haul my own gear/tanks and set it up?
It would be really cool if you can try to think about most of your questions and get them all in one email so it isn't an endless string of back-and-forth questions for the office staff… but we'd rather you get all the information prior to the trip, so that we can avoid you finding out on the first day that you don't get to do 85 minute dives and having a fit, so ask away. (Check the dive shop website first. Most have FAQ sections. Don't waste the staff's time asking stuff that's already answered on their site.)
10. Have fun!!!


So what if the viz is a little shitty, or it's a couple degrees colder than you thought? Things the dive shop can't control: weather, visibility, currents, marine life (hello, do you think we call up the manta rays and turtles and ask them to come by to see you on the dive?), water temperature, etc. so please don't complain about those, because we can't do anything about it. If you book with a reputable shop with experienced staff, you should know that they're giving you the absolute best dives they can given whatever the conditions are, so relax and enjoy it! Make sure you listen to the briefings and instructions, look for cool stuff on your dives, take badass underwater pics and post them to Facebook to make your friends at home jealous, get to know your fellow divers, buy your divemaster and boat captain a beer at the end of the day. Even a bad day underwater still beats a good day at the office 🙂
Diving vacations are not cheap, and I know all too well what it is like to work your ass off all year for a measly two weeks off. Following these ten steps will ensure you have the best dive vacation possible, which is what the dive shop staff want for you, so help us help you have a great holiday experience. Happy bubbles!