On this Japan + JET Programme FAQ page, I'll be linking to my posts that I think are particularly helpful for those of you looking for more information about living in Japan and/or working for the JET Programme.
From August 2016 till August 2019, I lived and worked as a JET ALT in the city of Naruto, Tokushima prefecture, on the island of Shikoku. My city is where the little point of the arrow is on the map below – the very northeastern tip of Shikoku: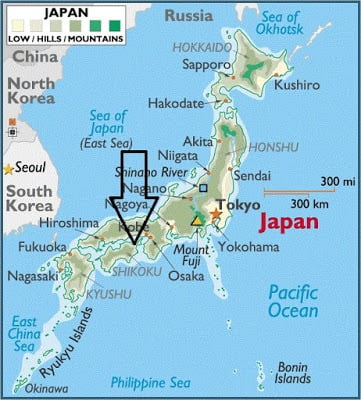 I enjoyed my time in my rural little corner of Japan and I hope you'll enjoy reading about it too. It was difficult for me to find English information about my placement when I got it, so I also hope any incoming JETs to Naruto or Tokushima will find this helpful.
For further insider info on the JET Programme, there are hundreds of Facebook groups and also a subreddit where incoming, outgoing, current and former JETs congregate to ask questions and provide answers. There is a 99% chance your question is already answered somewhere!
If you have specific questions, I'll do my best to answer but please do search my site (there's a search box in the right-hand sidebar) and read my posts first.
This program has been going on for over 30 years, so there is a goldmine of information available online. Do your research first before asking questions, or be prepared to be roasted in those groups!
NOTE: I do not review Statements of Purpose at all or answer questions about them. I will not respond to emails about Statements of Purpose. There is a ton of info online about this already, plus Facebook groups and reddit threads for people willing to review them.
JET Programme Posts
Japan Travel Posts
Tokushima Posts