In February, we did a Vancouver JET meetup in Okayama City. Besides all the excitement of attending Hadaka Matsuri (the Naked Man Festival), I enjoyed visiting Okayama City a lot. I live in a town of 60,000 so getting to go to a "big city" of 800,000 is a huge deal for me!
Getting to Okayama City
From Tokushima (my prefecture), I had to take a train about from Naruto, change in Takamatsu, and then on to Okayama City. The trip is about 2ish hours each way. My blessed JTE (English teacher at junior high) booked my tickets for me and got me first class reserved seats which were nice. The total round-trip cost was a hair under 10,000yen (about $100), and one of my ALT coworkers was nice enough to drive me to and from the train station.
Once we were all in Okayama City, we just used the local trains to get around. I was able to use my Suica pass there which was helpful (I can't use Suica where I live – we don't have high tech stuff like computerized gates – but I go to Osaka frequently enough that it's nice to have). Okayama City also has a really cute 100yen streetcar downtown that we used as well.
Where to Stay
There were four of us and we usually stay in business hotels when we meet up, but this time we went with an Air BnB because it was easier to coordinate everyone when we were in the same place. Air BnB is getting a great footing in Japan and the government seems to cautiously support it so far. There's some really cool places available! I'm a huge Air BnB fan. You can check out Air BnB here and get $25 off your reservation (heads up: I'll get a credit towards my next stay too!)
We stayed in this apartment and it was perfect – we walked to the areas with bars and restaurants and we were close enough to the train station. The host, Hiro, was funny and spoke great English. He picked us up from the train station on time and gave us lots of info about the area. The apartment was just as advertised, and worked perfectly for us. We were even able to stumble back from downtown after karaoke at 4:30am with no problem, though it was a bit of a walk (we needed it anyway!).
What To Do
Aeon Mall
Let's be real: I spent a lot of time at the mall! Hey, I'm deprived where I live. And Aeon Mall in Okayama City is one of the biggest in Western Japan. It was crazy how many stores there were!
We really enjoyed the food court at the Aeon Mall and ate there a few times. I have never seen such a cool food court! It's very hipster and looks like it could be in Portland. The food was great, as it is everywhere in Japan. Food court food is still fast food, but nothing like North American crap mall food. Japan has this thing where they just don't do shitty food, and I love that.
Okayama Korakuen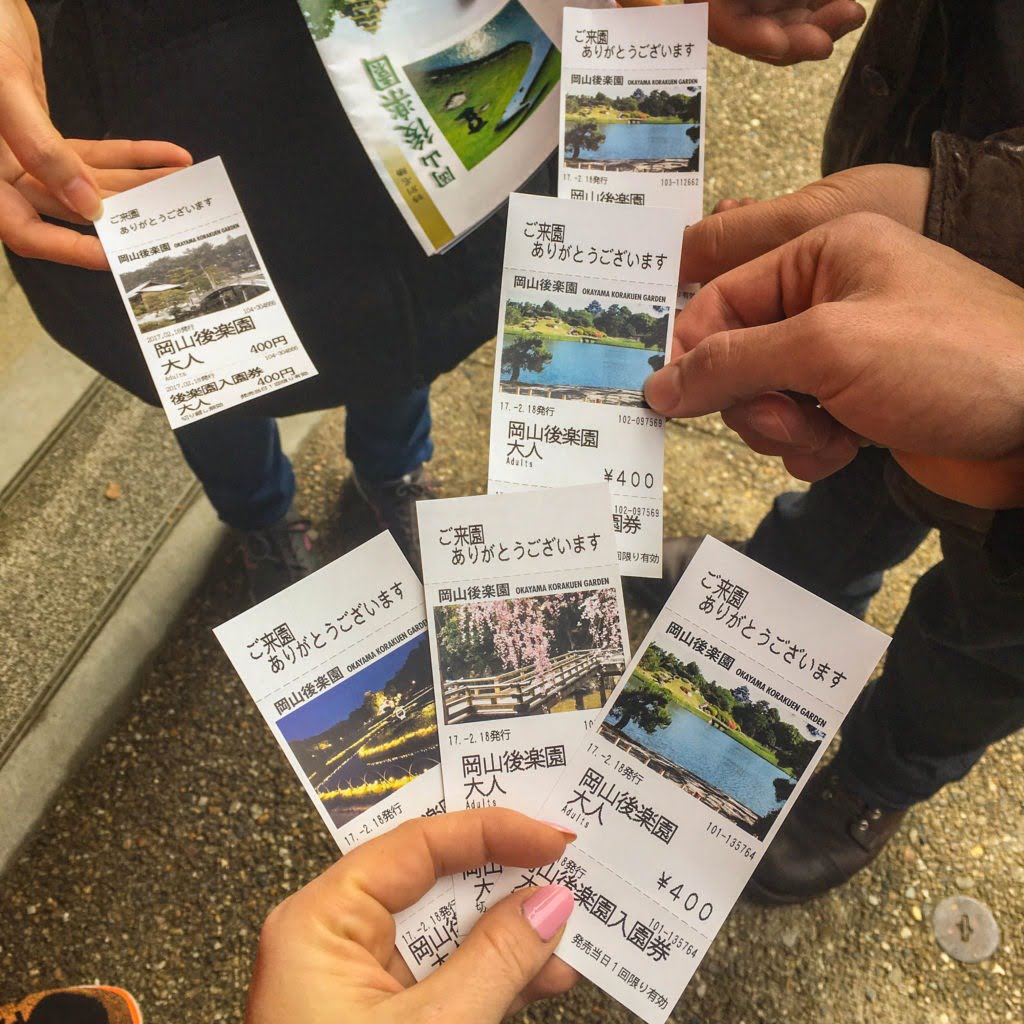 One of the Three Great Gardens of Japan, Okayama Korakuen is definitely one of the best-looking Japanese gardens/parks I've been to. (I think Ritsurin Garden in Kagawa is spectacular as well!) Even though it was mid-February when we visited, it wasn't cold.
I imagine it must be completely different in spring and summer when everything is in bloom, but it was still gorgeous in winter. We managed to find a few plum trees in bloom.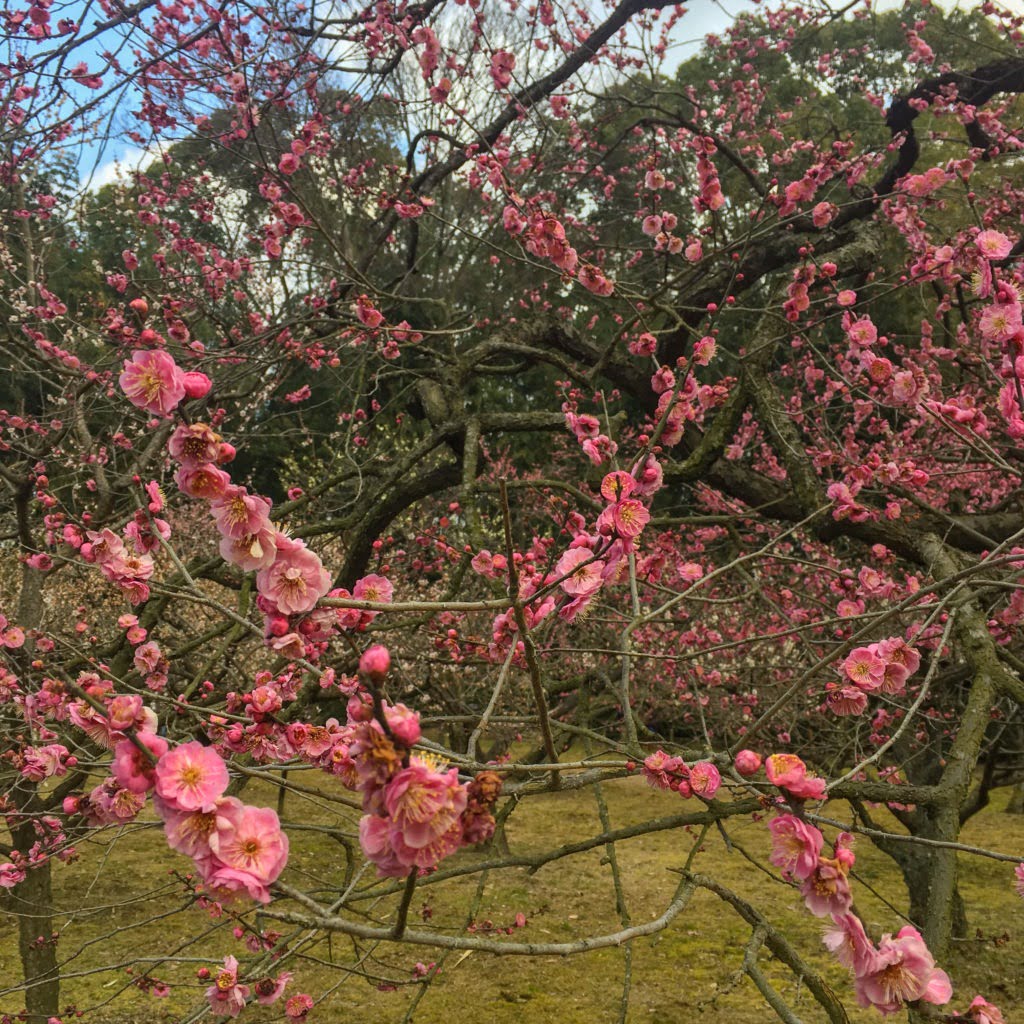 I was thrilled to find a little coffee pavilion inside the park, and didn't hesitate to grab a cup. The coffee here comes with a little kibidango (a type of millet dumpling) dipped in cocoa. I loved sitting on the benches in the pavilion, looking over the tea garden while sipping my (very strong) coffee. I haven't been that relaxed in a while.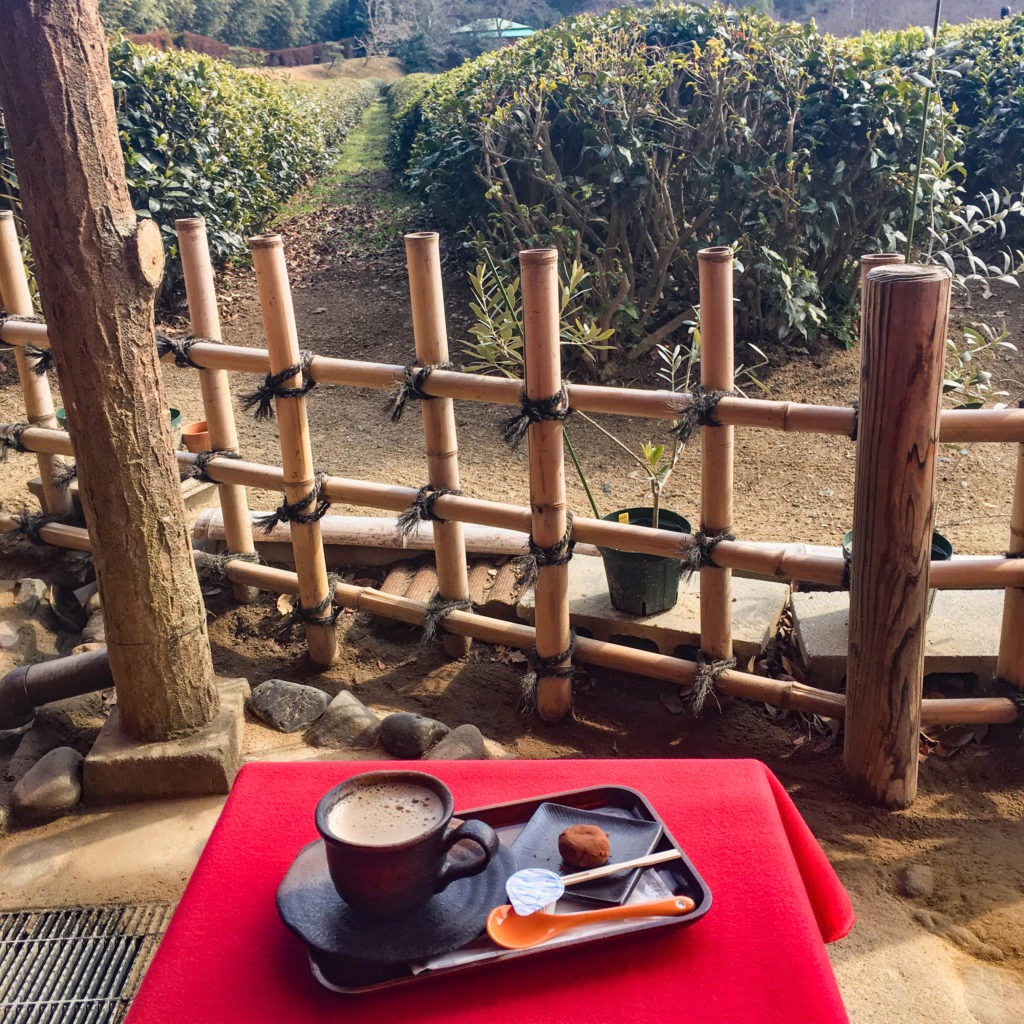 Okayama Castle
We were lucky enough to visit Okayama Castle with our friend Jack, who is a former archaeologist and had all the info about the castle from living in the area, so he gave us an informal tour. I learned a lot! The castle standing now is a rebuild (the original was burned to the ground in 1945 and rebuilt from scratch in 1966), but still stunning to look at and had a great view overlooking the city on all sides. It's all black and gold which earned it the nickname "Crow Castle" or "Golden Crow Castle". All the jazzy gold and black on the front made me want to rename it "Beyonce Castle", but I don't think the Okayama-ites would go for that.
Kurashiki
Kurashiki is a famous historic city near Okayama City that might be the most picturesque town I've ever seen. It is definitely worth the trip if you're in Okayama and is easy to get to by train (it's on the Sanyo Line between Okayama and Fukuyama). Kurashiki is an old merchant town and they have kept up all the old buildings and character of the area. It's fascinating to walk around and see all the history, and the carefully cultivated layout of the town and attractions. It's pretty touristy, but I still think it's worth seeing.
There's lots to see if you just feel like wandering around for a day, which is what we did. If you're so inclined, there's loads of art and history museums dotting the town as well as temples and shrines. We just walked around, ate korokke, drank coffee and watched tourists float down the river in traditional boats. It was the perfect end to the trip.
---
What do you think of Okayama? Which part would you like to see the most?
Want more Cubicle Throwdown in your life? Of course you do, you rockstar. You can follow me on Facebook, Twitter, Instagram, G+ and Pinterest, if you like. You can also add me to your Bloglovin' feed, or email me! If social media is not your jam and you just want my posts straight to your inbox, check out the sidebar and put your email address in the "Never Miss A Post" box. No newsletters or spam, just my posts – scouts honor. xo!