I'm back on track with my roundup schedule now that my site has been moved! It seems like everything is working okay, but as always, if you find something wonky please let me know. So far the response to the redesign seems positive – let me know what you think in the comments below!
What I've Been Doing Since the Last Roundup
Finishing up the school year! The school year in Japan runs from April to March, not September to June like Western schools. We had graduation for my elementary schools and junior high near the middle of March, and the last couple weeks of school were kind of a write-off, which was just fine with me.
I also spent 8 days in the Philippines in Coron! It was sunny every day, I went scuba diving, I drank champagne in the hotel pool with my friends and I had a fabulous vacation, complete with a tan (that may or may not have started as a fairly horrific sunburn…haha).
Here's a couple teaser pics for now, but expect lots of upcoming posts about my trip.
I used my new camera for these (a Canon G9X) and I have also been recently introduced to the wonders of Lightroom for editing photos. I still don't really know what I'm doing, so if any pros want to critique my work, go for it but please be kind and constructive! I wasn't able to afford a strobe in time for this trip after shelling out some big bucks for a brand-new camera and underwater housing, so I just did what I could in Lightroom with the underwater photos. Coron diving has mediocre viz with a lot of particulate hanging in the water, so it was a little tricky for photos, especially with a new camera. But I had fun and I'm gonna share them anyway!
My Most-Liked Instagram Photo
Obviously the beautiful photos from Coron were a hit! Since we are basic white females we had to take "jumping off the boat" photos, and my Instagram friends liked this one of me jumping the best: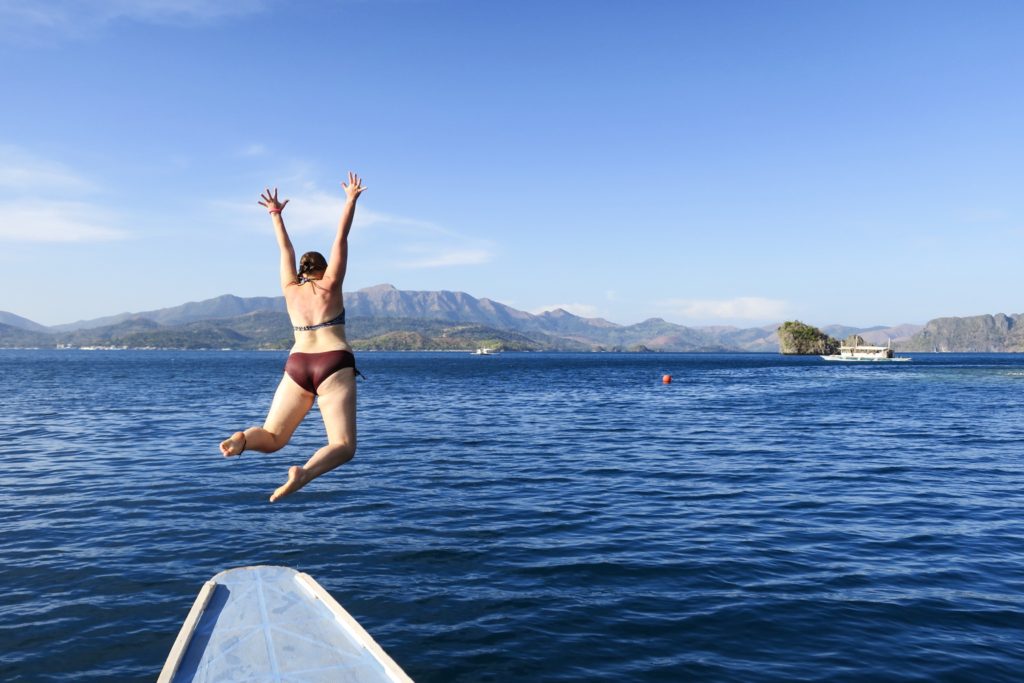 I like it too! What do you think? It's from my new camera, though this version is a little low-res because I took it straight from Instagram.
My regular Instagram side note: my personal policy is that Instagram is a give and take platform. My profile is private and if you don't have any photos on yours or you're selling crap, I won't accept your request! There's just too many scam/spam profiles out there, so I don't accept anyone who doesn't look like a legit user.
In Case You Missed It
As promised, along with my new site I am cranking out posts! Half of them are informational about my life here as an ALT in Japan on the JET Programme, and I'm hoping they will be helpful for the incoming ALTs. The other half are about things I've visited lately here in Japan.
Here's what's been posted since the last roundup:
1 Second Every Day
I use the 1 Second Everyday app to quickly chronicle my time here in Japan by taking a one second video every day. At the end of each month the app puts it together, and you end up with a 30-second video each month. It's cool because it shows what I'm actually doing/seeing each day, not just all the highlights of super fun stuff once in a while that end up on social media. (Not sponsored! I just like this app!)
Highlights
At the airport in Osaka, I went to the special residents line because I have residency here. When the officer saw my residency card, he switched from English to Japanese. I understood all the questions and I answered correctly (enough) in Japanese! Huge victory for me.
The weather is 10/10 here in Tokushima lately. Spring is beautiful and the temperature is great. I'm still worried about summer coming though… I'm not ready for it.
Our hotel in Coron was kind of expensive and I was worried it wouldn't be as perfect as advertised. It ended up being amazing and the staff were fabulous. I'm used to Caribbean "customer service" if you can even call it that… it's atrocious. In the Philippines people offer the best hospitality service I've ever seen.
IT'S CHERRY BLOSSOM SEASON AND IT'S EVERYTHING I EVER HOPED AND DREAMED.
Lowlights
I got sick in Coron. Nothing crazy, but being stuck out on a dive boat ALL DAY with a pretty lame excuse for a head (boat bathroom) was a nightmare. I'm used to diving in Roatan where we come back to the shop between each dive. In Coron, you stay out from 8am till nearly 5pm. It was rough.
Transportation and logistics to and from the Philippines was insane. My friend's bag was lost and then couldn't get to the island for days, flights were late/cancelled, there was a lot of sitting around in Manila airport outside of security with no amenities or AC.
I'm allergic to something here in Japan and have been dealing with killer spring allergies since I got home. So far, none of the antihistamine medications have worked for me. I can't wait to be done with it.
Coming Up
Back to school! The new school year starts in the second week of April so things will be busy for me. After a short two weeks of classes, we get another week off for "Golden Week". So far I don't have any plans for Golden Week, because traveling is ridiculously busy and expensive, so I'm looking at a staycation for that week. I'm dreaming of surfing in Kochi, which is in the prefecture next door… could be doable.
Drumroll… a much-requested Japanese apartment tour video is in the works! It's taken me almost a year to get all the appliances, furniture, decorations, etc. that I wanted for my apartment here in Japan, and it's finally ready. Many people have asked for this, so I'm putting it together. Keep an eye out for that in the future.
Hanami parties galore – Japan looooooooves sakura (cherry blossoms) and they're blooming now which means it's hanami (cherry blossom viewing party) time! Keep an eye on my Instagram to see all the gorgeous flowers I'm looking at while slamming beer in a park.
---
So, that's it for this roundup! You can see all my monthly roundups here. Are there cherry blossoms blooming where you are?
Want more Cubicle Throwdown in your life? Of course you do, you rockstar. You can follow me on Facebook, Twitter, Instagram, G+ and Pinterest, if you like. You can also add me to your Bloglovin' feed, or email me! If social media is not your jam and you just want my posts straight to your inbox, check out the sidebar and put your email address in the "Never Miss A Post" box. No newsletters or spam, just my posts – scouts honor. xo!