When I first visited Japan seven years ago, I crammed as much as I could into my trip. I think I came to Osaka, the second-largest city in all of Japan, for about two days. My memories are hazy, partly from drowning my brain in rum during my recent years living in the Caribbean and partly because the breakneck speed of my trip back then means everything sort of runs together in my mind now. All I remember seeing was massive restaurant signs in Amerika-mura (the "American" neighborhood…note the quotes) and Dotonbori lit up at night with rotating takoyaki balls, giant red crabs and huge gyoza. I also know I went to the Osaka Castle and the aquarium, and that's about it.
Recently, some of the Vancouver JETs who I came to Japan with in August decided to meet up in Osaka for a weekend so we could get together with an alternate candidate who didn't make it to Japan this year. He was visiting Japan and so we came to Osaka to meet up with him during his trip. After realizing my town was only a 2-hour bus ride from Osaka, I jumped at the chance to head to a big city for the weekend and see some of my favorite people. I still love my town, but it's nice to have a change once in awhile. And I really wanted to see my friends! The other ALTs in my town are great people, but I have almost nothing in common with them so we don't hang out much. It was a lot of fun to spend time with people from Vancouver whose interests and personalities line up a little more with mine.
Getting There
Osaka is a major global and local transportation hub, and it's super easy to get there from just about anywhere inside or outside of the country. Kansai International Airport (KIX) is the Osaka airport, and there's the shinkansen (bullet train) connecting Osaka to Kyoto, Tokyo and other major cities. There's also lots of different rail lines to get in and out of the city.
I took the Tokushima Bus both ways, which took me from the bus mall in my city and dropped me right at Osaka Station for Y5700 (about $57 USD) return. There are cheaper ways to do it from Tokushima, including the Nankai Ferry + train combo which costs Y4000 ($40) return but it takes nearly three times as long, including driving from my house to the ferry port. It figured it was worth the extra $20 for the convenience, but I didn't factor in the $15 I had to pay for parking three days at the bus mall, so really it was an extra $35. I still think it was worth it.
Where I Stayed
Harsh reality: Japan accommodation is super fucking expensive. This can be a cheap country to travel in if you're smart about your food, transportation and activities, but accommodation here is ridiculous in bigger centers. I stayed in Nishinari neighborhood, which is known as probably the roughest area in Osaka (side note: this is 'rough' by Japanese standards, which means there are some homeless people. I didn't even notice it being 'rough'!) I'm headed back to Osaka in a few weeks and I've already booked a hotel in this area again. It's cheap, has some good restaurants in the area, is well connected to other neighborhoods by train, and there's lots of hotels to choose from.
Anything under about Y6500 ($65) a night in Osaka will get you accommodation with a shared bathroom. Usually the $15-25 range is dorm rooms, and $25-65 is private tiny (and I do mean TINY) rooms with a shared bathroom on the floor, with varying degrees of shower facilities. If you want your own bathroom, you'll be looking at the $75+ range, and those rooms don't start getting decent/nice until around the $130 range.
I stayed at Hotel Mikado in a private room and paid about $47 for two nights. I had asked for a room on the ladies floor but didn't get it. It wasn't a huge deal, but sharing the washroom with dudes meant listening to some pretty nasty habits. Girls can be gross too, especially in bathrooms, but the walls are thin in these places and listening to dudes grunting while taking a dump and hocking loogies all night wasn't that cute. However, earplugs are a great thing. Also, the 8th floor washroom (the ladies floor) was open to all female guests, but the elevator here was slow as hell so it wasn't always a viable option. This hotel does have a Japanese style bath (that allows tattoos!) which was a nice extra. There were also three 24hr private shower rooms on the main floor which was a little awkward going up and down in the elevator with other people dripping wet with no makeup on. But it's been a long time since I lived the hostel lifestyle so maybe I'm just getting old.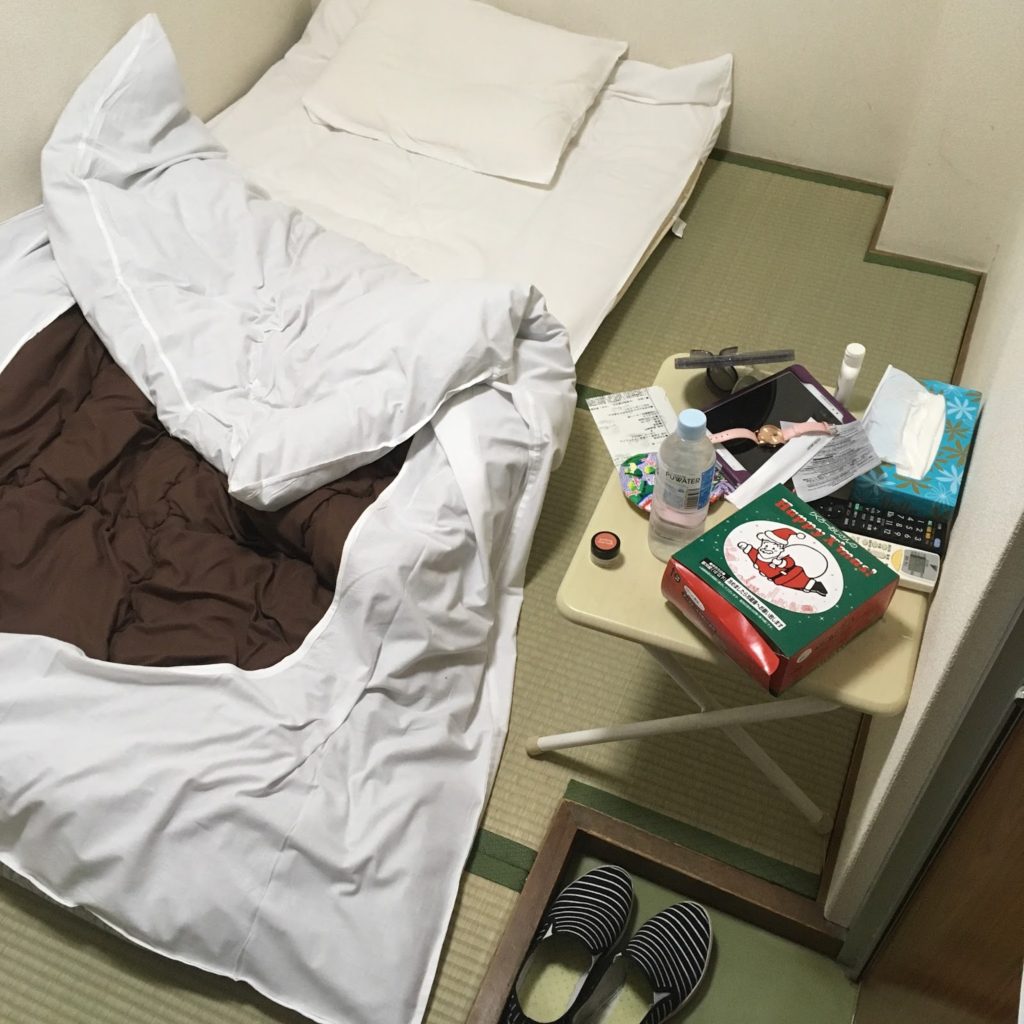 this is my room, and this was literally the whole thing.
My friends stayed at Park Inn and Toyo Backpackers Hotel which were both about 50ft from my hotel. They both had private rooms for a little cheaper than mine. I'd recommend any of these three hotels.
What I Did
We had only three plans for the weekend (and by we I mean my friends, I did nothing to plan this weekend and it was really glorious. I just showed up and followed them around and it was great!) We wanted to go to: 1) a ramen expo, 2) an outdoor German Christmas market, and 3) illuminations (= what Japanese people call Christmas lights!)
The first night, I arrived late so I met up with my friends in Dotonbori, and we waited in line for the famous Ichiran Ramen and took touristy photos of the river and the infamous Glico Running Man:
The next day we managed to hit all three things we wanted to do in the same day and it was one of the best days I've had in ages!
First, the ramen expo:
A huge side benefit of attending this ramen expo was that it was held in Expo '70 Commemorative Park, where the 1970 Expo was held. Now home to Expo City, a massive park full of shopping and restaurants (and weird Japanese things like a Pokemon store/cafe, and a CNN-branded coffee shop). Before hitting up ramen, we ventured around Expo City.
Then we headed to the other side of the park (entrance fee Y250/$2.50) to fill our bellies with ramen. It was the perfect day – sunny with a crispy fall breeze, just the right temperature for walking around without getting too cold, or being too hot to eat a steaming bowl of soup. It ended up being really chilly at night, but there are all kinds of vendors set up with their handicrafts throughout the park and I hooked myself up with a huge fluffy hand-knitted scarf and hat for a steal.
The ramen expo featured 10 different shops from different prefectures and between 4 of us we managed to sample six out of the 10 shops. One came out the clear winner for all of us, but we couldn't read the sign so I don't know what shop it was. But it was delicious!
Japan perk: when we bought our tickets for the ramen stalls (Y800/$8 for a bowl) we were handed free shochu (a clear Japanese hard liquor) with tiny cans of club soda. Honestly, North America, why you gotta be so uptight about your drinking laws? No one here was being an asshole, and we all got free booze, in public, with kids all over the place. Everyone behaved. It was awesome.
We went back again and again for more bowls of ramen – everything was SO good. I made it through two and so did others but one of my friends managed four. Super impressive. By the time we finished gorging, it was starting to get dark, so we walked through all the sparkling Christmas lights set up around the park.
We also went through the "Twinkle Maze", which was just sheets of lights hung up that we walked through, but we were having fun and it was actually pretty nice being inside all those lights.
After getting our fill of the illuminations, we headed back into the Umeda neighborhood of Osaka to take in the German Christmas market. Held at Wonder Square under the Umeda Sky Building, this jolly German-style Christmas market was just like the ones I used to go to in Vancouver. There was (too much) hot mulled wine, a giant Christmas tree, Christmas music, German food and handicrafts and a ton of people out and about. I also didn't take any photos because I was drunk and forgot. I only had wine during the night that we were there, but we went back the next day for about an hour to meet some other ALTs and I sampled a bratwurst and a waffle on a stick and everything was delicious.
After too many mulled wines at the Christmas market, we headed for a late-night McDonalds run before the last train (because this is what you do in every country including Japan) and then headed off to our respective hotels.
On the last day, we spent our time wandering around Dotonbori again. We were in search of kushikatsu, which is basically just fried food on a skewer with a communal pot of sauce in the middle, and unlimited cabbage to go with it for pouring sauce onto an already-bitten piece of food… DO NOT double dip at these places! The sauce is shared between customers, they don't replace it each time the table changes. Kushikatsu really crunchy and the food inside is cooked just right. It's perfect with a beer.
Then we made our way to Honolulu Coffee so I could indulge my intense need for relaxing in a coffee shop. The beachy vibes were exactly what I needed, and the boys settled into a big leather couch in the glassed-in patio as I sipped on a macadamia nut coffee across the table and watched some kind of crazy outdoor J-pop happening on the street below. I was a little tired of taking photos by this time (and let's be real I was slightly hungover) so I just soaked up the atmosphere, but this post by another blogger has fantastic photos and mine wouldn't have been this good anyway since the place was jam-packed when we were there.
After that, we hit up some of the major chain stores to do a little clothes shopping before we had to start heading back to our little middle-of-nowhere towns. And then it was time to get back to the train station and start making our ways home!
It was the most fun I've had in a long time. I'll be back here again in less than a month and I'm already looking forward to more adventures. I really liked being back in a big city with so much to do and see. I like my little town and it's great for saving money, but getting to visit the "big city" once in a while keeps me sane. The locals in Osaka were fabulous – we had all kinds of people, foreigners and Japanese alike, who would just come up to us and start asking us questions about ourselves. They were so friendly! Most of Japan, especially rural areas like where I live, don't have a lot of Japanese people who can/like to speak English and people are generally very reserved with strangers (especially foreigners), so Osaka was a nice break from that. If I end up staying in Japan after my contract is up, I'd really like to live in Osaka!