Reggae music was playing somewhere down the beach. The sun was shining, the sand was hot, and I was drinking a cold drink. The ocean was a shimmery blue and kids were shrieking and splashing around with colorful floaties.
But wait. What's this? The writing on this delicious alcoholic beverage is in Japanese. I was IN JAPAN!?! Yes friends, this is not a post about my beloved Caribbean island Roatan. This is about the chillest little island that's a hop, skip and a jump away from my town here in southern Japan.
Shodoshima – Olive Island
Shodoshima is one of my best discoveries so far in Japan. This island's name technically means "Island of Small Beans" in Japanese (and how effing cute is that) but is usually referred to as "Olive Island", thanks to the olive groves everywhere and subsequent Japanese hyper-fetishism of all things olives there. You'll find olive food, drinks, signs, characters, the list goes on. It's the first place in Japan to successfully cultivate olives, and they are VERY proud of it.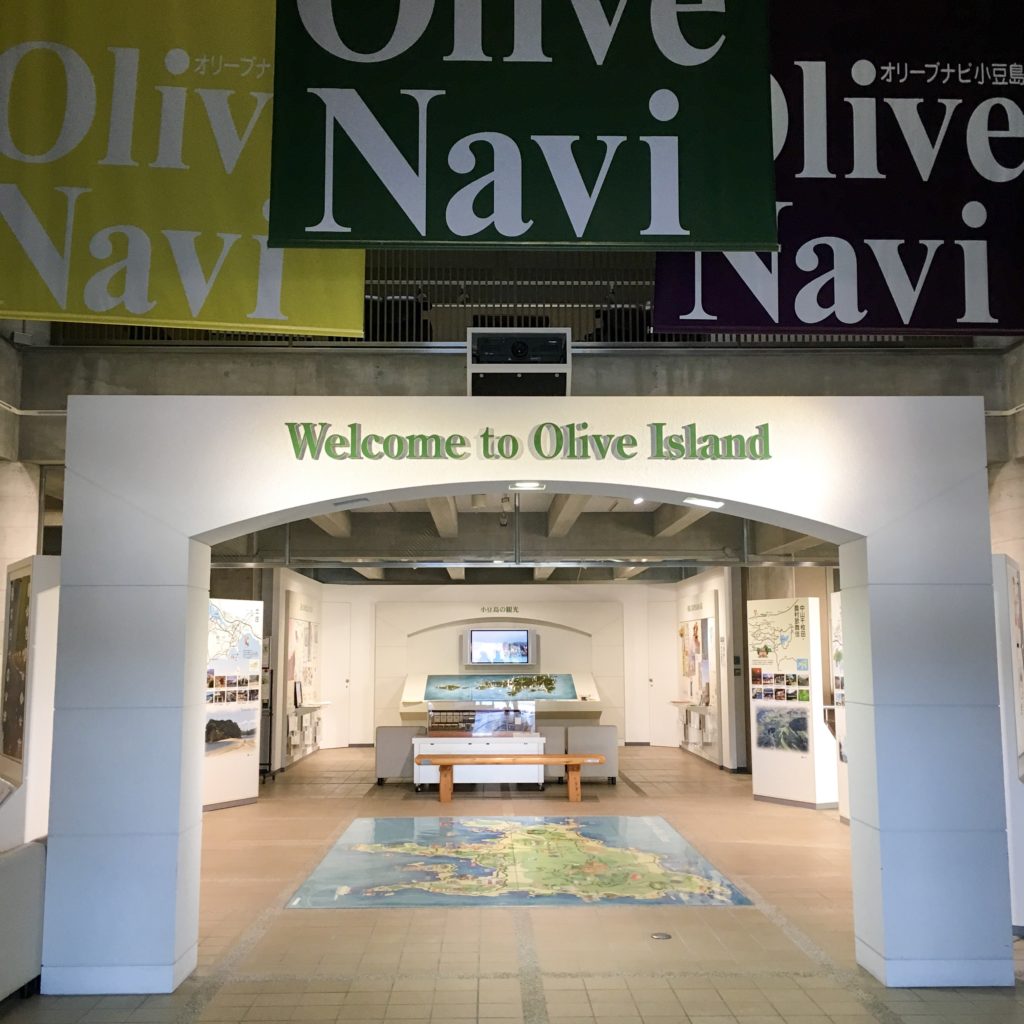 Olive Park
You'll even find Olive Park, which for some reason has been decorated like ancient Greece – going with the olive theme I guess? They have a Greek sister island, Milos, as well, and by the way Japan fucking looooooooves sister cities. There's a windmill at the park that was donated by Milos and while we were there, tons of girls dressed up as characters from the Miyazaki film Kiki's Delivery Service were taking photos in front of it while jumping on brooms. The brooms were provided by the park as props for photos. (I love Japan.) I have no idea why this movie has anything to do with the windmill at Shodoshima, but maybe someone else can fill me in.
The Best Beach
After visiting Olive Park, we wandered down the hill towards the water looking for food. We stumbled upon my new favorite beach! It's right behind the Olive Park bus stop on the main seaside road. Despite it being a sunny Sunday afternoon, it wasn't crowded at all. We took a couple minutes to stroll up and down the boardwalk and found several beachside restaurants, lots of places to rent floaties, and even a DJ spinning reggae tunes in an empty open-air building. I was in heaven!
We decided to stop and eat here before heading back to the mainland, and parked ourselves at Pension Olive Beach House restaurant. We quickly ordered a round of drinks and sat back in the shade watching the beach in front of us while waiting for our food. After a bit, we were presented with takoyaki, yakisoba, taco salad, and fried potato wedges that hit the spot after a long day of wandering in the sun.
Food & Drink
One of my favorite things in any place I visit is trying the famous food (legit every place in Japan has some special food) but I was nervous here because I actually hate olives. I was brave and tried the olive ice cream, and it was delicious! It had a really delicate flavor that didn't taste like olives at all and was a much-needed respite from the late August heat. There was also olive soda, which I was not brave enough to try but I can report that the iced coffee was great.
There were several other restaurants on site, but we were wandering around at the unholy hour of 3pm-4pm, which is when Japanese restaurants are traditionally closed (between lunch and dinner service). We trudged in the sun all the way to this beautiful restaurant just to find it closed: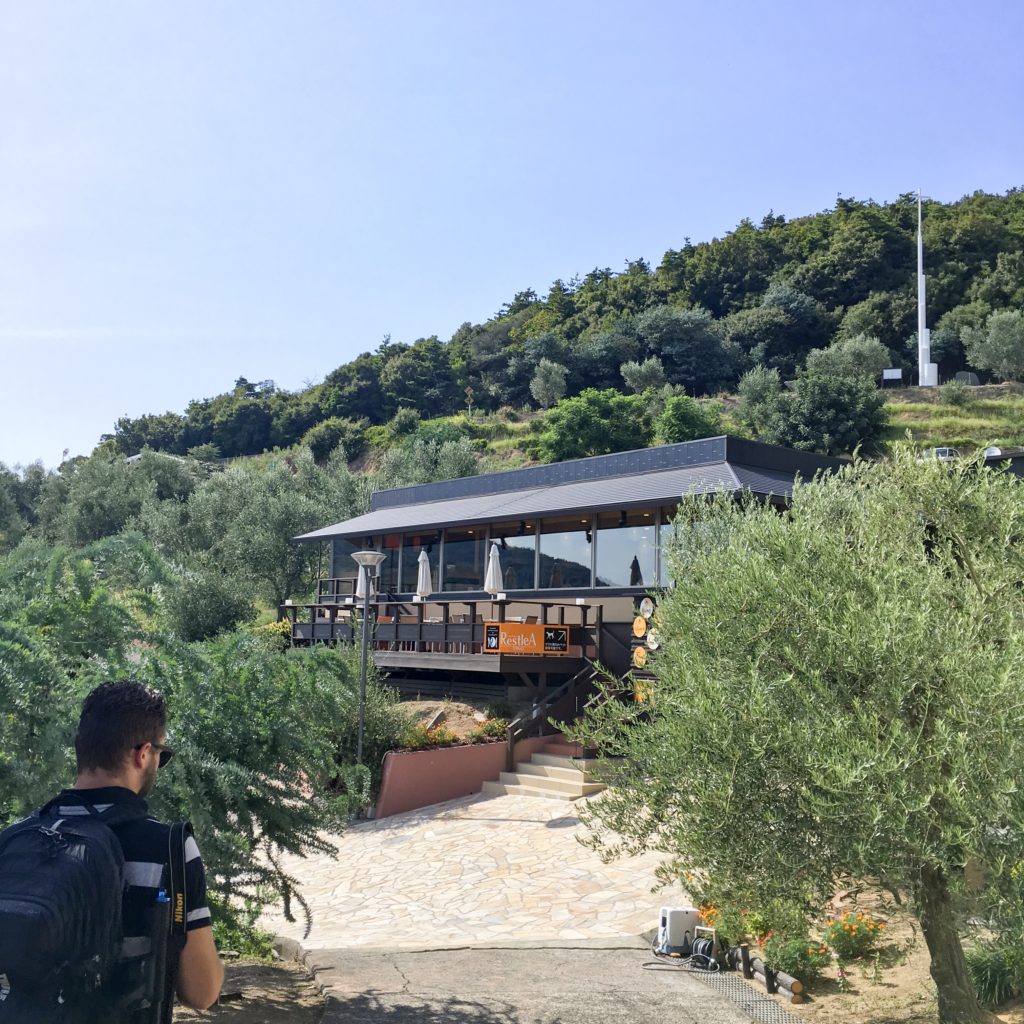 And were then teased by walking all the way back to the info center just to find this one closed too:
However, if you get the timing right, then menus at both of these places (as well as the view) looked phenomenal.
Getting Around Shodoshima
We may have made a bit of a mistake not bringing our car over on the ferry. We took the fast passenger ferry which was about 2300yen round trip ($23 USD) from Takamatsu Port. When we arrived on Shodohima, we tried to rent a car but found every single company at the ferry port was sold out. A kind lady at the bus information counter tried her best to tell us how to take the bus around. We also realized we had not given ourselves enough time to explore all the sights on the island. Shodoshima is also famous for its soy sauce production and we missed out on the soy sauce village attractions as well as some museums and parks we would have liked to see. With the city buses running about once or twice an hour, we only had time for Olive Park and the beach near the park.
As we rode around on the bus, we all agreed that the island way WAY bigger than we had anticipated and that we should have booked a full weekend trip with a car rental. (We probably should have taken a look at a map before we went, as it's pretty obvious that this island is a good deal larger than all the other ones dotted around the Seto Inland Sea.)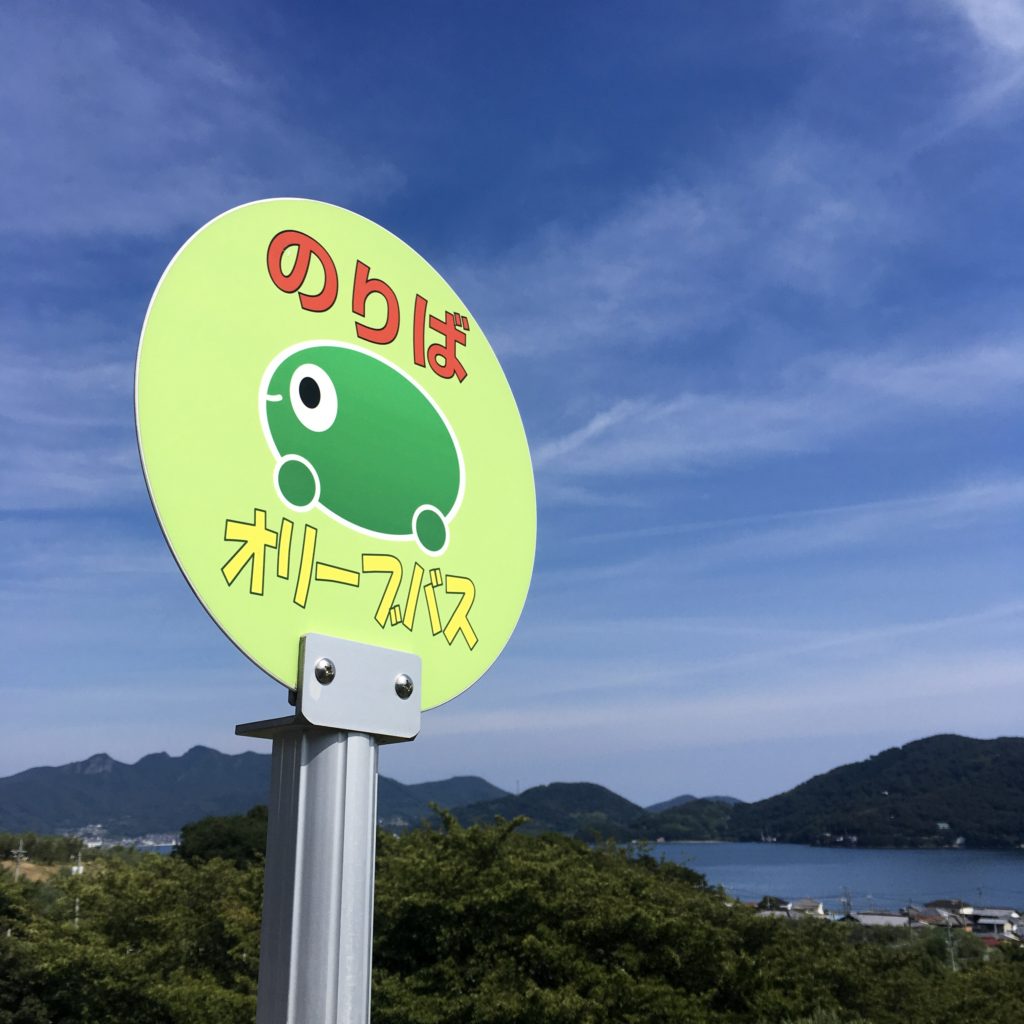 Shodoshima was one of the most pleasant surprises I've had since I arrived in Japan last summer. This whole island was just so laid-back, foreigner-friendly, and chill that it was hard to drag myself back to Takamatsu and onward to my town. I'd love to spend a week on vacation here and get to explore more slowly and thoroughly! When I got back from my trip, I posted a few photos on my Facebook page and my friends here in Japan were quick to comment that Shodoshima was one of their favorite places as well, so I have backup on how cool this place is. I can't wait until I can go back again!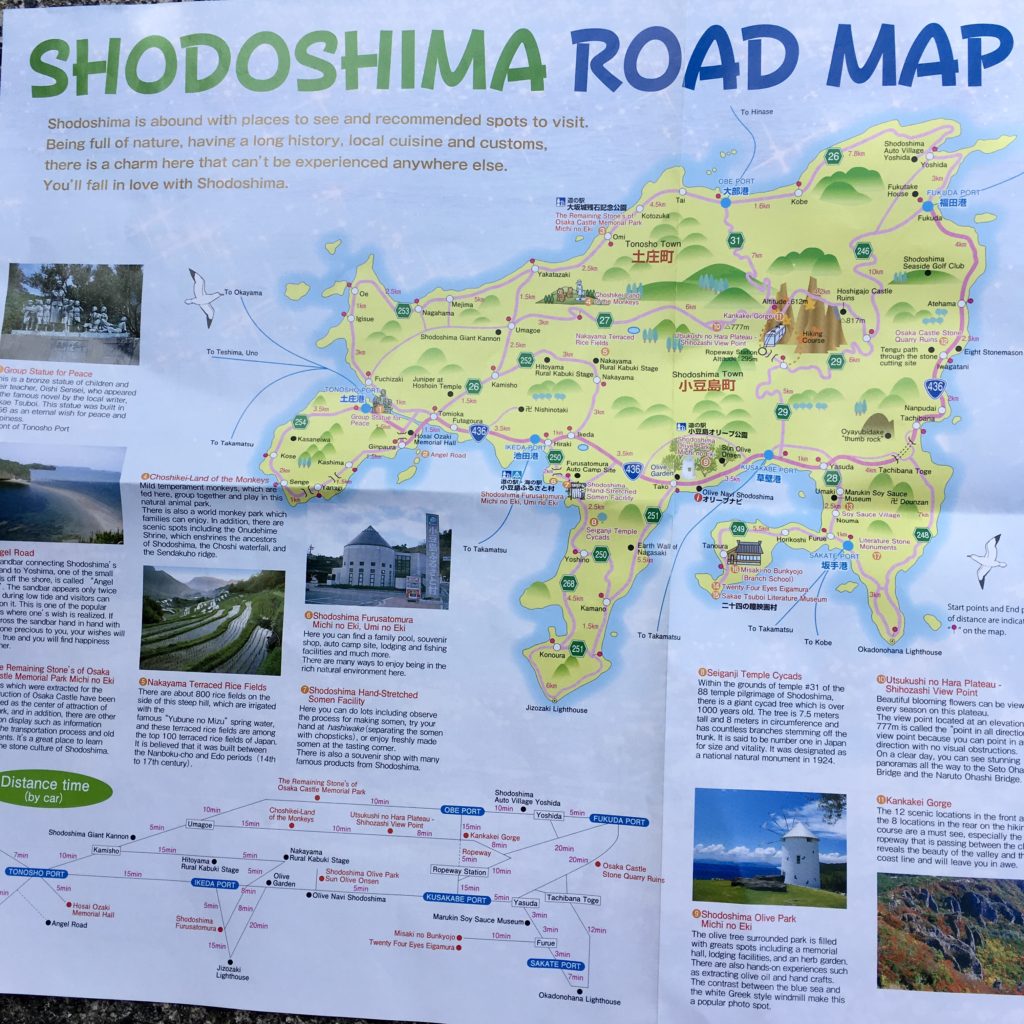 I <3 islands! You can see all the posts in my Islands of Japan series by following the link.
---
Want more Cubicle Throwdown in your life? Of course you do, you rockstar. You can follow me on Facebook, Twitter, Instagram, G+ and Pinterest, if you like. You can also add me to your Bloglovin' feed, or email me! If social media is not your jam and you just want my posts straight to your inbox, check out the sidebar and put your email address in the "Never Miss A Post" box. No newsletters or spam, just my posts – scouts honor. xo!