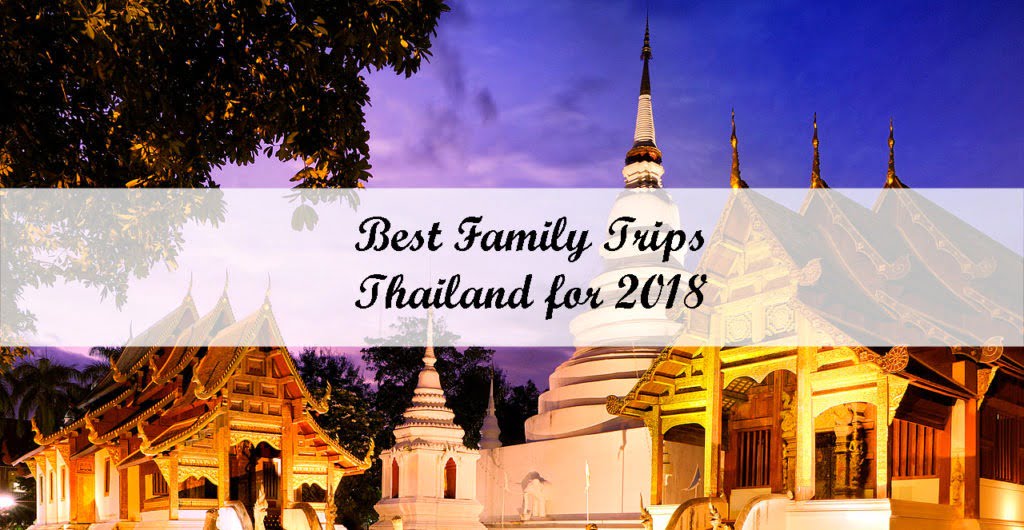 With the vacation season of 2017 gone with wind, we can't help but imagine a perfect family trip or vacation for 2018. Time flies, doesn't it? Just some months of hectic routines and then a small family trip is all that it takes to take the stress away! If you are planning to head out somewhere with your partner and/or little ones, then Thailand is the place to choose. It is hard to imagine a perfect family trip with your children as you need to find a destination where they can stay indulged and they don't lose their charm too. Thailand is a great place to opt for, as it has a lot of places which can keep your children excited and happy too!
Here is a guide for making your best family trip in Thailand for 2018. Which places are the best to make your Thailand family trip stand out? Why they are the best and what are they offering you? It is all in here! So, let's get started with the best places to visit when in Thailand to make your family trip exciting!
Bangkok
If you are looking for a perfect blend of amazing experiences, tasty food and some attractive activities for your children then Bangkok is one of the best destinations to opt for in Thailand. Most of the flights to Thailand land in Bangkok so you do get to spend a day or two in this wonderful place.
The Safari World and the Siam Ocean World are two amazing places in Bangkok to visit with your children. Ocean World showcases sea life which is extremely eye catching and catches kids attention quickly. On the other hand, Safari World exposes some of the most amazing wildlife scenes to you and promises to unfold the beauty of wild animals, as you explore through it. These two places are the best bets for families as they attract not only children but adults too. Who doesn't love nature?
If you are looking for a great shopping spot then the Chatuchak Market is the place. From clothes to ceramics and home décor; there is everything that you might ask for and dozens of things on sale there. This means that you can shop cheaply and find incredible things in this market. You can pick some amazing gifts for your friends and family, at a very reasonable price. The market is filled with almost 8000 stalls and it has nearly 20,000 visitors. One of the best places to dine at is the Chao Phraya Dinner Cruise. It offers you some finger-licking dishes, which will make your taste buds want more and more.
Chiang Mai
If you are adventurous soul, then this place is going to make you go crazy. It is an ideal place and the outlook of it can make anyone go "WOW". It is also known as "best of both worlds". This small town has a fantasizing feel to it and is a treat for the eyes. When in Chiang Mai, one must visit the Doi Inthanon National Park. It is a treasure and full of interesting information. If your family loves birds, then this place is a definite visit as it has more than 330 species of birds. It is also famous as a bird watchers paradise. Bird lovers will adore this spot. You will also get a lot of historical knowledge as you explore this park. This is very good for your children as they will learn more about the birds of Thailand.
Night Bazaar is not for shopping lovers only. The sight of this bazaar is a delight and deserves to be visited. The foot tapping music, the lit atmosphere, the lively crowd and the aroma of some great food is worthy of your time. Children will adore this place as it is lively and the surroundings are fun.
If you visit this small town then Maesa Elephant Camp is a great place to visit here. Thailand is famous for its wildlife offerings and this is yet another one. This camp allows your kids to feed elephants, have rides with them and even play with the friendly ones. Don't worry, the elephants are trained and are always handled with their master so that your children are in safe hands.
Koh Samui
Islands are an attractive place for kids as they can run around freely and have the time of their life. Koh Samui is in the Gulf of Thailand and awaits all the visitors! There are a lot of resorts on this beautiful island and you can easily find one with a wonderful kid's club. This means that your children can enjoy themselves while you can have some time with your partner too. The Four Seasons and Inter Continental offer kid's programs and clubs.
The animal rescue is a great place to volunteer. Your kids will enjoy it thoroughly and so will you. You can go exploring temples and enjoy the beach scenery. It will calm your mind and also allow your children to have loads of fun.
Krabi
If you want some pure island fun then this is it. Just get some drinks, throw down your bags and accept the fact that life at this island is all about fun and nature. You won't get any cars here so it is purely Mother Nature and you. You will stay indulged in amazing activities like kayaking, rock climbing, perfect long walks and snorkeling. If you are alone with your partner or have decided for this place as a honeymoon get away, then this is it. It will be the most fun loving and adventurous trip for you.
The views here are breathtaking, quiet and absolutely stunning. This place is not just fun only; it will bring a calming and soothing effect to your mind too. Getting drenched in the serenity of this island is an amazing feeling and will leave you falling in love with this place. The Poda Island, Tub Island, Phra Nang Beach and Chicken Island are the four islands that make Krabi worth paying a visit. The 4 Island Tour will enlighten your experience and make your visit to Thailand simply wonderful.
There is so much nature and wildlife that Thailand has to offer. It will be a delight to visit these places in Thailand and make your family trip worth remembering. It won't allow your kids to get bored as the variety of places and types of fun that you can have at this destination are endless. So, gear yourself up for some fun and peace filled family trip with these incredible destinations waiting to unfold their beauty to you. If you are looking at visiting any of these places, then make sure you book a Thailand tour soon for the best prices.