If exploring the great blue is part of your vacation list, Seattle is home to many dive sites containing wrecked ships, vibrant aquatic life, and underwater geography for you to explore. Taking a trip to Puget Sound can provide you many opportunities to acquaint yourself with unique and interesting dive sites, where you may encounter harbor seals playfully spending their day, stumble upon the rare prehistoric sixgill shark, or navigate the sunken remains of the USS Governor.
Regardless of where you choose to dive, the Pacific Ocean holds many mysteries for you to uncover. After your underwater adventure, Seattle has an array of entertainment options you can find a short distance in any direction from your hotel.
Edmonds Underwater Park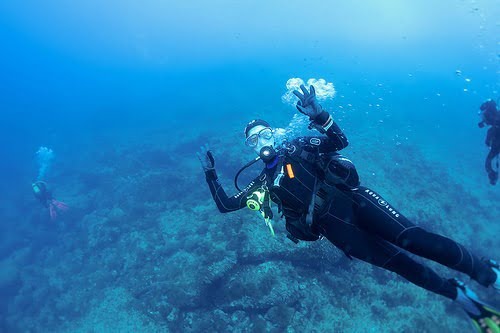 Image via Flickr by Javi Parron
This site is one of the most popular dives in the Puget Sound area. Edmonds Underwater Park, also referred to as the Bruce Higgins Underwater Trails, was built and maintained by a volunteer effort and a passion for the ocean. There's a long surface swim to arrive at the descent point, but once you arrive there are many rope lines to follow and guide your dive.
While traversing underneath the surface you may choose to explore man-made underwater structures, the bones of old ships swallowed by the ocean, or peruse the array of marine life that inhabits the area. You may see some of the largest cabezon and lingcod in the area, or have an encounter with a striped sea perch, tube snout, painted greenling, rockfish, Dungeness crab, or more of the marine life that call the area home.
Alki Seacrest Park, Cove 2
Alki Seacrest Park is home to several dive sites and Cove 2 is one of the most popular. Due to the shallow depths, Cove 2 is a great dive site for any experience level. While you're there, sink down to the rock pile where you can see giant Pacific octopus, kelp greenling, vermilion rockfish, and red Irish lords.
You may stumble upon the sunken remains of the Honey Bear while skimming along the silty bottom of Cove 2 and see how it's become home to sunflower stars and plumose anemone. Or, if you like beautiful scenes, a night dive at Cove 2 can provide immaculate views of the sky saturated with Seattle's lights over Elliot Bar.
Sunrise Beach
Sunrise Beach is a dive site recommended for divers with more experience as there are varying degrees of potential currents. A typical journey underwater here can provide expectations of giant Pacific octopus as well as wolf eels hidden in the nooks and crannies of a large rock wall. If you plan on visiting here, know that Sunrise Beach is a marine preserve and taking anything is highly prohibited. Typically, boat diving is the norm at Sunrise Beach, but you can find access from the beach.
Seattle is home to many different underwater adventures containing diverse underwater habitats and wildlife. Before you plan your dive trip, familiarize yourself with the sights you plan to explore. Proper research and planning can make the difference in a good experience and a bad one. And lastly, respect the wildlife. You're floating through their home. A welcomed guest is one who doesn't disturb the peace.