I remind myself of that pretty much every day. I'm really here. I finally did it. And it's going just fine!


Before we get started here, I'd like to encourage you to check out a couple blogs that friends of mine are writing:


Kelsey at Get Fit. Be Married. is writing the cutest blog of all time about her recent engagement and wedding planning/fitness goals. She even gave me an awesome shoutout in her very first post. I miss seeing her at work every day and this has been a great way to keep up with her even though I'm far away. Love you Kels! Say hi to Russell for me!
Adam at The Life Aquatic with Adam Caines is one of my current roommates and just finished his divemaster internship at the same shop that I'm at. He has had quite the ride this year and I am constantly amazed at his positive attitude. He makes me laugh so hard I nearly cry sometimes, helps me out with tons of diving stuff both in and out of the water, and he carried my giant bag of dive gear up two flights of stairs to our house when I arrived so clearly he is now one of my new favorite people.
I know what you all came here to see, so here it is, courtesy of Adam's camera:


Me hanging out on the reef!
I FOUND THIS SEAHORSE!! Best day ever.
This is a flamingo tongue. They are insane looking.
This barracuda was a total asshole. He was actually this close to us and wouldn't leave us alone. I thought I was going to lose a foot.
Alright, there's your dive porn for today. Another DM at our shop has an AMAZING underwater camera set up and has been taking some cool photos of me so hopefully I will have those soon.
For the most part, my life here now just consists of getting up early, going out to the shop, diving three times a day, coming back to West End, making dinner with my roommates, and then going out drinking. Things in West End are a lot more like when I was here in February rather than the semi-strange time I had here in May. There are a lot of people around and everyone seems happy. The expats here are all nice and there are islanders that look out for me, which I appreciate. My roommates are a riot and I love all the other interns, we have a blast at the shop every day even when we're not doing anything.
Here's some photos of me and my Roatan family!
Everyone with "FT" (family time…inside joke) on their foot…three of those are real tattoos!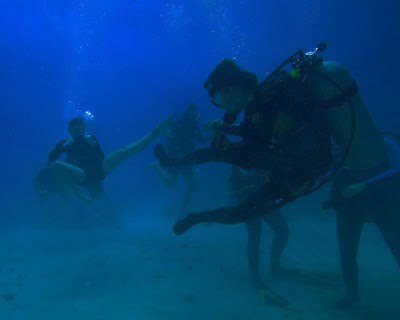 Lloyd and I having an underwater ninja fight (I won).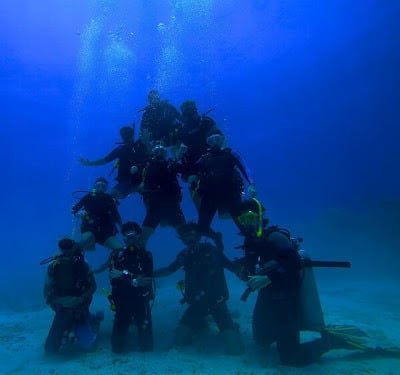 Barefoot Divers cheerleaders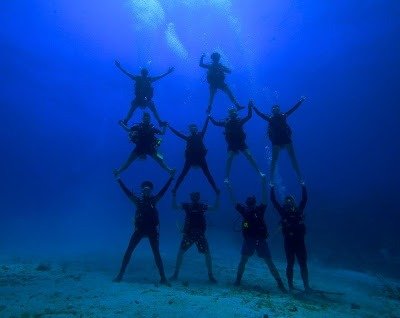 These were hilarious to do…I am trying to get the video of the set up, it was a total gong show.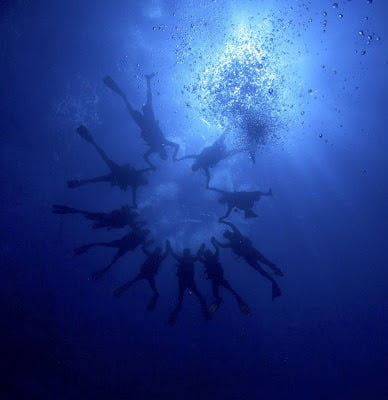 The budget's been a bit of a bust so far as rent ended up being different than I planned and I have a lot of "getting started" expenses like my cell phone and internet stick and whatnot. Once I get a bit more settled I'll have to sit down with it and figure it all out.
All in all, so far I'm incredibly happy I made this decision. The opportunity was swinging in front of me and I grabbed it and held on as tight as I could. Sometimes you just have to close your eyes and do it. My life here is what I wanted and every day I think that I could still be in that cubicle… I could have hot water and no mosquito bites and lots of money but I wasn't happy. I wasn't doing what I wanted and I didn't want to be there. There had to be more to life than working to make someone else richer. I might do without a lot of luxuries that I had in Canada but my time is my own to do what I choose with it. I have no obligations and it feels amazing.
The sun is shining and I'm about to go for two fun dives and then see where the evening takes me. This is my life and I love it.