Here we are, another six months! This roundup covers from January to June 2019, the first half of the year. I was pretty busy, which is why this is a half-year roundup. If you want to read the last one, here's my September – December 2018 Roundup.
What I've Been Doing Since the Last Roundup
If you read the previous roundup, you might know that since the end of last year I have been struggling with serious computer problems. My laptop was at end of its life (it wouldn't stay on for more than a few minutes, even plugged in), and I was panicking about how to get a new one to Japan. After endless Googling, checking import taxes, wondering if I wanted to deal with a Japanese keyboard for the next few years, etc. I finally decided to get a super cheap interim laptop to make things work just until I get to Canada this fall. I'll get a new computer then.
So, why does anyone reading my blog care about my computer woes? Well, my interim laptop is very much a stop-gap measure. While I'm super grateful my friend sold me his extra laptop for a low price, it doesn't have the processing power to do a lot of the stuff I used to do (Lightroom, etc.) and I am an impatient person who would rather not write anything if it means waiting around for ages to upload images, save drafts, and stuff like that. Also, my interim laptop has a tiny hard drive with almost no storage space, which means any time I want to access photos from my old computer, I have to plug that hard drive in and it all just takes forever.
Ain't nobody got time for that!
Other than everything electronic I touch turning to shit, I've been pretty busy cramming in travel and all the last things I want to do here in Japan. I'm on the home stretch (only about 50 days of work left, not that I'm counting /I'm definitely counting). I'm done work at the end of July, and then I'm sticking around for another few weeks to dance in the big Awa Odori festival with my dance team. After that, it's sayonara Japan – I'm off to Canada!
I had a pretty great first half of 2019.
In February, I celebrated my birthday by doing a moss forest hike + lunch at an organic brewery with my friends! My girlfriends baked me a gluten-free cake and brownies and I was a very happy camper. Later that night we went to a rock show, and got drunken McDonalds afterward. It was the best.
After that, spring came along, and I squeezed in a quick cherry blossom photoshoot before heading off on some trips. I missed most of the bloom this year, but I made sure to get a few sakura shots since this was my last chance.
Where I've Been
All over the damn world! Basically.
Since the last roundup, I've spent: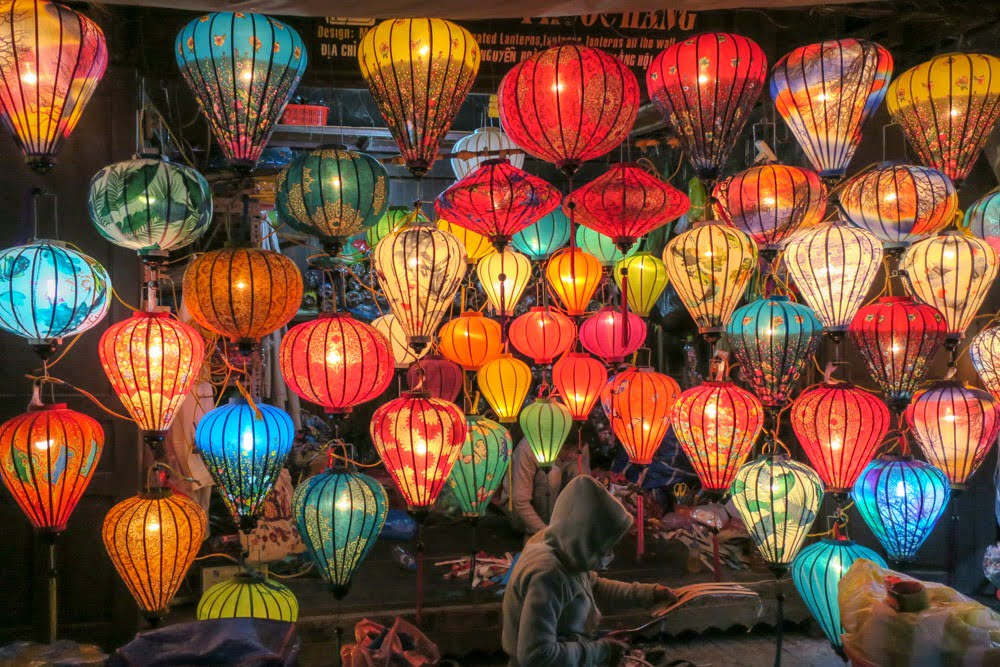 A week in Danang, Vietnam. I absolutely adored this city, and was checking it out as a possible next move. I spent a day in Hoi An too, where I took the beautiful photo above. The extraordinarily friendly people, food that almost always was safe for me to eat (no gluten/dairy/soy), and rock-bottom prices made Vietnam a hot contender for my favorite country overall.
A weekend in Fukushima, Japan. My favorite travel buddy Caleb and I picked the cheapest flight in northern Japan, and that's where we ended up. We had a blast despite basically showing up and literally just winging the entire weekend. It was fun to see "real" winter for a bit.
Five days in Hong Kong! My dad came for a couple days for work (he's an airline pilot) so we met up there and explored the city together. I was very surprised about how much I enjoyed Hong Kong. I had kind of thought it would be a big, dirty city (sorry HK, love u) but it was charming and it reminded me so much of Vancouver that it actually made me homesick!
A week on Kauai, Hawaii. I met my mom there for a week of R&R! Hawaii is in the middle of Japan and Canada so it was a good place for us to meet. After my super budget trip to HK, it was nice to stay in a beautiful condo on the beach. We did a whole lot of chilling out and soaking up the vibes, and it was perfect. I got a morning of scuba diving in with an old friend from my dive instructor course, which was a definite highlight.
Three days in Taipei, Taiwan. So far the only trip I managed to write about, and (warning) this post is massive. But I quickly fell in love with this vibrant city. People were so friendly and there was TONS to see and do. I'm already wondering when I can get back again, and still dreaming of stinky tofu.
Big on Instagram
Here's the top six from the last six months on my Instagram:
In Case You Missed It
Well, I managed to squeak out a few posts in the last six months. Here they are:
Three Days in Taipei: The Lazy Traveler's Guide – full of all the sights, activities, and (gluten-free) eats in Taipei!
Osaka Ramen Expo: The Most Wonderful Time of the Year – forget Christmas, my favorite December holiday is the Osaka Ramen Expo.
Interview: Amanda Walkins, Expat Extraordinaire – my friend Amanda explains her expat lifestyle, #bossbabe digital nomad skills, and housesitting around the world.
Two Years in Japan – a forgotten post that I found in my draft folder and posted six months too late! But lots of reflections on my time in Japan.
1 Second Every Day
I've been using the 1 Second Every Day app to chronicle my time here in Japan. (I have to apologize in advance to anyone viewing this on mobile, I don't know why it shows up with such big gaps between the videos on mobile. Sorry!) Here's December through May… June isn't done yet!
Coming Up
Next weekend I'm going scuba diving in Kochi prefecture! It's about a 5-hour drive from where I live, and so two of my friends and I are going to do a weekend road trip. Sadly, I wasn't able to swing an Okinawa dive trip in before my time in Japan is up, so this is the next best thing.
Kashiwajima looks like an adorable little island, and I'm looking forward to seeing what the underwater world looks like in Japan. The water is around 24C, which, as a fairweather warm-water diver, sounds like torture. But I only have one day of diving, so I'm gonna go for it! It's my last chance to dive in Japan, so I'll suck it up.
And then (cryyyy) my very last trip in Japan. In July I'll be going to Hokkaido prefecture solo for 4 days. Hokkaido is the northernmost prefecture in Japan, and while I won't have time to cover much else besides the capital city of Sapporo, I'm looking forward to seeing what they're doing up there by Russia.
Hokkaido is my 26th Japanese prefecture (out of 47) and my 8th region of Japan (out of 8). I feel like I will be leaving this country with a great sense of pride about how much of it I visited. There's no way I would have been able to see this much of Japan otherwise, so I'm grateful for the opportunities I had here.
After that, I'll be busy practicing non-stop for the big Awa Odori dance festival. This will be my second year dancing with my team. I feel much better about knowing what the fuck I'm doing this year, and I will even be leading some parts of the dance. This has been a really special part of my time in Japan, and I hope to write more about it sometime.
Want to see me in action? Here's a video from last year's festival in Naruto City – I think it's pretty easy to see which one is me 🙂
Once Awa Odori is finished, I have a few more days to say my final goodbyes and then I'm flying back to Canada! I'll be spending an extended amount of time in Canada with my family and friends this fall. They haven't really seen me for the last three years that I've been in Japan, so I'm excited to get there and finally get a decent amount of time with everyone.
You might not be hearing from me much on the blog until after that, so make sure to follow along on social media too, where I post a little more often than here.
That's it for the January – June 2019 roundup! You can see all my roundups here.
---
Want more Cubicle Throwdown in your life? Of course you do, you rockstar. You can follow me on Facebook, Twitter, Instagram, and Pinterest, if you like. You can also add me to your Bloglovin' feed, or email me! If social media is not your jam and you just want my posts straight to your inbox, check out the sidebar and put your email address in the "Never Miss A Post" box. No newsletters or spam, just my posts – scouts honor. xo!