Another week, another course down. I'm now a certified junior yacht stewardess, or so my many pieces of paper say. I've spent the last week doing all kinds of things I never thought I'd do, like learning how to fold the end of toilet paper into diamonds. Because apparently rich people who own yachts enjoy their toilet paper being folded into diamonds.


I also arranged flowers…




And got a little tipsy during the wine & cocktail seminar…




And I learned how to fold towels, iron, use an espresso machine, do laundry, make flowers out of napkins, keep food safe in the kitchen, silver service, what temperature cigars should be kept at and all kinds of other things I've never thought about in seven hundred million years.


I learned a lot but I'm glad that's over. Now I have a seafarer's medical to do, and a powerboat course, and then I'm finished! Then it's decision time… more on this another day.


What else is new?


Sadie the Scooter has been upgraded to Sadie 2.0, a badass white Vespa: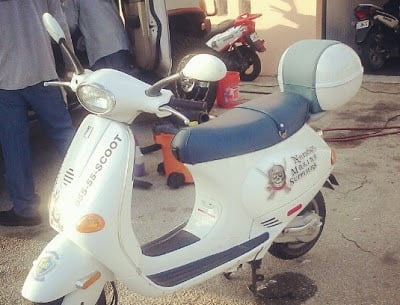 Instagram has been amazing at cutting off the bottom left corner of my photos lately. Cool.
I've been spending most of my free time taking advantage of all the American things I can't get in Canada (Taco Bell, Pandora, Hulu, raspberry M&Ms, Amazon online movie rentals) and things I can't get in Honduras (fast internet, hot showers, air conditioning, nice shampoo, sleep, ordering at restaurants in English). I've snuck into the gorgeous Hyatt pool & hot tub (does it count as sneaking in if you buy the $12 drinks at the pool bar?), had picnics at the beach, spent too much time and money at Target and Whole Foods, went to a movie in the theater for the first time in almost a year, ate tons of sushi and way too much dulce de leche frozen yogurt. Also, lots of hours riding Sadie around like there's no tomorrow.


I'm loving the south Florida weather and Ft. Lauderdale has turned out to be a cute little place to spend some time. On Friday night I headed out to the Pink Floyd laser light show at the Miami Planetarium which was awesome… it was actually a lot better than the one in Vancouver I used to go to. And they give you cool laser glasses that multiply the lasers! Then I spent Sunday afternoon at the Museum of Discovery and Science with friends and it was a blast. I turn into a 5 year old at science centers…I was running from one exhibit to the next and trying to get my friends to do the interactive displays with me. They were very patient, especially in the coral reef exhibit where I proceeded to name and describe all the fish and coral in the aquariums….thanks guys 🙂


I watched the SuperBowl and tried to enjoy seeing the American commercials with the game for the first time ever (we get different commercials in Canada). However, I have come to the conclusion that American advertisers think the people that live here are dumb as fuck and all need new cars.


I wasn't a huge football fan to start with, but I had a chef making me an amazing dinner during the game so I couldn't very well say no, now could I?


Still….






So I proceeded to get drunk on cheap champagne for the rest of the game and Instagram about it. Go Ravens, or whatever.






NOW…FUN NEWS!


I'm combining business with pleasure this weekend (because…why not!?) and heading to Nassau in the Bahamas!!


I need to get a US visa somewhere outside of the country (more on this later), and Nassau is conveniently a 55-minute flight away from me here in Ft. Lauderdale. It also helps that there is diving there, and I haven't been in almost a month, which is killing me! I'm heading there on Friday for 5 days and really looking forward to exploring the island (hopefully by scooter!) I'm lucky enough to have a friend joining me for the weekend there so we can do all the fun stuff before I have to do all the boring embassy stuff on Monday. I'm also hoping a little time away (even though I was already away from Canada in Roatan, and away from Roatan in Ft. Lauderdale… this is a dangerous chain) will help me make a good decision about where to go next.


You may be wondering why I went from living on a Caribbean island to cruising the Caribbean on a yacht to living in south Florida and taking a holiday to yet another Caribbean island (yes, woe is me)… well, I did 13 winters in Saskatchewan. Did you see the temperature chart in that link? I've earned it.