Here is my month 6 roundup, which apparently I can no longer call the "Roatan Roundup" since month 5 and 6 I haven't even been in Roatan…


Today marks half a year away from Vancouver. HALF A YEAR YOU GUYS! This is the longest I've ever been away from Canada! I am forgetting what poutine tastes like and how to build igloos. (Jokes, people. Okay, only joking about the igloo part. I fuckin love poutine. And I would really like some right now.)


Month 6 was mostly spent in Miami Beach, Ft. Lauderdale and the Bahamas, which in January/February is not a bad set up as far as I can tell….sorry to everyone who lives in the snow. It was a weird time where I was alone a lot in a city where I only knew a couple people. I went to school and completed a basic safety course and stewardess training so that I could look for work on yachts, I learned how to ride a scooter, and I felt cold in 20 C weather for the first time in my life (#spoiled?)!


Here's what I did:




I'm currently in Nassau, Bahamas and have a trip report coming about my time here. I'm leaving in a couple days and will be spending a few more days in Fort Lauderdale getting my things together, and then I am thrilled to report that on the 17th I will be flying back to Roatan!!


Lots of big posts coming in the next few days so be sure to follow my feed on here, or on Twitter, or enter your email in the box on the left sidebar to subscribe to my posts by email.


For now though, I'm headed out to do a little more of this: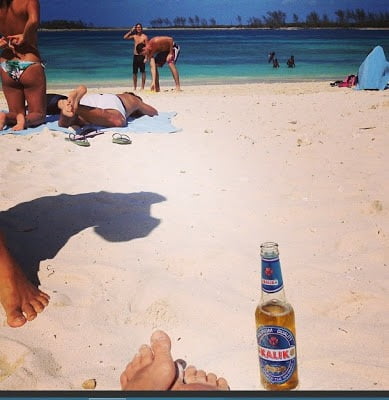 Remember that you can see all my monthly roundup posts by clicking on the "Roundup" tag below this post!