Well that snuck up on me quick… didn't I just write my month 13 roundup??


Here we are at 14 months! Flying by as usual. I haven't been around much because I'm enjoying a 2-week visit from my very first visitor!! I've already certified him as an open water diver and he's doing the advanced course this week. Another diving convert! We're having a blast, much of it assisted by Ronrico and the weather has been perfect. It's a lot of fun finally showing someone where I live and what I do!


Speaking of what I do, the other news around here is I just achieved my PADI Master Scuba Diver Trainer rating … movin on up! PADI even tweeted me about it 🙂







I've also been asked by PADI to do an interview for their blog about being a scuba professional for a living… wow! Really cool to be approached by such a big organization. So look for that coming down the line soon!


You know the drill by now:


1. Gratuitous diving photo


dive site: one minute west
credit: ?? i forget. sarah, did you take this?




2. Posts from the last month


3. The coolest thing I've found on the internet this month


Calming Manatee is the best/cutest website I've seen in ages. Photos of manatees with captions like "It's okay. We still like you." Whoever made this needs a high five. I'm not even ashamed to say I actually used this a few times this week when I got a little stressed. It works!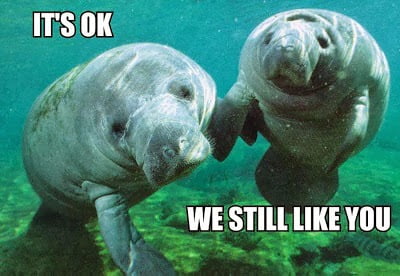 Remember you can see all my monthly roundup posts by clicking on the "roundup" tag below!
Guys, make sure to follow me on Facebook and Twitter … there's lots of extras posted on those that don't make it onto the blog. Plus it makes rainbows happen. So there's that.