Twenty months on Roatan!
And yes, this roundup IS coming to you from Roatan. I received an incredible amount of feedback, comments, suggestions and advice after my post about trying to decide if I should stay here or not. Thank you to everyone who took the time to comment or email me! I took some time off, went diving, went snorkeling, hung out on the beach and tried to chill out a bit which helped to clear my head a lot.
People have been asking and asking what my plan is and what I decided so here it is: I obviously didn't take my flight home to Canada last week. The reason I didn't take my flight home is two-fold. One, because I completely forgot that I had promised a friend I would housesit for her and watch her dogs while she goes home for three weeks in April (uh, oops… I'll blame that one on the rum), and two, because I'm interviewing for a position on a superyacht for the Med season this summer. So if I get that, I'm off to Europe in May. If I don't get it, I'll be here until the end of summer, and then I'm planning to go back to Canada for some yet-undisclosed plans that are in the works for another country. So there you have it. Things can change quickly here as I've learned, but that's the plan so far.
Let's get to the roundup!
You can always see all my monthly roundups by clicking on the 'roundup' tag below… but here they all are in order: Month 19, Month 18, Month 17, Month 16, Month 15, Month 14, Month 13, Month 12, Month 11, Month 10, Month 9, Month 8, Month 7, Month 6, Month 5, Month 4, Month 3, Month 2 and finally little old Month 1. Sometimes when you type 'month' that many times it looks really weird.
1. Gratuitous diving photo:
Well, I finally ran out of diving photos of myself (that's what happens when you only dive twice a month.) So here is a pic of my fins.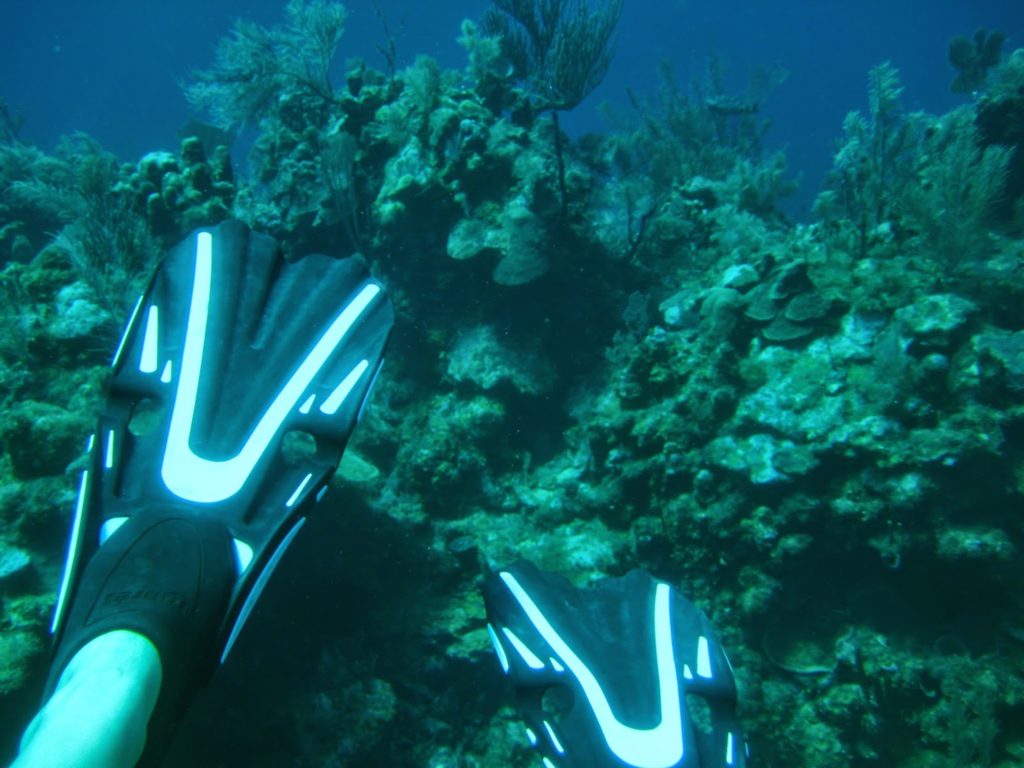 2. Posts from the last month:


This month was a little quiet, mostly due to me just about having a nervous breakdown from stress.

3. Coolest thing I've found on the internet this month:


Have you guys seen Scale of the Universe!?!? I've been playing with this site ALL DAY. You scroll back and forth using the bar on the bottom and it shows you all kinds of stuff from tiny little atoms all the way back out to the entire universe in relative sizes! My inner science nerd (which is not a very smart nerd) loves stuff like this! Have fun 🙂
So here's to 20 months on Roatan…. here's to my cozy apartment, relaxing walks on West Bay beach solo with a beer in hand, welcome rainstorms after months of heat, ripening mangoes, happy divers, spotted eagle rays, a new pink BCD and plans for the fall.