22 months on a rock!


You can always see all my monthly roundups by clicking on the 'roundup' tag below… but here they all are in order: Month 21, Month 20, Month 19, Month 18, Month 17, Month 16, Month 15, Month 14, Month 13, Month 12, Month 11, Month 10, Month 9, Month 8, Month 7, Month 6, Month 5, Month 4, Month 3, Month 2 and finally little old Month 1. Sometimes when you type 'month' that many times it looks really weird.
Astute readers have noted that I have said very little about my personal life this month and have instead been writing all about Roatan, after my huge "
am I staying or leaving
" and then "
okay I'm staying but then my dive shop closed but now I have this sweet set up with the company to do social media
" posts. Well, things changed yet again as they tend to do here, and I'll tell you all about it in just a few more days. For now, I have this exciting tidbit:
I'm finally going on a holiday!
Next week I'll be heading to the Mayan ruins of
Copan
on the mainland of Honduras, and then on to
Antigua
and
Lake Atitlan
in Guatemala, and then back to Roatan. I would absolutely LOVE suggestions on places to eat, stay and play from those who have been there! I literally have no idea where I'm going or what I'm doing. I know my blog is read by some amazing budget backpackers and travelers so please leave your suggestions in the comments below. I am traveling solo and hate staying in dorms, those are the only two things to keep in mind! I am really excited to get off the island and see some more of Central America. Since arriving on Roatan, I haven't been anywhere off the island except a few weeks in Canada last summer…. I think it would be a shame to waste being so close to everything else down here right now and not going to visit some of it.
I'll also be looking for some guest posters to fill in while I'm away for a couple weeks – if anyone is interested just get in touch!
On to the roundup…
1. Gratuitous diving photo:
When you live on an island with no functioning mail service, this is how you send a get well soon card.
2. Posts from the last month:
3. Coolest thing I've found on the internet this month:
I love finding something and tucking it away in my bookmarks so that I can share it with you guys during these roundups. I think I might have to change the name to the funniest thing I've found on the internet, because I'm usually finding ridiculous funny stuff. This month the honor goes to
Eel Slap
– just move your mouse across the screen and smack the guy in the face with an eel. Genius.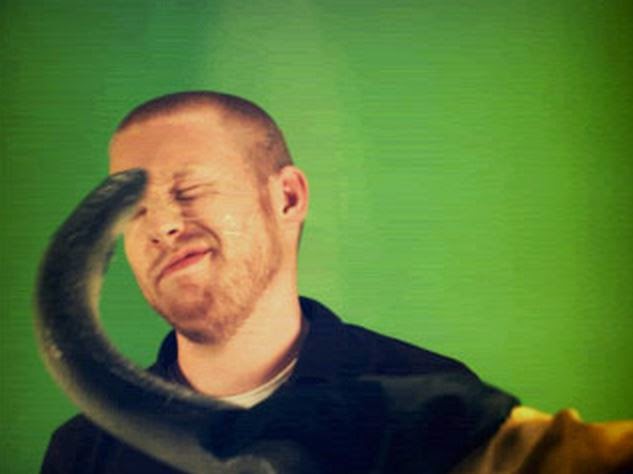 Guys, make sure to follow me on Facebook, Instagram and Twitter … there's lots of extras posted there that don't make it onto the blog. (I also have Google+ if anyone even uses that? And I'm on Bloglovin'!) Plus it makes me try to do a real-life eel slap underwater. So there's that.