After month 25 coming to you from Canada, this month's roundup is actually coming from Roatan once again.


I am happily settling back in my little life on the island. While I picked a fairly terrible time to come back work-wise (this is the slowest time of year and won't pick up again until Christmas) I am hoping I can scrape by until high season starts.
The 5 weeks I spent in Canada were, as always, never long enough to see everyone I wanted to. Sorry to anyone who I missed. Having spent significant chunks of my life in different cities in Canada means when I go back to visit, I have to divide my time between lots of places. During this trip, I spent my vacation in this order: 4 days in Vancouver, 4 days in Ucluelet, 2 days in Vancouver, 14 days in Moose Jaw, 5 days in Edmonton, and 5 days in Vancouver again. There were a lot of flights involved and time went fast. By the end, I was ready to get back to Roatan and sleep in my own bed!
Well, that's the news! Shall we get on to the roundup? (You can see all the past roundups
here
.)
1. Gratuitous diving photo:
Haven't been in the water much over the last month, so I don't have one for you! I'm in the background a bunch on this video though, so you can see me diving here (I'm wearing a white rash guard):


And I make a few appearances in this one too:
2. Posts from the last month:
I didn't get as much writing in as I would have liked due to all the traveling. Immediately after getting back to Roatan I spent a week diving with one of my readers who hired me for the week as his divemaster – it was a blast, and any other readers headed my way who are interested in something like that should contact me! I didn't spend much time at the computer though, so here are the few posts from the last month in case you missed them:
3. Best thing I've found on the internet lately:
I get so many emails from readers who are miserable in their cubicles and want to make an escape like I did. While I hope you all get to execute your very own cubicle throwdown, in the meantime… here are
54 Ways to Make Your Cubicle Suck Less
🙂
My fave is the hammock chair, obviously.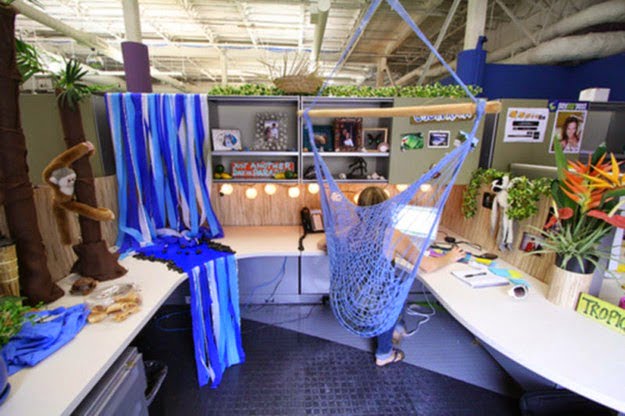 So happy fall to those of you in the northern climates. Enjoy your pumpkin spice lattes, boots & scarves and snuggly blankets. I'm back here sweating my ass off and getting sunburned and I am loving it!