(Edit 2019: guys, please look at the date of this post. It's over 5 years old. I no longer live on Roatan and cannot find a rental for you. Do not email me asking about rentals. See my suggestions below if you're looking for a place, or look at my Roatan FAQ page. There are many people on the island working as property managers and they deserve your business!)
I had such a huge response to my last Roatan Rent post that I decided to dig through my iPhone photos and do another post on my last apartment that I rented! I guess people are looking for this kind of information online, and I think budget rentals on Roatan are not represented online much. When I was looking before I moved down here, all I could find were expensive vacation homes and hostels.
My advice if you're looking for a cheap rental: first, these are only cheap because these are LONG-TERM prices. They're not this cheap for a month or two. They're cheap because that price is for six months or a year. Second, everything on Roatan is done through word-of-mouth and in Roatan Facebook groups. Search for the Roatan Rentals groups on Facebook, post your dates and budget and wishlist, and see who gets back to you. Don't send any money to book a place unless you're 150% sure it's legit. There's really no way to prevent someone taking your deposit and then renting the place out from under you (and fun fact, there's no functioning legal system there so good luck getting that back). For this reason, I personally don't recommend booking in advance for a long-term rental.
My recommendation is always to book a hostel or vacation rental for the first two weeks and then start asking around when you arrive. Viewing places in person is best. You can also get a feel for the neighborhood – the pictures of the house might look nice but they won't show rowdy neighbors with hundreds of screaming kids, a tied-up dog next door barking non-stop, the bar nearby blaring bachata music until 3am… you get the idea.
So now that you've seen what $300/month gets you (remember, that one includes water, drinking water, cable, propane and a cleaning lady once a week), check our what $400/month could get you: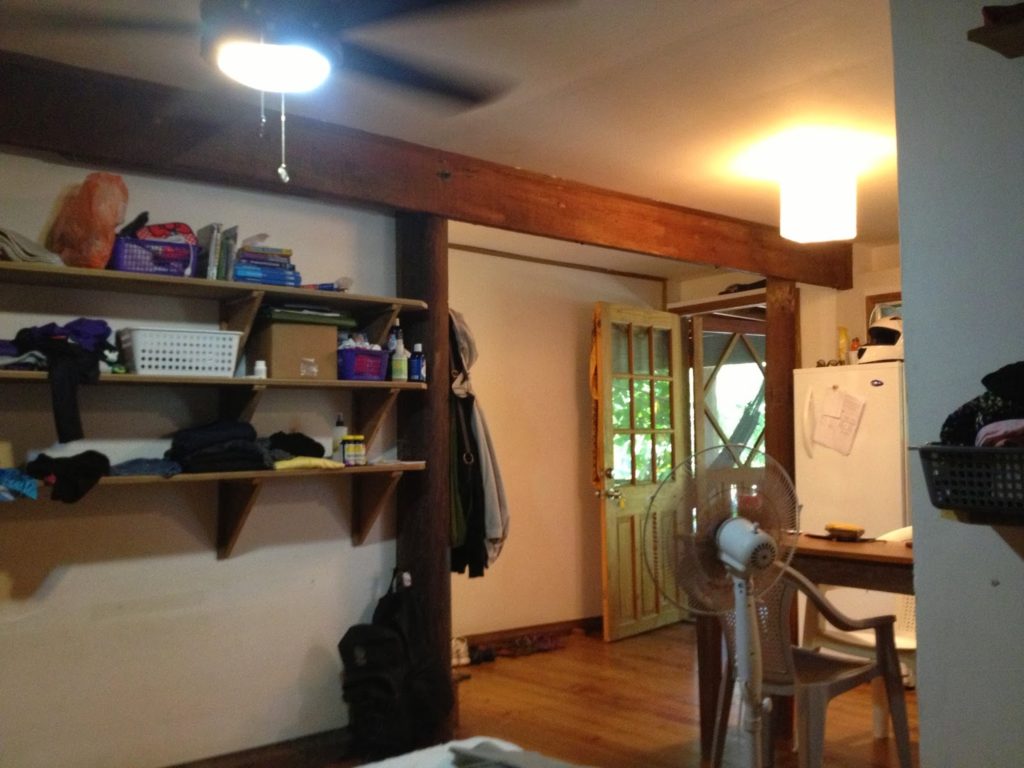 This is my old studio apartment that I lived in last year. It cost $400/month and included water, propane and electricity. It was small and hot, but came with a pretty cool upstairs neighbor. The studio next door to mine was rented as a vacation rental so sometimes cool people were in it and sometimes they were weirdos. The screened deck you see in the first photo was shared by both studios.
I think it was pretty expensive for what I got, but there are two reasons for that: 1) the location – this place is right in the center of West End and even in a village of 300 people, the closer you are to the action, the more money it is (this one was right behind a bar, which was probably one of the reasons I had to leave), and 2) electricity was included in the rent. Electricity is SUPER expensive here, so to have it included means they figured out what it would cost if I left everything on all day long and then added that to the rent. I used to leave fans running while I was out to keep the house cool…my dog was in there, but I mostly did it cause I figured, what the hell, I'm paying for it anyway. I think it's better to pay your own electricity here, cause landlords will cover their asses, not yours!
Which one do you like better – the $300 one or the $400 one??
Guys, make sure to follow me on Facebook and Twitter … there's lots of extras posted there that don't make it onto the blog. (I also have Google+ if anyone even uses that?) Plus it makes me turn my fans off now that I pay my own electricity bill. So there's that.