The first time I heard of Celeste's Island Cuisine was not long after I had moved to Roatan. Quite a few people raved about it, but with my West Bay Beach excursions limited (like…uh… twice in two years) I hadn't had a chance to check it out. During my recent stay at West Bay Lodge I had no excuse not to, since this was the on-site restaurant! It was a rainy, gray day as I made my way down to the cheerful little restaurant.
The decor is really laid-back and true to island style. Fairy lights, decent volume reggae music, and all kinds of knickknacks adorned the walls (including my personal favorite, "$5 Charge For Whining") and I could see the murals painted on other buildings from where I sat. Since this isn't right on the beach like some other restaurants, I appreciated that they put some effort into creating a place with lots to look at!
My server, Danny, got me set up straight away with a 'Celeste's Famous Rum Punch'. Longtime readers will know that I am no stranger to rum punch on Roatan. However, at most bars this consists of some dark rum with a bit of fruit punch from a box thrown on top. Not this rum punch. Danny wouldn't reveal all his secrets, but he put about eight thousand things into this delicious (and strong!) concoction…
The only hints he would give me were: coconut rum, dark rum, and guava juice… not sure what the rest of the secret ingredients were, but wow. The drink is topped off with yet another secret ingredient ground on top – my vote is nutmeg, but Danny insisted it was beach sand, because, "it's good for your digestion". Delicious and totally worth the $5 price tag. (I sometimes think about living in Canada and how I couldn't even get a beer for less than $8 in Vancouver. And now $5 is a fancy expensive drink.) There are plenty of other drinks to choose from, all with really cute names. I particularly liked the sound of "Milos' Pain-Killing Watusa"!
I sat down with the menu to get some lunch. They offer baleadas, tacos, quesadillas, fajitas, salads…you just pick which one and then your protein (lobster, veggies, pulled pork, steak, grouper, chicken, or shrimp) and away you go. Priced between $7-10 for lunch and $9-14 for dinner. Simple and easy. I decided to go with shrimp tacos, and sat down with a book…. Roatan restaurants are not exactly known for prompt service, and I usually wait anywhere between 20-50 minutes for a basic meal to come out of kitchens here. I've just accepted that that's how it is, so I bring a book.
Imagine my surprise when this turned up at my table a mere 10 minutes later: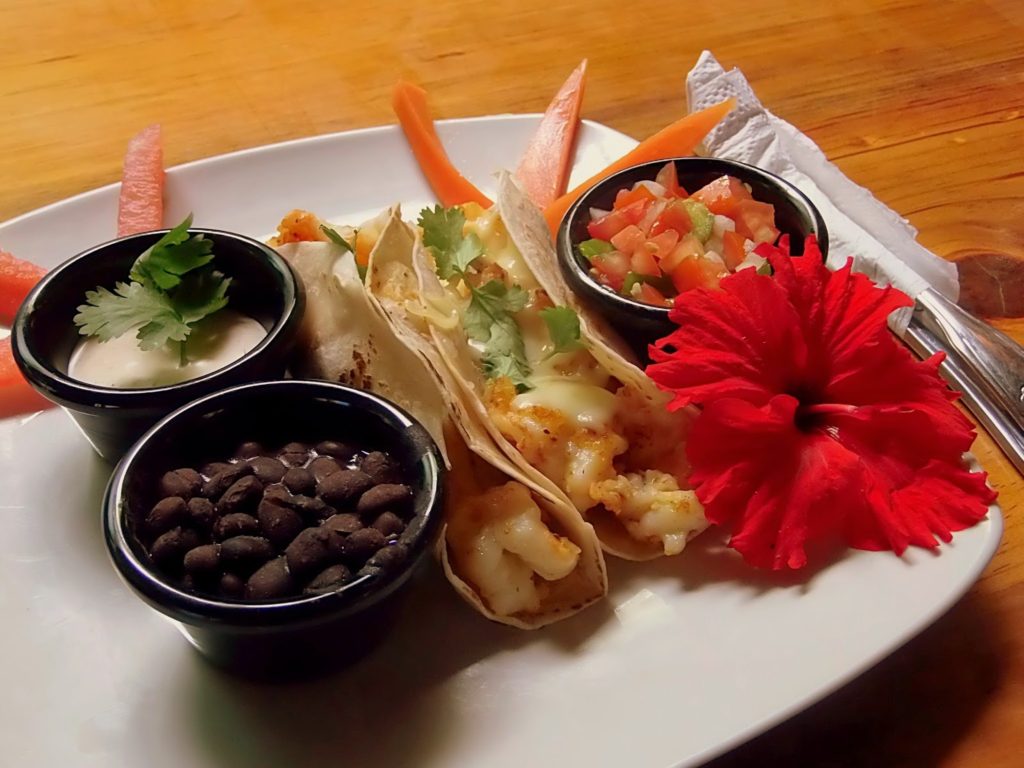 Fresh, piping hot, perfectly cooked and well-presented. Wow! There were two soft tacos with beans, crema, fresh salsa and a bit of watermelon and papaya for good measure. The shrimp were perfectly cooked and there were a TON of them in the tacos, the beans were seasoned well, the cheese was mild, and the tortillas were fresh and slightly crispy. This is a great deal for $9 (dinner version is $12). I think this would have been great with any of the seafood/meat/veggie choices.
(Note: I have seen some reviews complaining about the parrots stealing food off guests' plates. This never happened to me here, nor did I see it happen. I probably would have laughed, but germaphobes maybe wouldn't care for it.)
I also got to try out the breakfast they offer daily. They do a rotating breakfast for $5 – there is a small buffet with juices, coffee, fruit, toast, yogurt, etc. and then there is 1-2 hot plates per day that you can choose and they make it to order (no nasty scrambled eggs sitting at a buffet for an hour). I was there on 'Vanilla French Toast' day: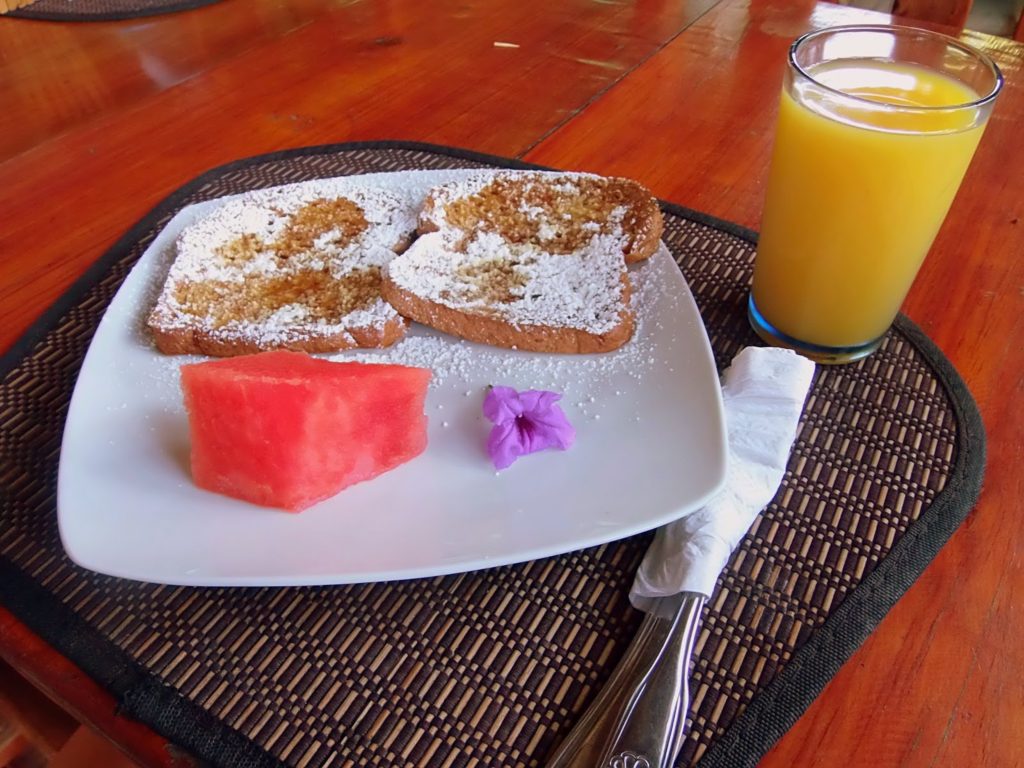 Other days include choices such as: Banana Pancakes, Roatan Scrambled Eggs, Waffles with Caramelized Pineapple and more. They all sounded really delicious, and my french toast had the perfect amount of sweetness. It came out quickly too – this would be a great easy and quick breakfast spot for divers needing to get out on the boat in the morning.
What you need to know:
hours of operation are Tuesday – Saturday 8am-9pm, Monday 8am-3:30pm, Sunday 8am-11am
located on-site at West Bay Lodge in West Bay (across from the mall)
bring: cash and bug spray! The mosquitoes killed me here, and I'm pretty used to bugs by now
please remember to tip your server, and a reminder that torn, ripped or otherwise damaged bills are not accepted by banks or businesses on Roatan so please don't try to pay or tip with them

Rika's Rating: definitely going back to try the infamous lobster baleada! Great place in West Bay without dealing with the hustle and bustle of the big all-inclusive resorts on the beach.


Disclaimer: Celeste's Island Cuisine generously hosted my visit, but my opinions are always my own no matter who is paying the bill!



Guys, make sure to follow me on Facebook, Instagram and Twitter … there's lots of extras posted there that don't make it onto the blog. (I also have Google+ if anyone even uses that? And I'm on Bloglovin'!) Plus it makes me get that lobster baleada. So there's that.