[Update 2015: the restaurant is under new management with a new chef. I no longer recommend this place.]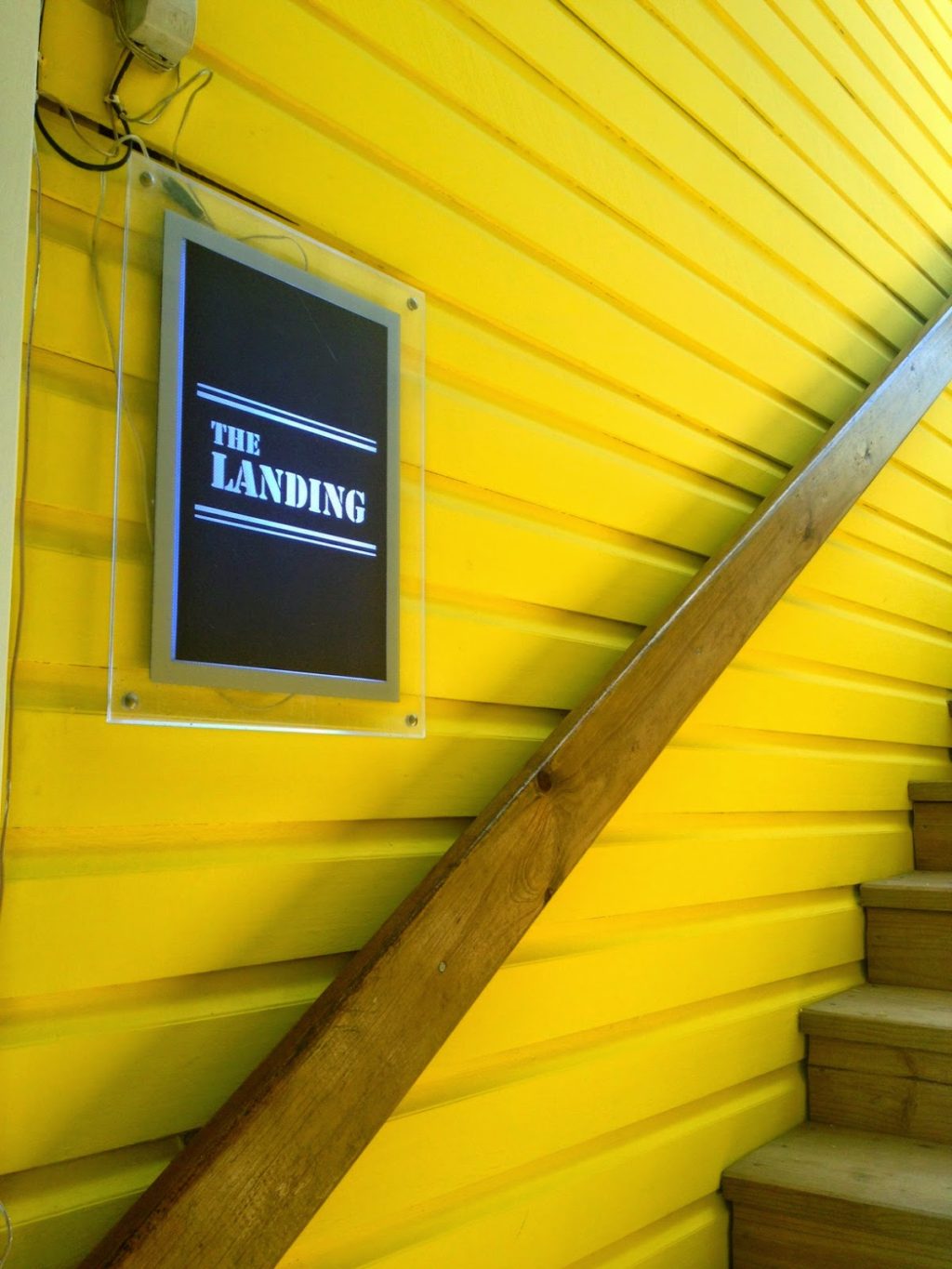 During one of my vacations to Roatan in 2012, one of my friends got a job at a little tucked-away bar called 'The Landing' on the second floor of The Beach House (a boutique hotel in West End that I adore). I hadn't even noticed the staircase off the street leading up to this place, but once he started bartending there, it suddenly became the place to be for all our friends. Flaming drinks at sunset, electro DJ dance parties on the tiny deck and free shots if you mentioned Facebook page ads had this little place bumping on random nights, like Mondays and Wednesdays (generally the big 'going-out' nights in West End are Thursdays and Fridays). We had a blast.
Then I came back three months later after I had moved to West End, and went back to The Landing again. It was dead. I didn't know anyone there. It looked a little run-down. I was SO SAD! Such a shame, as it has the best view in town and a great second-story location to get away from the bugs. I sort of forgot about it and went on with finding new places to get my sunset beverages.
Well, a new freelancing dive instructor job brought me next door to The Landing again recently, and their Facebook page tempted me with a Kale Caesar Salad for only $7. Now, if you're a new reader, you are omitted but anyone who has been around Cubicle Throwdown for a while should know that kale is one of those things I miss from Canada, badly (that, and everything else from Whole Foods). I figured I would give it a shot.
Walking up the stairs again, I was pleasantly surprised with a refreshed look with beautiful new chair covers, new table accessories/menus/condiments, a clean and tidy bar set up, and neatly handwritten colorful signs with exotic-sounding drink specials.
The new manager, Manon, came over to take my order. Hailing from the south of France with a decidedly bohemian beach vibe to her (I don't think I've ever seen her with shoes), this former dive instructor passionately described her specials that day and answered my one million questions with ease. I decided on the house-made fresh gingerale to go with the kale caesar salad and sat back to enjoy the view. I could smell the fresh ginger from where I was sitting – yum! The gingerale was a refreshing twist on the traditional, and it was nice to have an option like that for the same price as a Coke.
view off the deck to the left
view off the deck to the right
I could see into the kitchen where Manon and her cook were preparing my salad. It was nice to see things being made from scratch – I had visions of bottled casear salad dressing and the crappy croutons we buy at the local supermarket. I was also worried about the size of the salad for $7… anything 'healthy' (or 'for white people', as the locals call it) usually requires 2-3 servings to fill me up here because the portions are so small and expensive.
Let me tell you, once this beauty was set down in front of me, all worries were cast aside.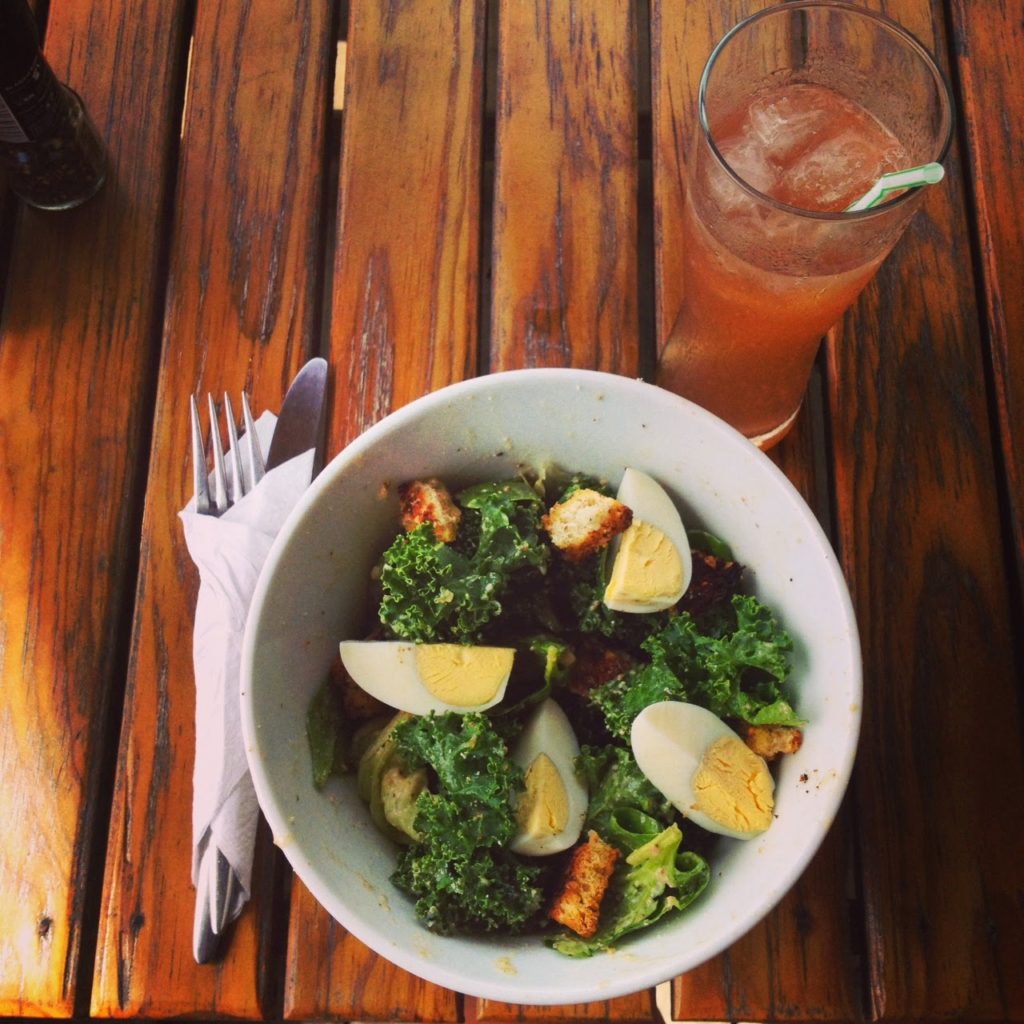 This picture does not do justice to the size of the bowl. It was big! I was thrilled. With hardboiled eggs on top, homemade garlic croutons and homemade dressing, this kale/iceberg/spinach salad was the perfect chilled meal for a hot day. And they scored bonus points for hiding a bunch of croutons and more egg in the bottom of the bowl… my personal pet peeve is a giant bowl of soggy lettuce after you eat all the 'good stuff' off the top of a salad (am I the only one who does that?) This salad + gingerale was only 165lps, or about $8.25 USD, and completely worth every penny.
I think this was the most relaxing lunch I have had in ages. Killer view, great healthy food, refreshing drink, suuuuuuuuuper chill music playing, no cell phones blaring or kitchen workers hollering at each other. I probably could have sat here all day. (It's very likely that several posts in the future will be coming to you from a table at The Landing.) There's a beachy, laid-back vibe here that I love, complete with a little beat-up surfboard tucked away in a hidden corner. And, of course, watching Half Moon Bay while you nosh is not the worst thing you could stare at for an hour or two…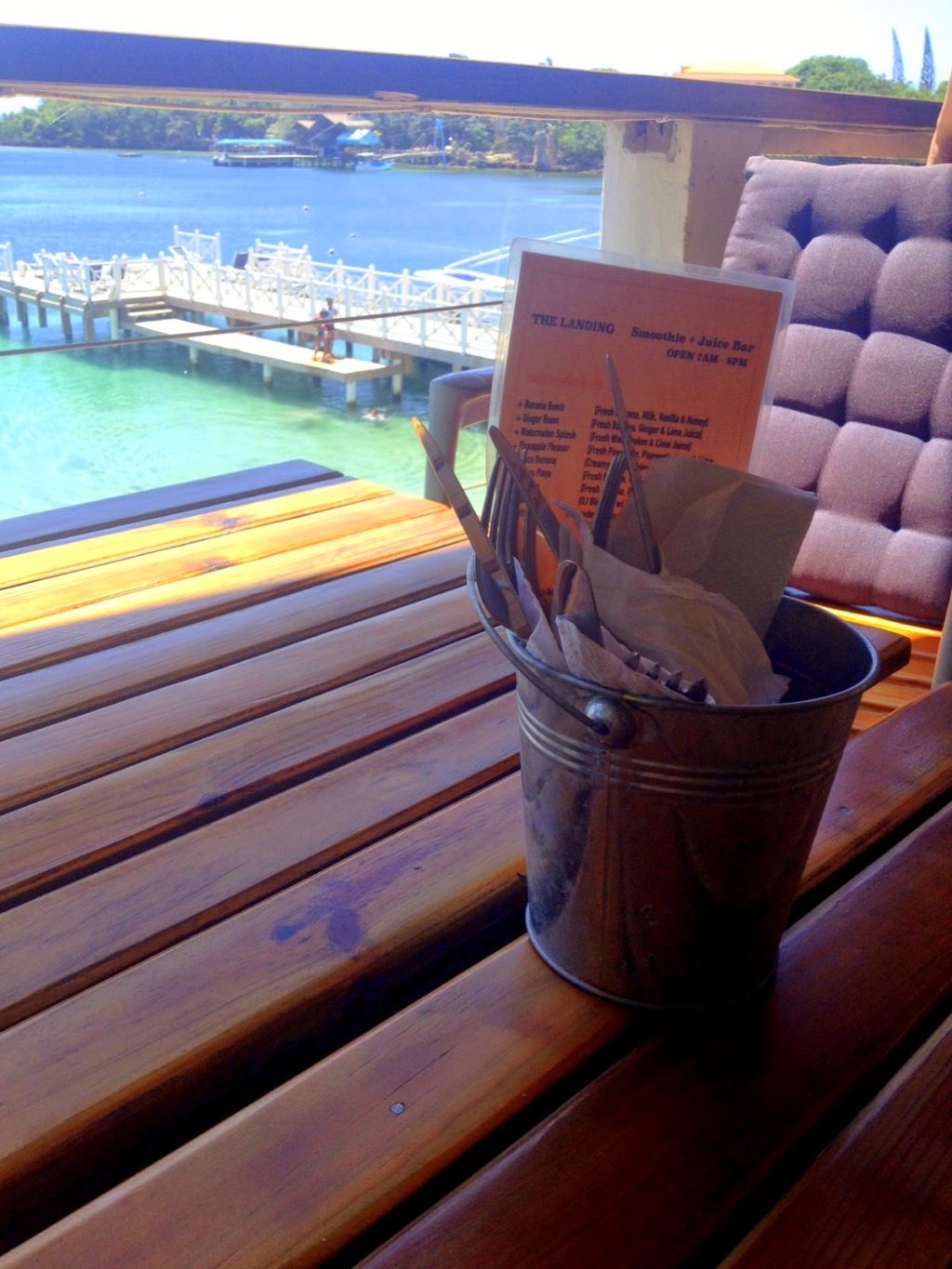 I had a peek at the juice (60lps/$3) and smoothie (80lps/$4) menu from which I promptly wanted to order one of everything, and at the regular menu which had me salivating at the thought of chips & freshly made guacamole (80lps/$4) or an italian sausage and caramelized onion baguette sandwich with apple coleslaw (only 160lps/$8!). They also do breakfast from 7am-10am with yogurt, homemade granola, tropical fruit and more. My only suggestion would be to offer more sun shade during the hot daytime hours… diners on the outer side of the tables were constantly shifting people around the tables so they could get out of the burning sun as it moved across the sky. Not sure how they could do this without blocking the beautiful view though, but it's something to consider.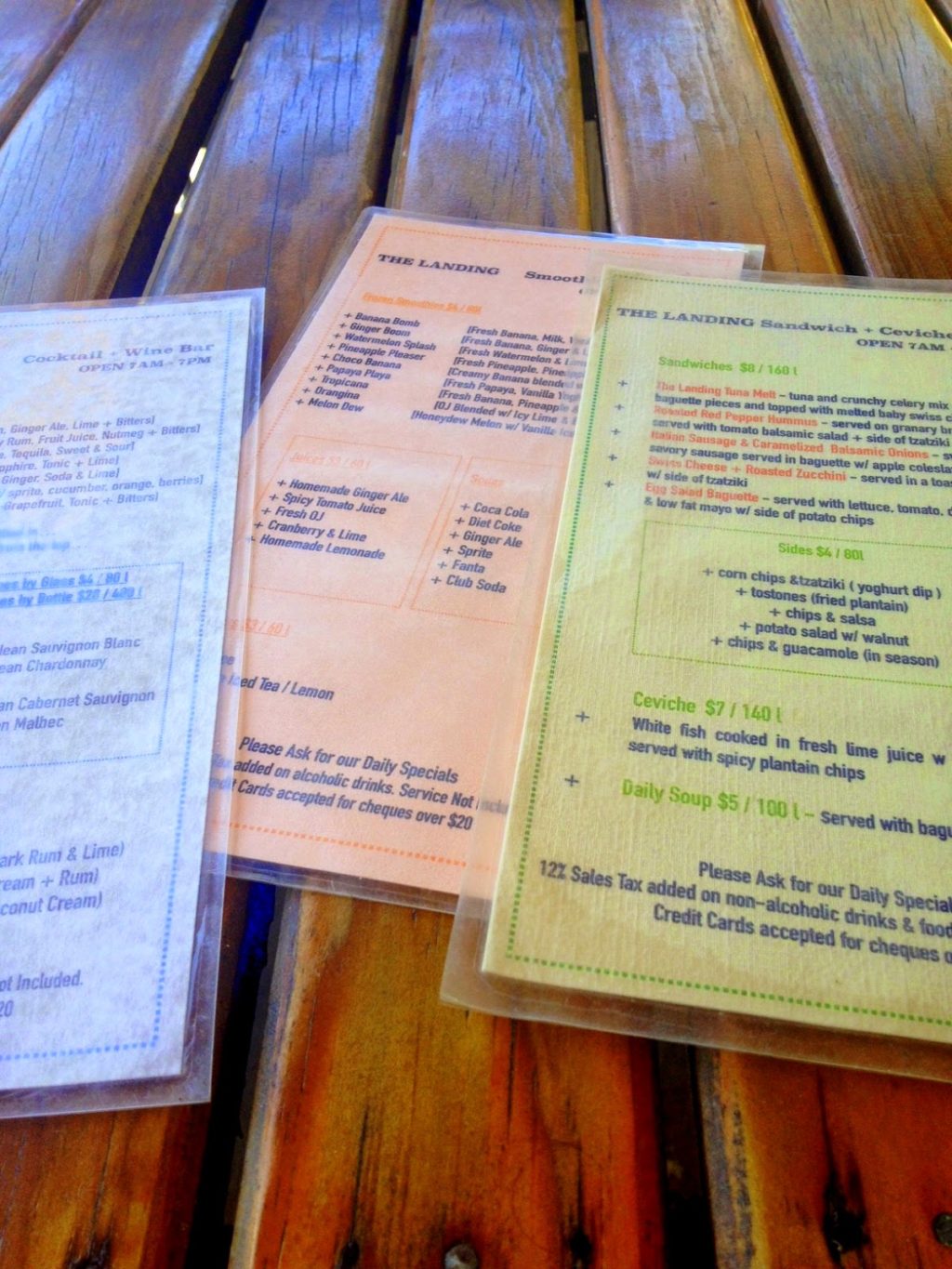 There's not many places in West End to get such fresh, healthy and affordable food, so I came back a couple more times to try other menu items (in the name of research, obviously). I was happy to see the little place bustling with lots of customers! Manon handled it solo like a pro. The next day I tried the egg salad sandwich (160lps/$8) which was thankfully a far cry from the traditional mayo-filled mess egg salad sometimes is. Slices of hardboiled egg with a light dressing were joined by crunchy iceberg, cucumber and tomato on a soft multigrain baguette (I have no idea where they found bread like that on this island). The chips were a nice pairing – does anyone else put them in their sandwiches or I am the only weirdo?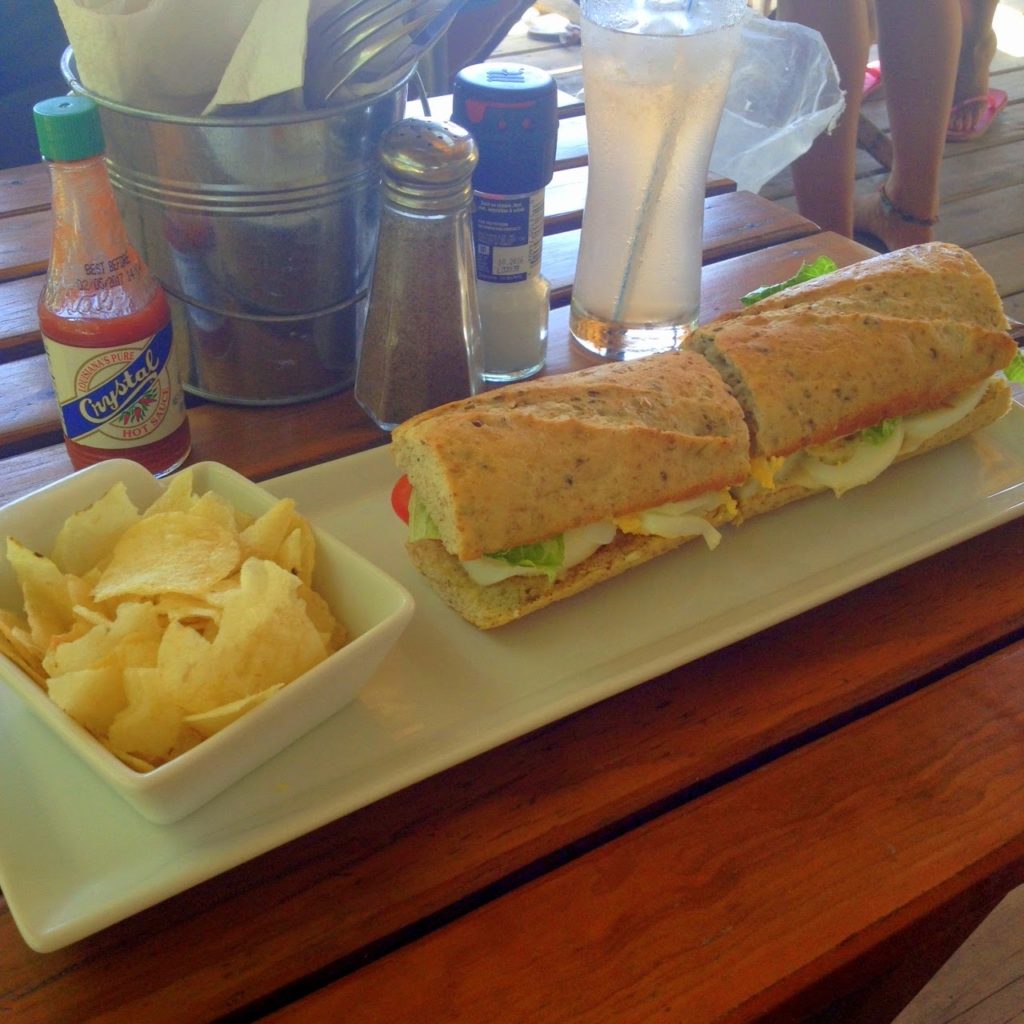 The following day after some long morning dives I went in search of rehydration with their 'Orangina' smoothie – orange juice, lime juice and a banana (80lps/$4). Totally hit the spot.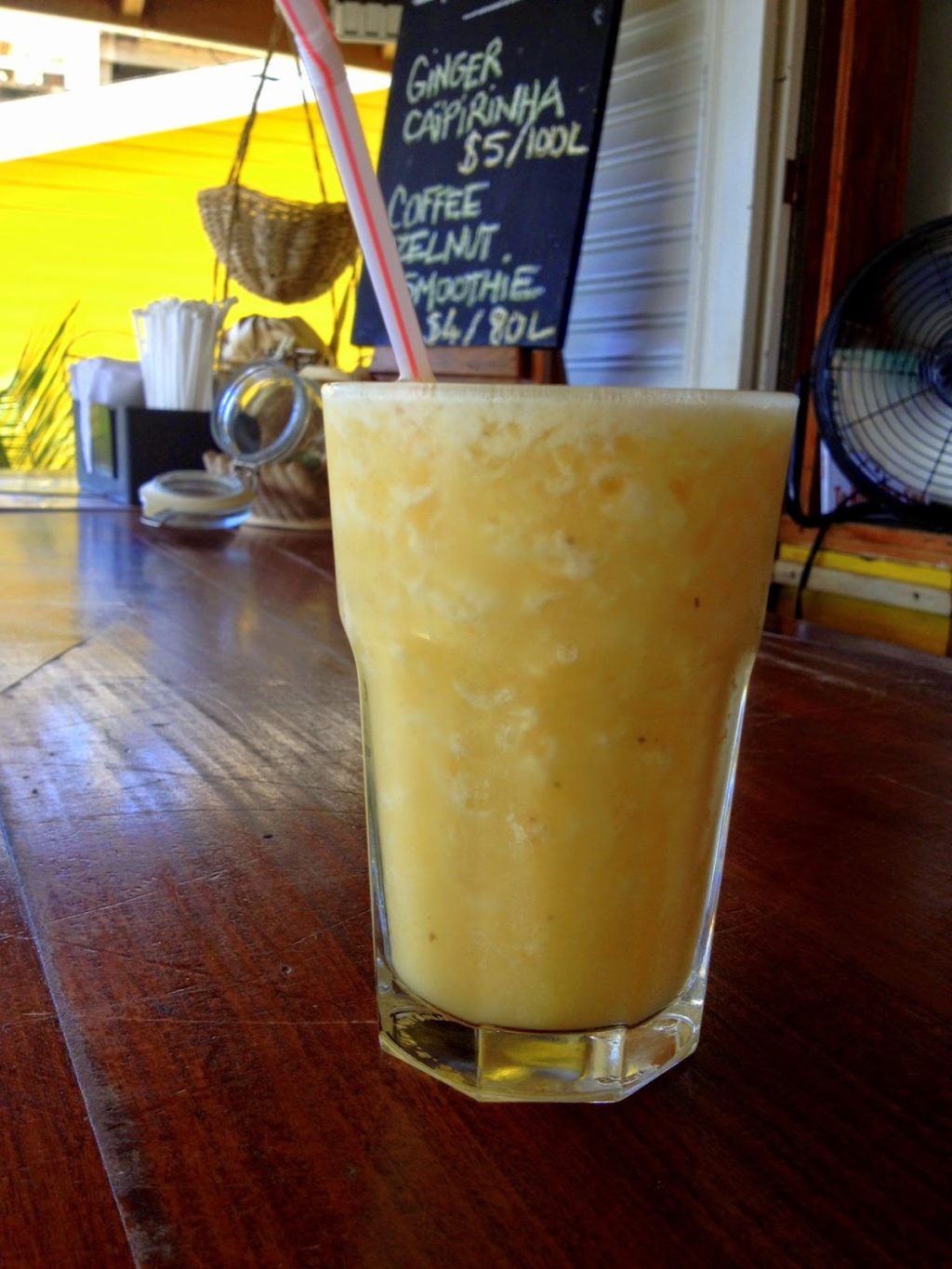 After eating, I got to chat with Manon for a bit about her plans for The Landing. She used to be a dive instructor here in West End and recently took over this position, and I think she's the perfect person for the task of getting The Landing back up to its formerly buzzing self. It's certainly worthy, given the new look, new manager and new menu. For a beautiful location now offering affordable, healthy food and original drinks you won't find anywhere else in West End (a ginger caipirinha for just $5, anyone?), The Landing deserves to get a ton of business. I'm going to start by bringing all my friends. You should too.
Things to know:
located in West End – it's part of The Beach House (the big yellow building directly to the right of the traffic circle when entering West End) – there is a staircase that goes up, look for the signs
phone: 504-9971-7146
open from 7am – 8pm daily, I don't think reservations would be necessary
WIFI! Yay!
check out their Facebook page for current menu offerings and specials, or their page on The Beach House's website
bring lempira or USD in good condition to pay, and don't forget to tip your server (10-20% is standard on Roatan)
go at sunset and get the best view in West End!

Rika's Rating: anything with kale makes me happy, but seeing this place getting back to where it deserves to be makes me even happier. Love it!
Disclaimer: I was not compensated for this review and I bought all my own meals. Regardless of who is taking care of the bill, you will always receive my honest opinion in my reviews.
Guys, make sure to follow me on Facebook, Instagram and Twitter … there's lots of extras posted there that don't make it onto the blog. I also have Google+ if anyone even uses that? And I'm on Bloglovin'! Plus it makes me see how many caipirinhas I can drink. So there's that.