[Update May 2016: Sadly, Tyll's has just closed its doors for good and Dorte and Uwe are leaving the island after many, many years. The big resorts have made it difficult for small shops like Tyll's to stay afloat. Choose your dive operator wisely, my friends.]
One of the best dive shops in West End consistently flies right under the radar and is one of the best kept secrets on Roatan – when Tyll's Dive advertises small groups, and a cozy, family-like atmosphere… they mean it!
I first came to Tyll's a couple years ago when I was on holiday here and my friend Anna was working as a dive instructor there. While torrential storms burst our bubble for diving, we spent all day in the shop playing Scrabble with shop manager Dorte (who still managed to kick both our asses, despite having English as her second..or is it third? language) and listening to her quirky husband and co-manager Uwe make his hilarious commentary on all who passed by. When we finally got to go out diving, I was the only guest on the boat and was taken care of so well by Anna and the smiley-est boat captain in West End, Captain Sam, that I canceled my reservation at another shop. I also took my friend to get certified with Anna as my friend was very nervous and panicky and preferred to be at a smaller, more personal shop like Tyll's.
Tyll's is not the fanciest dive shop or famous for high-end dive boats, but they will bend over backwards to make your diving trip everything you want and more, and I'd rather have that than imported rinse tanks and custom tank racks any day. I also spent a period of time living in an apartment behind Tyll's last year, and every day Dorte and Uwe had a smile and a wave (and a story) for me. The table you see in the photo above is one of my favorite places to pass an afternoon, even if I'm not diving!
You'll feel like you're home as soon as you set foot in Tyll's. Dorte does all the scheduling and reservations and is a pro after many years. She'll get you set up with a smile. Once you are registered and ready to go, you can hang out and play with the shop kitties Bailies & Blanca, cause Captain Sam and your divemaster will set up your gear and haul it out to the boat for you. All you have to do is bring your personal gear on board and away you go!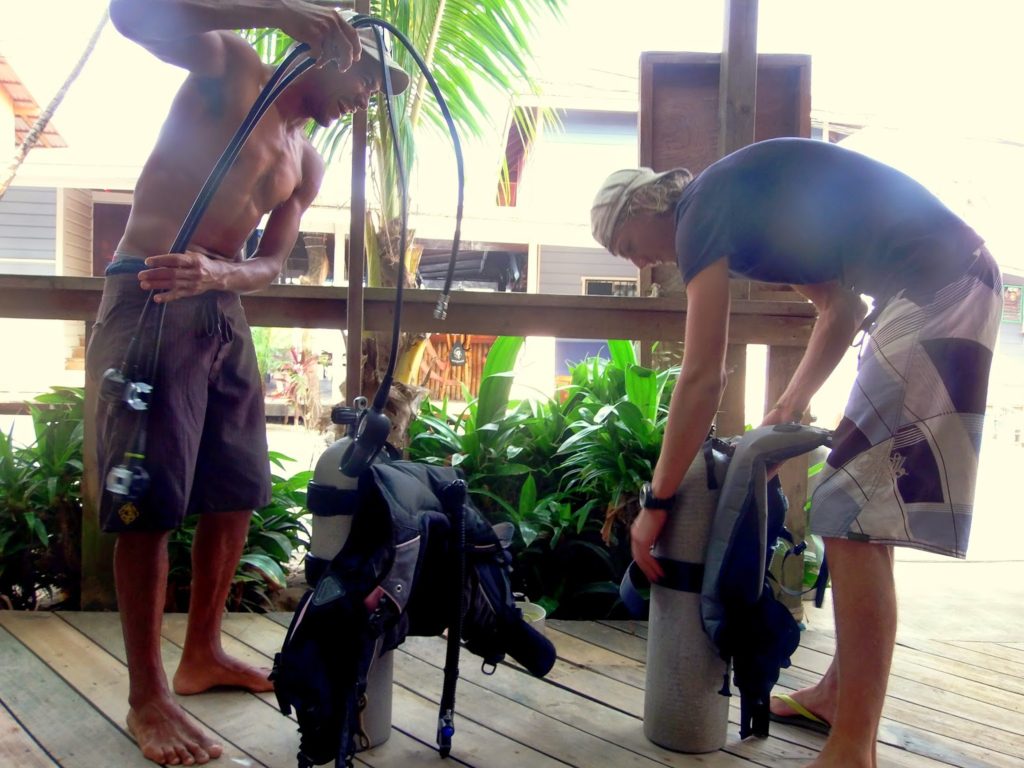 On my most recent visit to dive at Tyll's, Dorte had collaborated with the other diving guests (4 people, so a total of 5 with me and that is a busy boat for them!) and our divemaster Willem to head out to a dive site called Seaquest Deep where some pipehorses live, since I had mentioned to her that in 2.5 years of diving here I still hadn't seen a pipehorse! I sat back while Sam set up my gear and took it out to the boat, which is such a nice change since that's what I'm used to doing for divers all day. We waited around a bit for the other divers who were late (also a perk of a small, personal dive shop…at other shops if you're late you get left behind!) Willem came around to each diver individually as we were scattered about the shop and did a personal dive site briefing for everyone, which I was really impressed with – I wouldn't even do that at work – ha! – I would have corralled everyone together so I only had to brief once. Kudos, Willem!
Tyll's has a great location in West End, right in the middle and is close to all the western dive sites in the marine park. We were at the site after a quick 5-minute ride, and Capt. Sam tossed our gear in the water for us to get ready to go. Willem was a fantastic divemaster, pointing out all kinds of creatures and taking it nice and slow – thankfully everyone in the group had a lot of diving experience, so there were no issues, but if there would have been I have no doubt Willem would have handled it quickly and professionally. You can see in my video below that Willem found us not just one pipehorse (the things that look like little sticks…look closely!) but two, including a male carrying babies! Wow! What a find. I was doing my underwater happy dance 🙂 Willem totally made my day with that one.
We came up after a leisurely 60 minutes (good luck finding other dive shops in West End that'll let you do 60 minute dives) and Sam worked on his physique again by hauling up all our gear out of the water so we could walk up the ladder unencumbered. A quick ride back to the shop and I was treated to Sam and Willem breaking down my gear and rinsing it for me. I love valet diving service – I give it all day so it's sure nice to be on the other end of it once in awhile.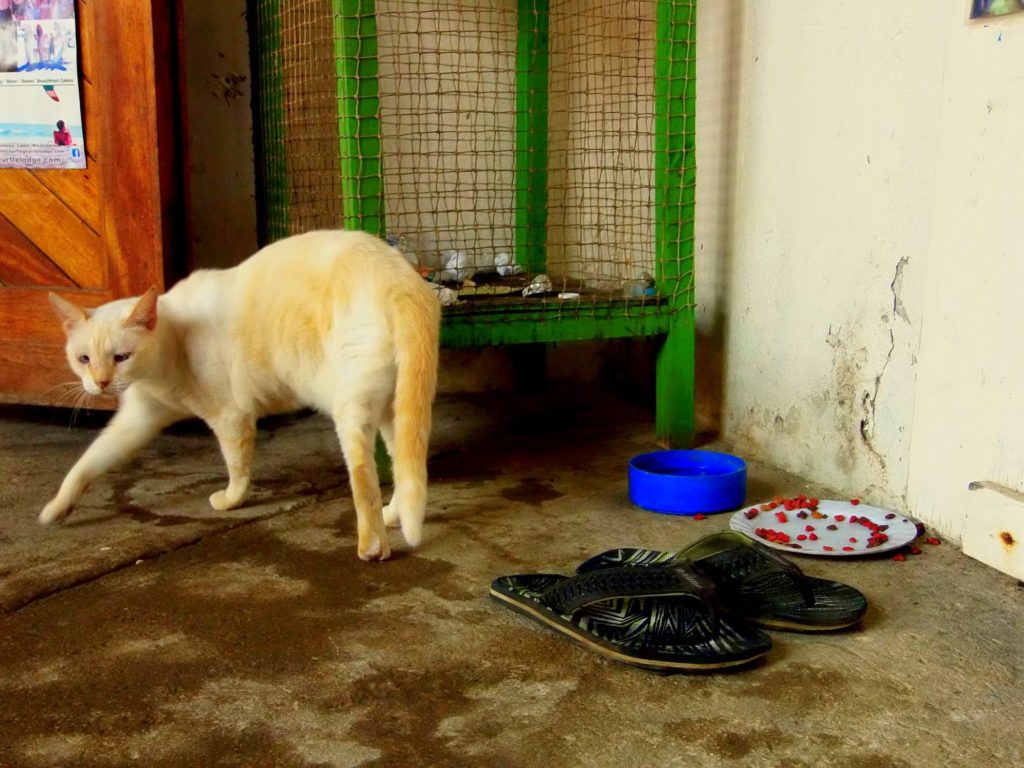 I really can't recommend Tyll's enough if you're looking for a laid-back shop to do some great diving. If you're in a huge group or require high-end dive boats with frou-frou snacks on board and towel service between dives, it probably isn't for you, but a family or small group of friends can basically take over the entire shop for your week of diving and by the end of if you will leave as part of the Tyll's Dive family. The incredible amount of repeat customers at this shop is unparalleled on Roatan, and after you dive with Tyll's it is easy to see why.
Check out my video of my dive with Tylls:


Things to know:
Where: in West End, across from the Blue Marlin
As the shop is small, it can fill up quickly – make a reservation by calling +504-9698-0416 or emailing info@tyllsdive.com and Dorte will help you out
What to bring: your own gear if you have it (if not, they have good rentals), a towel, your logbook and certification card, and cash to pay for your diving and to tip your divemaster and boat captain (lempira or USD – this shop does not accept credit cards)
Find out pricing and more info on their website
Check out their STELLAR TripAdvisor ratings – this shop has been open for years and never once have they received a rating any less than 'very good'!
Make sure to let Dorte know that Rika sent you 🙂


Rika's Rating: absolutely the best. One of the only places on Roatan that I will 'fun dive' on my days off of work, and that should say a lot!


Disclaimer: Tyll's Dive graciously hosted me for this dive so that I could do this review. However, my opinions are my own, and I have paid for many dives here and will continue to do so because I love this place!




Guys, make sure to follow me on Facebook, Instagram and Twitter … there's lots of extras posted there that don't make it onto the blog. (I also have Google+ if anyone even uses that? And I'm on Bloglovin'!) Plus it makes me find more pipehorses. So there's that.