My diver is yelling at me.


"Rika! Rika! He has such a strong Jamaican accent, I can't understand what he's saying! Rika, what did he say to me?"
I instantly cringe and throw profuse apologies with my eyes at my boat captain, who lets out a weary sigh, rolls his eyes, giggles, and continues helping my diver with his gear. This is his daily life on an island full of people who just don't understand.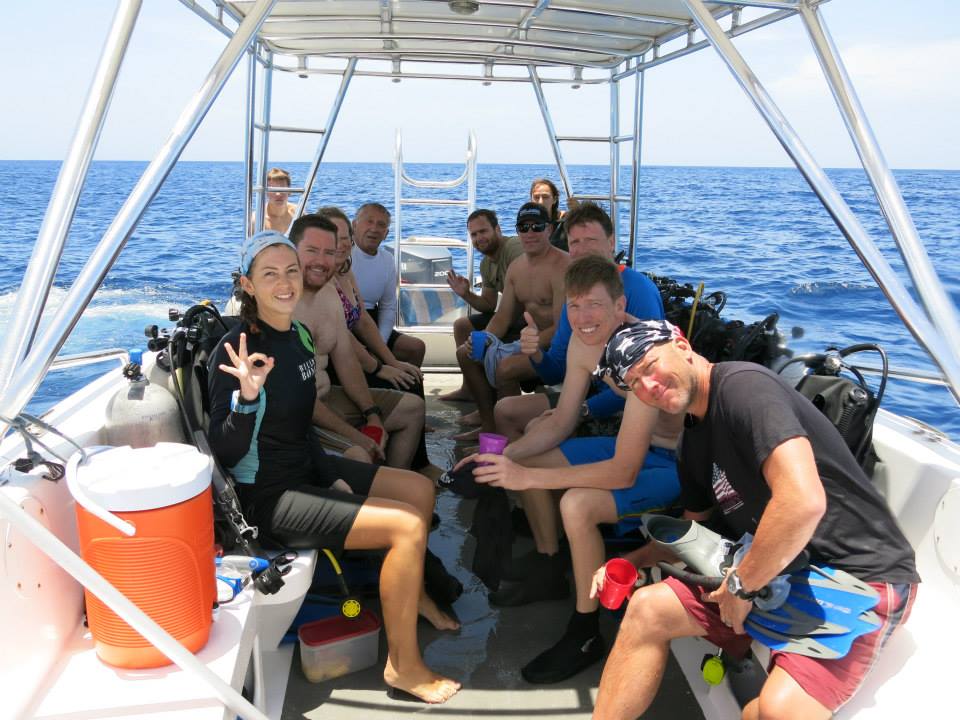 it was not any of these divers 🙂
I heard things like this every day on Roatan.
Gringos insisting on speaking terrible, broken Spanish to islanders who assure them that their first language is in fact, an English-based creole, that they prefer to speak English, and that their Spanish isn't too bueno either.
Tourists who talk behind islanders' backs about their 'bad English' and laugh at the way they write English.
Visitors who think it's hilarious to say "yeah, mon" and talk about Bob Marley in every sentence when talking to the islanders.
Y'all need to fucking STOP. Stop it.
Here is your short and sweet lesson. Roatan is home to a mix of races and languages. The majority of born and bred islanders are people of color and people of mixed descent who speak Bay Island Creole (an English-based creole) as a FIRST LANGUAGE. They learn Spanish in school. It's not a fucking "Jamaican accent". Bay Island Creole is a real, separate, valid language with it's own vocabulary and grammar. It's not English, though since it's an English-based creole it is easier for English speakers to understand them, and for them to understand English speakers. Due to the tourist nature of their island, islanders can speak English, though they speak with an accent – it's a Bay Island Creole accent, same as when French people speak English they speak it with a French accent. And in creole or English, no one says "yeah, mon"….since Roatan isn't Jamaica and Roataneans don't speak Jamaican Patois. They are two completely different, separate languages.
funny roatanean island english memes from oceane
When someone says they speak English, please honor their preference. Unless Spanish is your first language, you don't need to talk to English-speakers in it. If you want to practice your Spanish, Roatan is home to many people of Spanish-speaking descent and upbringing due to the influx of mainlanders coming to the island looking for work. You can easily find someone who speaks Spanish as a first language and they'll probably be happy to practice with you. If you want to learn some island English, ASK! Islanders are happy to share their language. If you need a conversation starter, ask them what 'enah' or "ya done know" means, or get them to teach you the right accent and cadence for saying the ubiquitous 'wa going on'!
Visitors to Roatan (and actually, any tourist-based destination) need to keep in mind that the locals are not stupid. They know their salary is coming from you. They will often hide their displeasure or uncomfortable feelings because they are at work and feeding their kids depends on their customer service to you. But that doesn't give tourists a free reign to be ignorant jerks.
Please be a responsible visitor and educate yourself before, during and after your trip. That makes you a traveler and not a tourist. Tourist is a dirty word in these locations. Be a traveler!
Aaaaaaaaaaaaand that's your Roatan public service announcement for the day!
Guys, make sure to follow me on Facebook, Instagram and Twitter … there's lots of extras posted there that don't make it onto the blog. I also have Google+ if anyone even uses that? And I'm on Bloglovin', so you can follow me there too! Plus it makes me try to post more than once a month. So there's that.