At this time I'm usually trying to whip up a belated roundup post, but there wasn't anything to round up. I haven't written any posts. I wasn't even on Roatan. And a lot of big things are happening. So this post is an ode to the end of an era instead.
Let's get to the point: I'm leaving Roatan. For good.
It's not an easy thing for me to write. Putting something out there like that on my site seems so final, and set in stone. My readers who have followed me on this crazy adventure know that sometimes I write things a little too soon and then they don't pan out (hi, welcome to my life). But it is this time – the flights are booked and the decisions have been made. I'm leaving.
I hear you, cubicle-dwellers who have followed me as an escape, or an aspiration. I hear your cries of, "NOOOOO HOW CAN YOU LEAVE SUCH A BEAUTIFUL PLACE WHAT'S WRONG WITH YOU?!?". Don't think that it didn't cross my mind once or twice, guys.
Here's the honest truth – I don't love it anymore. And all the beautiful beaches on the island can't change that.
I don't love my lifestyle anymore. I'm tired of having to work 60 hours a week to barely make ends meet, panicking during slow season when I have no work for three months straight and borrowing money from my parents or friends just to eat, and never having enough extra money to travel anywhere else. I don't want my only recreational activity available during my free time to be drinking in a bar. I'm not in good enough physical shape anymore to be diving 15 times a week and hauling tanks and gear on top of it – my body is tired, my sinuses are ruined and I'm just too fucking old to be told I have to dive when I'm sick or else I make zero bucks. I just turned 31 and this just isn't the kind of lifestyle I want for myself at this point in my life.
I don't love what I feel Roatan turning into. (This read was startling.) Everyone is fighting for a dollar and not much of it goes back into supporting the island. Even after paying tons of money and spending time to get my residency and do everything legally there, I still have to deal with daily attitudes of "get off my island and stop stealing locals jobs" by islanders and I'm sick of it. (Do I blame them for wanting the gringos off their island? NO. Do I feel like hearing it every day and feeling unwelcome? Also no.) I'm tired of the corrupt government being able to change things on a whim that don't benefit the tourism industry, and making things difficult for necessary foreign workers to work in it. I'm over being treated like a human ATM just because I'm not from here. I'm not stoked on the cruise ship industry turning the island into their elite playground where only certain people and companies get to benefit from it while hordes of cruise shippers trample a little island that doesn't have the infrastructure to support that many people on it. I don't like seeing the reef get ruined by clueless tourists who really couldn't give a shit because they're on vacation, dammit, and they'll stand on the coral if they want to because who cares. I have seen the tourism decline on Roatan in the last few years from the media reporting on violence in Honduras, as well as the fall of the Canadian dollar, and tourism going down directly affects my job here.
Do I sound like an entitled, complain-y person who just spent four years living in paradise? Maybe to you, but probably not to people who live on Roatan. Those that have been there for years know there are pros and cons to the island and it is not easy to live here. Every day there is a struggle for something, whether its the constant power outages, terrible customer service, banking practices and lineups that would make your head explode, grocery stores with rancid food, or trying to get something repaired. Living there is not the same as being on vacation, and the expats there all know how tough it is to get that through a tourists head. There are all kinds of amazing things about Roatan (it's a tropical paradise, hello!) but there are also challenges and you'd have to stick your head pretty far down into that soft white sand to be immune to them. My great things are just not outweighing the crap things these days and haven't been for a while now.
I'm happy that I know myself well enough to know when to make a change. I grew up in a military family and I have kept the tradition of moving every few years long into my adult life. I have itchy feet and a wandering heart and I'm okay with being a gypsy hobo who wants to see new places after I'm done exploring the one I'm at. It's a big world and I want to see all of it. I've been on this little island for four years and I'm ready to see somewhere new!
None of this changes the fact that I am SO PROUD of what I did. I got out of my cubicle. I moved to Roatan. I became a dive instructor. I did 1200+ dives. I taught hundreds of people how to dive – I changed lives! I worked on a megayacht. I ran a dive shop. I ran a hotel! I got to see hammerheads, whalesharks, seahorses, and other rare underwater creatures. I was lucky enough to help others on their own cubicle throwdown paths on Roatan (hi Lauren!) and other destinations. I met so many people from around the world through my site and my work in Roatan that I would have never connected with otherwise. I had a ton of fun and did basically whatever I wanted, whenever I wanted. I was interviewed by PADI and was an AirTransat Expat Expert. I lived on a tropical island for four years! Not many people can say all that. I don't regret a single thing. It was such an incredible adventure and I'm so glad I can look back without ever having to think, "what if?"
So what's next?
Well, I was in Canada from January till March taking care of family stuff and making plans for what's next. I'm back on Roatan right now to tie up loose ends, sell some stuff, and say my goodbyes. I'm not stoked on leaving some of my favorite human beings in the world, but in a place like Roatan where people are always coming and going, you get used to people being impermanent in your life but always in your heart. I love my friends on Roatan and I know I'll see them again – whether we meet up somewhere else in the world, or I head back to Roatan on vacation in the future. It's always a "see ya around" thing there, it's never goodbye.
I am so excited to announce that I've scored a spot on the JET Programme, a Canadian government program that sends people to Japan to be assistant English language teachers and promote cultural exchange. I interviewed for this in early February in Vancouver, and now I'll be moving to Japan for at least a year at the end of July. I've wanted to apply to this program since I graduated from university eight years ago and I finally decided to go for it, and applied last October. I can't wait to continue my adventures in one of my favorite countries in the world, and change from teaching diving to teaching English.
There will be LOTS more to come on this in the next few months as I get ready for departure!
me at a temple in japan in 2009
What about Cubicle Throwdown?
I hope you'll stick around as my blog does a bit of a transition – I plan to keep writing as I move to Japan and live in a completely new place with a completely different job. So Roatan and diving will no longer be the main focus of Cubicle Throwdown, but the spirit of following my dreams (wherever in the world they take me!) will remain the same and I still have lots to share from my time here that I haven't gotten around to posting yet. And I'm pretty sure I'll have lots of typical Rika adventures in Japan!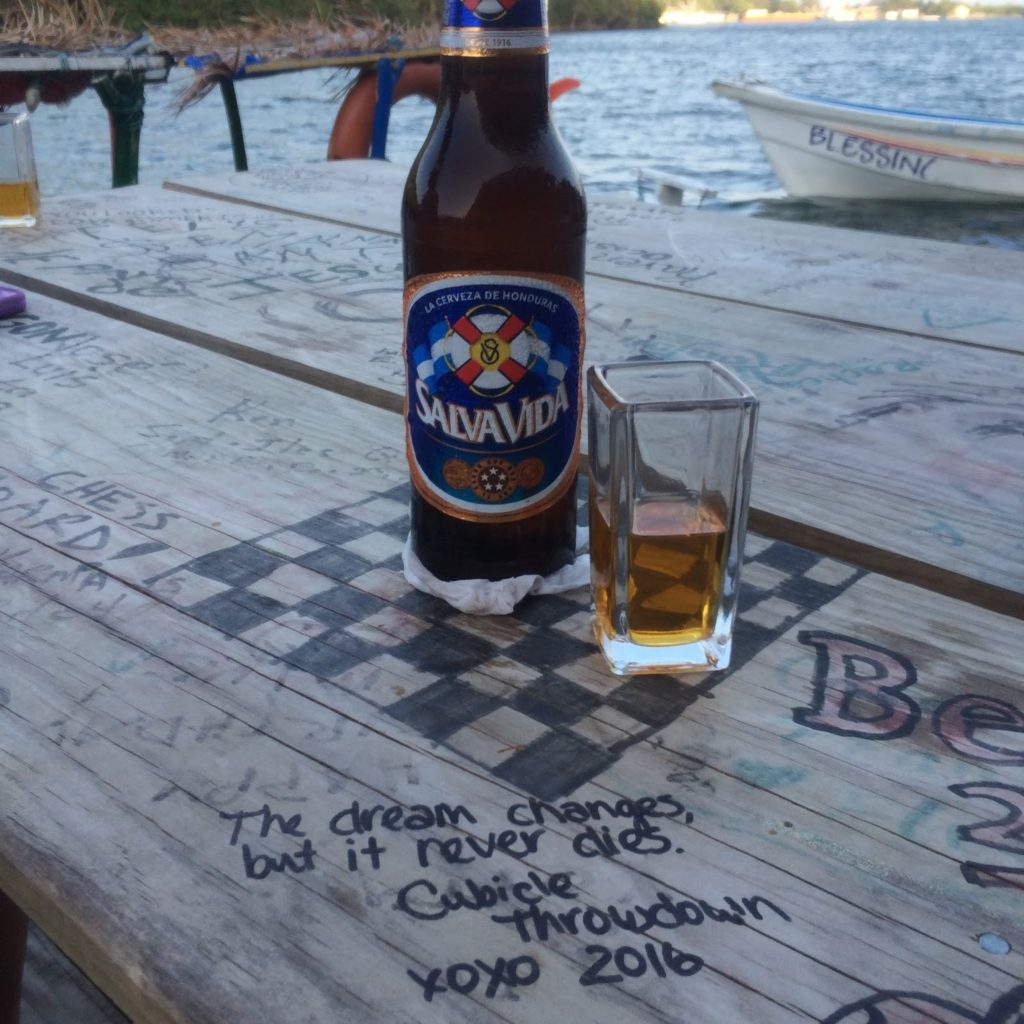 Applause
At the end of anything, I think it's important to say your thank-yous. So as this part of my life comes to a close, I'm going to thank:
My readers. For those of you just joining us or those poor bastards who have been here from the admittedly terrible beginning, THANK YOU for your words of encouragement and for continuing to check in back here and read my ramblings, even when I seemed to be going in 40 directions at once. I'm so happy you guys came along for this ride. I hope to still be able to write something you'll want to read as things change here.
My Roatan friends. I have no idea what I would do without you guys. THANK YOU for supporting me, keeping an eye on me, having the time of my life with me, and making sure I stumbled to the right house after late nights at Booty Bar. Thank you for not judging (or silently judging) my hilarious yet mostly terrible decisions. I learned something from all of you and I know we'll cross paths somewhere again somewhere in the world.
My Canadian friends and family. THANK YOU for thinking I was crazy for doing what I did, but cheering me on anyway. Thank you for loving me even though I missed like all your weddings and baby showers and birthday parties and housewarmings and bachelorette parties. Thanks for letting me jump back into your lives when I showed up once every year or two. I love you guys.
The people of Roatan. Islanders, THANK YOU for sharing your home with me for the last four years. Thank you for helping me navigate a crazy place with unwritten rules, for showing them to me and helping me along the way. Thank you for including me at your McCoys and hog fries, your children's birthday parties and graduations, your weddings and your family dinner tables. Thank you for teaching me the reef, island talk, bush medicine and how to not dance like a white girl. Thank you for noticing when I made efforts to not be a stupid gringa and tried to respect you and your home, and thank you for forgiving me in the times that I failed. Every one of you that I've met has made an impact on me and I won't forget you guys. A special thanks to all my boat captains throughout the years, who have always gone the extra mile to keep me out of trouble both above and below the water. You guys are the damn best.
Roatan, it's been real. I won't forget you and I know I'll set foot on this island again someday, I just don't know when. Until then… see ya around.
Guys, make sure to follow me on Facebook, Instagram and Twitter … there's lots of extras posted there that don't make it onto the blog. I also have Google+ if anyone even uses that? And I'm on Bloglovin', so you can follow me there too! Plus it makes me try to post more than once a month. So there's that.