(So guys, I'm still on the downlow for a little bit. My lovely friend Karyn from Not Done Travelling has stepped in with a guest post for you all about beaches worth visiting in Phuket! Show her some looooove in the comments. Thanks Karyn!!)
When the chance came up to write a guest post for Rika, I wanted to write about something that follows on from her current theme of islands, beaches, and diving. I had recently put up a post on my own blog about my favourite beaches on the west coast of Phuket, Thailand, and I was really surprised at how many people mentioned that they had overlooked this little island in the Andaman Sea.
Unfortunately, over the last 30 years it has built up a little bit of a reputation for itself as a beacon of girly bars and overdevelopment. Because of this belief, many people are skipping it in favour of other Thai islands or the mountainous North. However, Phuket is more than just Patong and the girly bars. I spent an entire month there, and I learnt that there is a location for everybody, no matter who you are or what you are into. So I thought I would share my Phuket beach recommendations with you also.
Before I do so, here are some some quick facts about Phuket:
– It is located just off Thailand's south-west coast, and is connected to the mainland by a bridge.
– It's actually quite big, at 48 kilometres long and 13 miles wide. Including all of its smaller islands, it has an area of 576 square kilometres. (I did some research and found out that is about 7 times larger than Roatan! Wow.)
– There is a mountain range in the centre, with the highest point being 529 metres. (The Big Buddha sits on a mountain to the island's south and is worth a visit).
– Phuket is home to about 600,000 people, but just under half of these are seasonal workers, expats, and other non-Thai citizens.
– The western side of the island (including the beaches I mention below) were hit by the devastating Boxing Day tsunami in 2004, and there were many fatalities. However any damage to buildings has now been repaired, and tsunami warning signs are dotted around everywhere.
The eastern side of the island has plenty of development, but the beaches there are definitely not as good as those on the west. So if you are considering a trip there, here are the west-coast beaches I can highly recommend.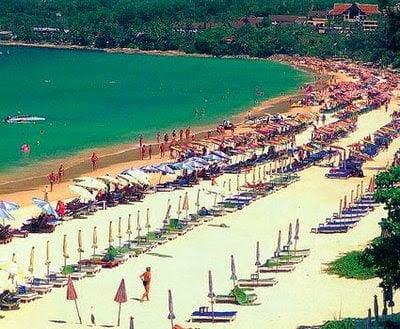 8. Patong
Patong is party central, and all of Phuket's nightlife revolves around it. This means it is definitely not everybody's cup of tea. (In fact, when I first drove through it, I snarkily made a Facebook post saying, "Patong is bad and it should feel bad!") If you're definitely not a party person, you will want to skip this area altogether. However if that is totally your scene, you will love this beach.
Mass tourism has definitely left its mark. Though I didn't swim there, it did not look very attractive (too many people, too many boats, too much noise, and too much rubbish). But if all you want is to pull up a sun lounger and chill out, it will do you just fine. You can tell that Patong must have been, at one stage, very beautiful, so if you can overlook some of the overdevelopment side-effects, you will love it.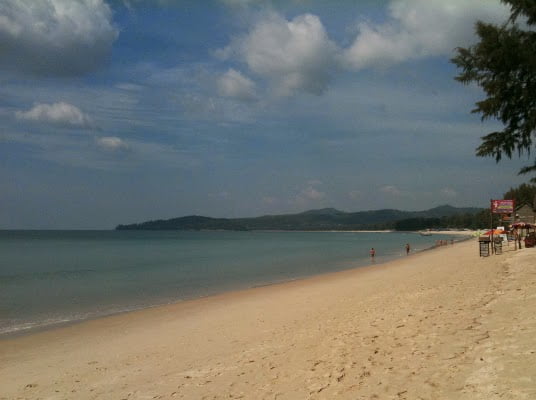 7. Bang Tao
Bang Tao is 2 beaches north of Patong. It is very long and straight, and seems to stretch on forever. It only goes for 6 kilometres (4 miles) but it's straightness makes it feel like so much more.
There are a lot of resorts lining the beach (such as Laguna Phuket Golf Club) and it feels to be a very family-oriented place. Because of its size and width you will never feel crowded here. In fact, you will feel fairly isolated. My memories of Bang Tao are of endless sand stretching on for miles, with only a few other people in our vicinity – and we were there in peak season!
Of course, with fewer people on the beach there are fewer shopping and dining options, but if you're staying at one of the resorts then you will have everything you need anyway.
One detraction, though: sea lice. There were so many sea lice here we got out of the water and decided to move on. Itchy, itchy.
Surin is just south of Bang Tao, off the hill between Bang Tao and Kamala. It's small, so keep an eye out for street signs. We found it just by following our noses. We did not swim here, but hung out for a while and had some lunch.
The water looked beautiful, and the sand looked clean. There is a wide range of restaurants lining the beach which seemed to be very busy, but then again, we did visit at a meal time. It seemed like there were a lot of people on the beach itself, but I think this is related to its small size. I am sure there is a lot of peace and quiet once you're out in the water.
Nai Harn is the southernmost beach on Phuket's west coast, just up from Promthep Cape, a popular viewpoint. (The photo above is taken from Promthep Cape).
Because it is tucked away down there, most tourists don't know about it or don't make it down for a visit. Thus, it is cleaner and quieter than many of the beaches further north. It is also a favourite of the locals, which is always a vote of confidence.
I have been told that due to its desirability, accommodation around this beach can be a little pricey. But this is Thailand – there will always be a budget option somewhere close, if you don't mind a little walk.
4. Karon
Karon is one beach south of Patong, and one beach north of Kata Yai. It is not as long as Bang Tao, but its length is enough to have the same sort of effect. Even though there will be a lot of people on the sand, you won't feel crowded at all.
What I loved about Karon was its depth and surf. Depending on the phase of the moon, the waves here are downright scary. Hence, you should be careful (apparently tourist drownings are not that uncommon). There is a steep drop off at low tide, so this, combined with the strong currents, mean you should be really careful with little kids. But there are some nice restaurants not far from the beach, and a great dive shop with a pavillion on the sand. If you are into diving, there is a reef not too far off, which is supposedly great.
Another plus is that it is just south of Patong, so if you want to head in there for some nightlife, it's just a short ride away.
3. Kata Noi
This little beach is quite cute. It is just over a small hill to the south of the main beach at Kata, Kata Yai. (In Thai noi means small, yai means big). The waves are just as big as at Kata Yai or Karon, despite it being so much smaller than its two northern neighbours.
There is only room at this beach for 2 resorts, so there is quite an exclusive feel about the place. There is very little to the south of Kata Noi (the road to Nai Harn curves around just south of Kata Yai) so if you are not staying in the Kata Noi area, access will be from the north.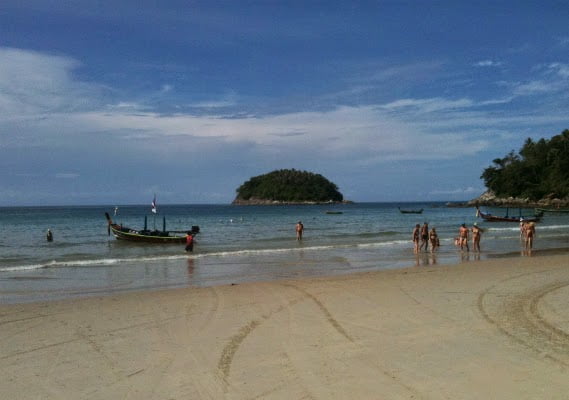 2. Kata Yai
This beach almost made it to my #1 spot! Perhaps I am biased because we stayed at Kata and spent so much time at this beach. However there is so much to love about it.
In my opinion, the whole Kata area in general is the perfect mix of action and relaxation, and I feel that simply translates over to the beach as well. Yes, there are a lot of people, and it is hard to find a sun lounger, so you're better off just taking a towel and claiming a little spot of sand. But the water is gorgeous, the whole place is clean, and the waves are great.
You can jet ski, take a banana boat ride, go parasailing, play beach soccer, bodysurf, or swim out past the breakers and just float there. I swam astonishingly far out to sea and it was still beautifully clear all the way down. You can get beach massages, hang out at the beach bars, or get a bite to eat at the very delicious restaurants that are up the southern end.
The northern end of the beach contains a coral reef that stretches all the way to the tiny island just offshore. You can snorkel right off the beach, and the nearby dive shops take beginner divers down here too.
1. Kamala
Finally, Kamala is my absolute favourite beach on Phuket.
Kamala is just north of Patong and just around the corner from Surin, It has white sand, beautifully clear green-blue water, and a quiet vibe. There are also relatively few resorts, similar to Nai Harn. Because of that the options are a little pricier, but this also means the place is a little more peaceful than Patong, Karon, or Kata.
There are plenty of sun loungers, and the beach is lined with lots of chill little restaurants to hang out in. As with Karon, it is only a short taxi ride away from Patong if you need a little more action in the evenings.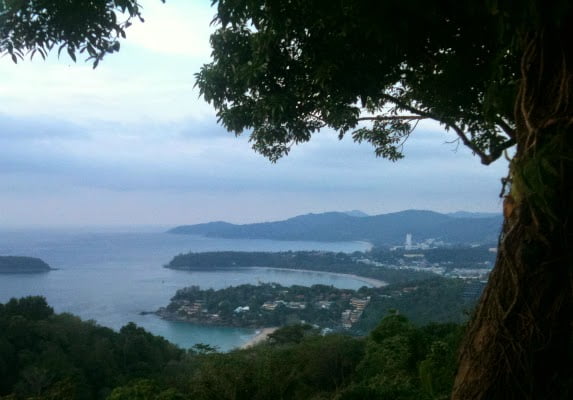 Now, with these suggestions in mind, I have to specify that most of these beaches are within driving distance of each other. Why not rent a motorbike and drive along the coast until you find the place that suits you. Taxis in Phuket are expensive, but there is also a bus that will take you between Kata and Patong, as well as to Phuket Town.
Plus, there is another bonus that I haven't mentioned yet. Every single one of these beaches comes with an extremely beautiful sunset. So you can't lose.
Karyn is an Aussie girl who is passionate about
the environment and marine conservation. She realised there is no cure for the
travel bug, so she is currently in the process of setting up a location-independent
lifestyle, in order to travel long-term. She blogs at www.notdonetravelling.com about her
adventures.