As usual, time has really gotten away from me. After making my massive five year roundup in the summer, I've spent the last month settling back in to life in Japan. I came home from a month in Roatan via a whirlwind trip to see my family in Canada (like legit 30 hours and that's it), and less than two weeks later was back in the classroom. I missed my students this summer, but not enough to want to do the Hokey Pokey in a +40C classroom! Welcome to my regular summer in Asia status: currently dying and waiting for autumn to arrive.
I decided that after the five year mark, I would quit counting the months in my roundups. It seems a little excessive to me after the five year mark to keep counting month by month. So here is my roundup for August 2017!
What I've Been Doing Since the Last Roundup
Just trying to get back in the swing of things here in Japan. I came back from Roatan at the end of August. I don't usually get jetlagged, but I felt kind of gross for a couple days after I got back. Could have been jetlag I guess, or maybe just me being sad about a month of unhindered diving, drinking with friends and relaxing being over!
My schools have all been excited to see me again and hear about my summer, which has been nice. We also had a big change up of ALTs (ALT = my job) in my town. We had three leave while I was away and four new teachers come in. I had a little bit of catch-up to play, since everyone had a chance to get to know each other for three weeks while I was away. The new ALTs are great and even though (again) everyone is veryyyyy young (like literally 10 years younger than me) we have been having a lot of fun. We have plans to attend the Sake Festival in Hiroshima in October together and I'm really looking forward to it.
I also managed to get a super quick trip in almost right after getting back to Japan – my friend from Hyogo prefecture showed up at my house on a Saturday morning a few days after I got back, and kidnapped me for an overnight trip to Kagawa prefecture. It was absolutely perfect. We spent a night out on the town in the capital, Takamatsu, with one of my Japanese friends I met in Vancouver ten years ago. The next day we hopped on a ferry to Shodoshima, a little island known as Olive Island due to its famous olive groves everywhere. Everything was olive-themed and it was just all way too cute. We stumbled upon a little laid-back stretch of beach with DJs spinning reggae, outdoor food stalls at the edge of the sand and the most relaxed vibe I've felt since moving here. I'll do a full post on Shodoshima soon!
My Most-Liked Instagram Photo
Everyone on Instagram was loving my surprise trip to Roatan photos 🙂 And of course, my diving photos! This is my most-liked photo from August 2017: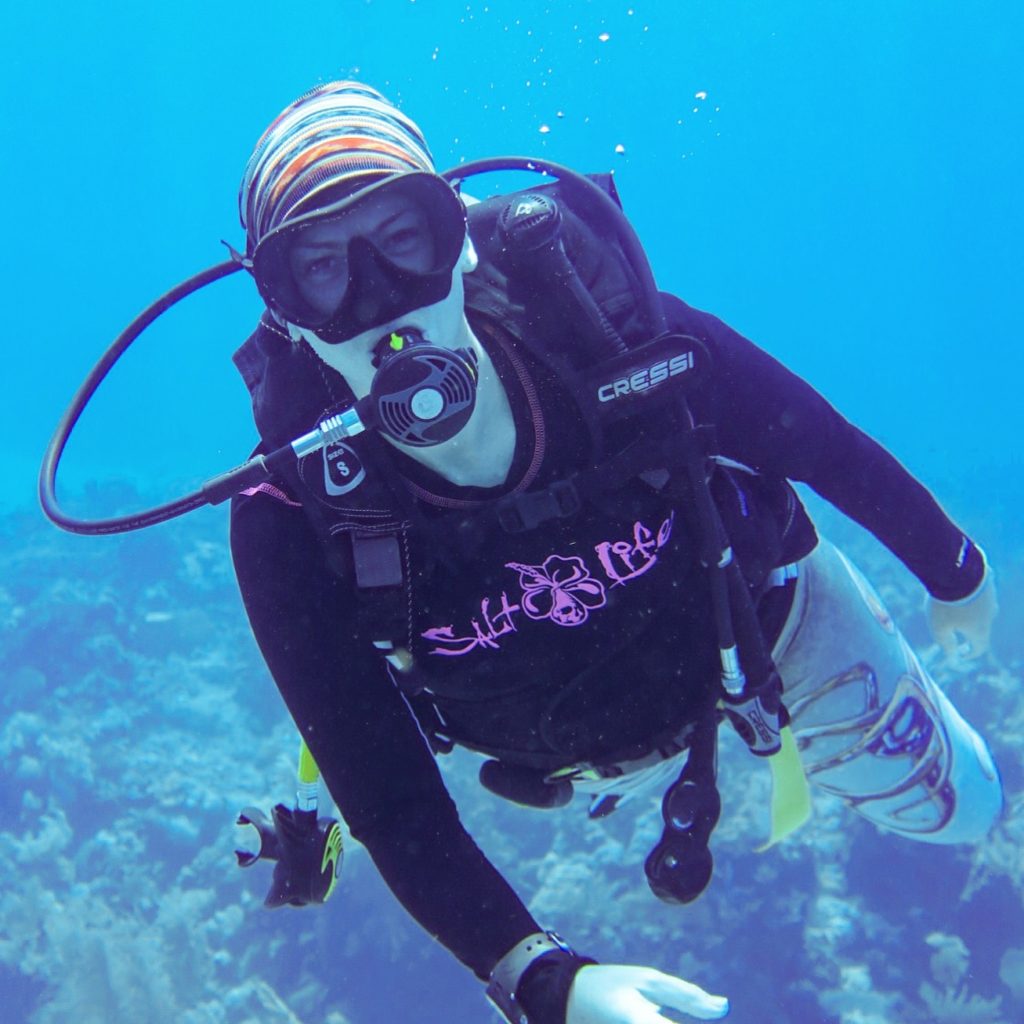 This was snapped on my camera by one of my island besties, Scuba Kieran (check out his website for incredible underwater photos from Roatan!)
My regular Instagram side note: my personal policy is that Instagram is a give and take platform. My profile is private and if you don't have any photos on yours or you're selling crap, I won't accept your request! There's just too many scam/spam profiles out there, so I don't accept anyone who doesn't look like a legit user.
In Case You Missed It
Well friends, you didn't miss anything if you haven't been around in the past month. Unfortunately I was too overwhelmed to write anything. I'm so, so, so far behind (still working on the never-ending post about my trip to South Korea which was, ummm, last New Years). I was complaining about how garbage I am at work one day and one of the new English teachers gave me some great advice – she said, "who cares, just start now. No one says you have to write all those old posts anyway, or even go in chronological order. Just write something."
Boom!
So, I'm taking her advice. I'm not going to stress about getting any old posts done. And I'm not going to worry about things going in order. I might get caught up one day, or I might not. I feel like my readers will be interested in what I write and not just judging me on the fact that I didn't write about it within four weeks.
1 Second Every Day
I use the 1 Second Everyday app to quickly chronicle my time here in Japan by taking a one second video every day. At the end of each month the app puts it together, and you end up with a 30-second video each month. It's cool because it shows what I'm actually doing/seeing each day, not just all the highlights of super fun stuff once in a while that end up on social media. (Not sponsored! I just like this app!)
Highlights
Getting to hang out with my family during the solar eclipse! It was great to see my family even though it was quick. I was glad my 30-hour stopover with them included getting to view the eclipse. If I would have been in Japan I would have missed it. We watched it together and had a big BBQ and my best friend stopped by with his family. I also went shopping at stores that carry above a size 12 (side-eyeing you, Japan). All in all Canada was a huge success
Obviously, my month in Roatan was a huge highlight. I tied up a lot of loose ends that have been following me for the last year, and got some pretty solid friend time in. Last year was kind of a bust socially for me in Japan, so being back somewhere with 24/7 buddies was fun.
My diving in Roatan was TOP-NOTCH. I saw all the regular cool stuff plus I found a tiny (like 1cm) pastel-rainbow colored nudibranch that hasn't been spotted in Roatan before… I was very happy to spy this babakina anadoni on a fantastic dive with Tobri Divers:

I even got to jump in and guide a couple dives here and there during my trip, and it was good to know I haven't forgotten how to be a divemaster 🙂 My #1 moment was running into the very fish that my queen triggerfish tattoo was based on – she used to always be at the same dive site and came out to see me every time I went there. I went back to that site on a whim, and there she was. (And yes, I showed her my tattoo!)

I booked some crazy flights for my trip (Osaka -> Shanghai -> Vancouver -> Houston -> Roatan and vice versa on the way back) all on separate tickets. It took about four days each way. I left a lot of time between flights for luggage transfers and a buffer in case planes were late… they were, but I caught all my flights and my luggage never got lost once! A new personal record for me.
Lowlights
Did you see the insane flight schedule I just said?? Also, while my Osaka <-> Shanghai flights on China Eastern went surprisingly well for a budget airline with bad service reviews, I was less than pleased with how disgusting my fellow passengers were being on a 12.5 hour flight. It is never, NEVER okay to clip your toenails on an airplane. Can we just put that into law? I also had to spend most of the flight with a scarf wrapped around my face as the person in front of me was clearly not fit to fly… she threw up in a sick bag non-stop for the ENTIRE flight. The sound and smell of that was not pleasant at all and with a full flight, there was nowhere for the people around her to move. Awful.
Leaving Roatan was hard, as I expected it to be. Every time I am there I never, ever want to leave. There were more than a few tears shed, thankfully not all from me! As usual, I spent a few minutes at the airport gate debating how bad it would really be if I just didn't get on the plane.
I am still not thrilled about being expected to sing and dance and jump around in elementary school classrooms with no AC when it's over +40C in there. I could really do without that. The classroom ACs cannot get installed soon enough!! (I'm seriously considering buying this $69 personal air conditioning watch… do you think I should? I can't tell if it's real or not.)
Coming Up
Well, I guess I should be writing about September in here but September is almost over already… oops. This month has been a blast despite me mostly trying to hide inside from the heat. Two of my fellow English teachers have had birthday parties this month, so I've eaten all the food and drank all the chuhais (Japanese highballs) and sang all the karaoke. I've also had some really lovely dinners and coffee dates with friends.
I don't have any trips in September, but in October I'm going to Hiroshima for a famous sake festival so I'm looking forward to that! My trip to Roatan was pretty expensive and I'm once again having to buy more furniture and appliances for my apartment here (my "bed" is ruining my back and my microwave/oven thing died) so I'm sticking close to home to try to save some money. It's not the most exciting month but I'm happy to be making my home comfortable and cozy for the upcoming fall & winter… if it ever arrives.
So, that's it for this roundup! You can see all my monthly roundups here.
---
Want more Cubicle Throwdown in your life? Of course you do, you rockstar. You can follow me on Facebook, Twitter, Instagram, G+ and Pinterest, if you like. You can also add me to your Bloglovin' feed, or email me! If social media is not your jam and you just want my posts straight to your inbox, check out the sidebar and put your email address in the "Never Miss A Post" box. No newsletters or spam, just my posts – scouts honor. xo!