I know, I know. You'd all really like to come diving with me, right? Since most of you can't, I'm going to take you on one with me in this post. Let's go!




ALL IMAGES COPYRIGHT KASEY DYKES 2013 UNLESS OTHERWISE NOTED. USED WITH PERMISSION.
Here's your dive briefing:
photo credit: noel veroba
We're heading out to a dive site called Magic Bobby and we're going on a lionfish hunt! Roatan has a protected
marine park
around it, but lionfish are an invasive species here. I have a license from the marine park to spearfish (lionfish only!) inside the park. So on our dive today I'm going to be hunting for your dinner! We're going to drop onto the wall and head down to a max depth today of 90ft, and slowly work our way up to the plateau. Make sure to check all the nooks and crannies for lionfish, if you see one – give me the underwater hand signal and I'll go spear it! I'll be leading from the front, and if you hear my shaker then look my way – it means I found something cool to point out to you! Air consumption permitting, we're going to stay down for 55 minutes including our 3 minute safety stop at the end. Any questions?
Get your gear on, do your buddy check, and let's go diving!
Everyone okay? Follow me!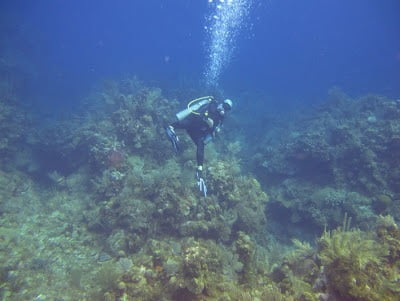 Right away I spy with my little eye….my two favorite fish – a queen triggerfish (top) and a queen angelfish (bottom):
Shake shake shake! Come see the green moray eel I just about bumped into:
Don't worry, he's not trying to bite me – it's just respiration! Green moray eels open and close their mouths constantly to breathe.
Ooooooooooh! Look what I found! Trunkfish party! This is the first time I've seen more than two at a time, and there were actually four…one didn't make it in the photo: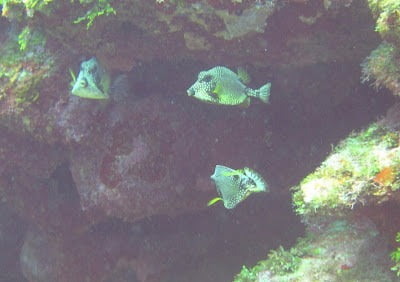 Yes, that's me squealing through my regulator. I can't see a trunkfish and not squeal. They are retardedly cute…all boxy and tiny fins and cow eyes and perfect little circular mouths. I heart trunkfish 🙂
Well, let's get to work. Lionfish hunting time!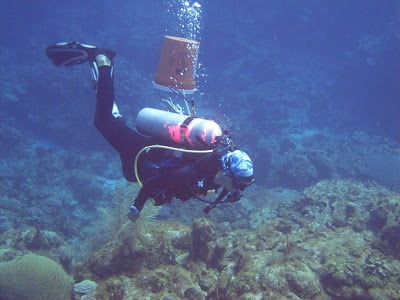 I'm carrying a bucket with a cross cut into the lid – once I spear a lionfish, I jam it through the cross and the lionfish stays in the bucket while my spear slides out. If you look closely in the photo, my spear is coming out from behind my tank… you can see the elastic band of my hawaiian sling style polespear peeking up. I carry it up while I'm hunting so I don't accidentally bang it into the delicate reef. And I'm wearing my awesome shark-print skullcap because my masks like to rip my hair out. So every dive I get my badass cap on to protect my hair!
Uh oh! Look who I found… your dinner! I'm eye-to-eye with this dude, and he's going down: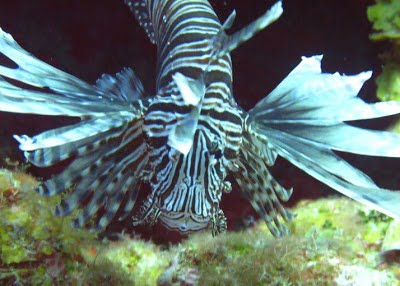 Snap, crackle, pop, and the little bugger is in my bucket! As Borat says, great success!
Let's keep going and see what else we can find on the reef today… how about a caribbean reef squid?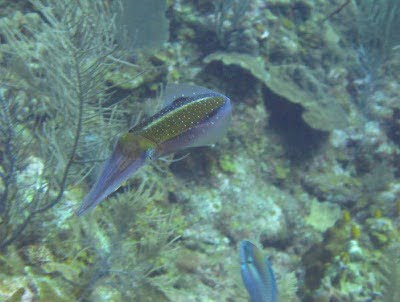 Maybe some blue chromis? Such a pretty color!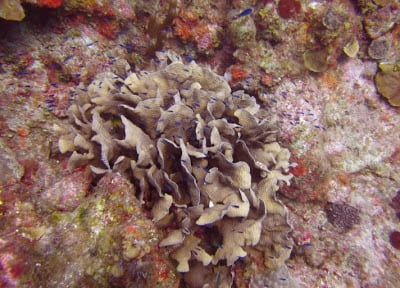 Did you notice the Nassau grouper following us for the whole dive? That's George!! He's my buddy. He follows me around every time I come to this dive site, hoping for a lionfish snack. The dive shop that used to dive these sites before us would spear lionfish and feed them to the grouper to try to get them to become lionfish predators, but I don't do it because it doesn't train groupers to hunt lionfish, it just trains them to follow divers around. George and I will usually play for the whole dive though, with him darting around me and I'll snap my fingers at him, blow bubbles at him or pretend to grab his tail (not for real though, we don't touch in the marine park!) He's such a ham, and loves to pose for photos for my divers: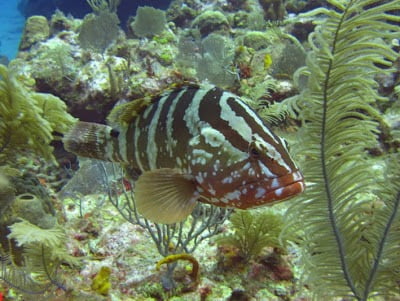 photo credit: noel veroba
The boat is tied back up to the dock and it's time to clean the lionfish I got:
photo credit: tiffany hammond
And then we'll do it all again tomorrow! Isn't diving with me the best?
This post is dedicated to my kickass mom for Mother's Day today. She isn't able to come diving with me, so I decided to "take" her on a dive to celebrate today. Happy Mother's Day Mom, I LOVE YOU!