When I went back to Roatan this past summer, there was one new place I was itching to dive at: Tobri Divers.
During my time living on the island, this tiny south-side boutique dive resort was run by a German couple and was marketed almost exclusively to Europeans. I didn't know anyone who had worked there or had dove with them. It was almost completely off my radar.
Fast forward to my trip in the summer of 2017, where my good friends Irma & Martijn had returned to the island and taken over managing the dive resort. They had turned it into a welcoming place for guests from everywhere – including local divers – and speak/understand a staggering number of languages between them (FYI, they can still serve any German customers!). I took several opportunities to head out to Tobri Divers during my month on Roatan, and I was never disappointed with my experience.
I was thrilled when I heard Irma & Martijn were coming back to Roatan, though the timing didn't work out for me since I headed to Japan right after they came back. When I first moved to Roatan in 2012, Irma was a huge part of my dive training. She led me through my rescue course and my divemaster internship, and then we both worked at the same dive shop for a short time afterward (until I ran away on a megayacht). Soon though, her and Martijn left for a round-the-world adventure which had them working in the dive industry from Thailand to Indonesia to Australia and everywhere in between.
The New Tobri Divers
With new management came a new customer service style, new dive sites to explore, new north-side sister shop partnerships (hello, Roatan Divers – another of my faves – stay tuned for a review post about them too!) updated gear and boats and much more.
With only five rooms at the resort (plus Irma & Martijn living on-site) and communal-style meals, you really get the feeling that you're part of the family here.
I can't forget my absolute favorite part of the resort – the best pups ever, Abby & Dexter! Coming back from a dive and pulling into the dock where these two were always waiting with a wagging tail was a joy.
They are VERY attentive topside support while you're doing shore dives as well 🙂
Diving
With it's south-side location, diving at Tobri Divers means virtually never running into other divers underwater (unless it's at the unavoidable "Mary's Place"). The south side is much less trafficked than the busy Sandy Bay/West End/West Bay strip on the north side of the island. No worries about being subjected to another group's tank bangers for your whole dive (my personal diving pet peeve – if you do that, QUIT IT!). It's also possible to do some shore diving right from the resort dock – this is great for those looking for muck-style diving in the Caribbean.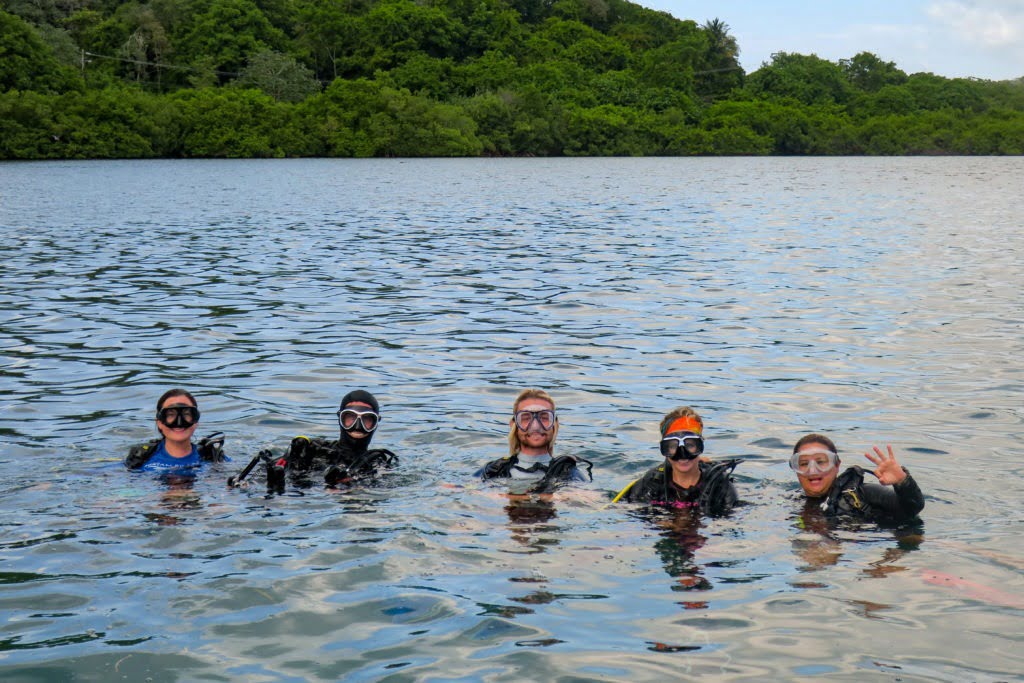 The reef topography on the south side is also different. The wall is much more vertical with a deeper bottom (in some places you can't see where it ends!) and a sharper drop-off than many north-side sites. This side is also great for spotting big pelagic stuff like sharks (sharks are always a rare sight on Roatan though, just FYI) and macro critters like nudibranchs. There are less turtle sightings than the north side, but honestly, after a few days on the north side seeing lots of turtles, you'll be eager to spot different stuff. I was thrilled with how many tiny finds we saw each time we went out!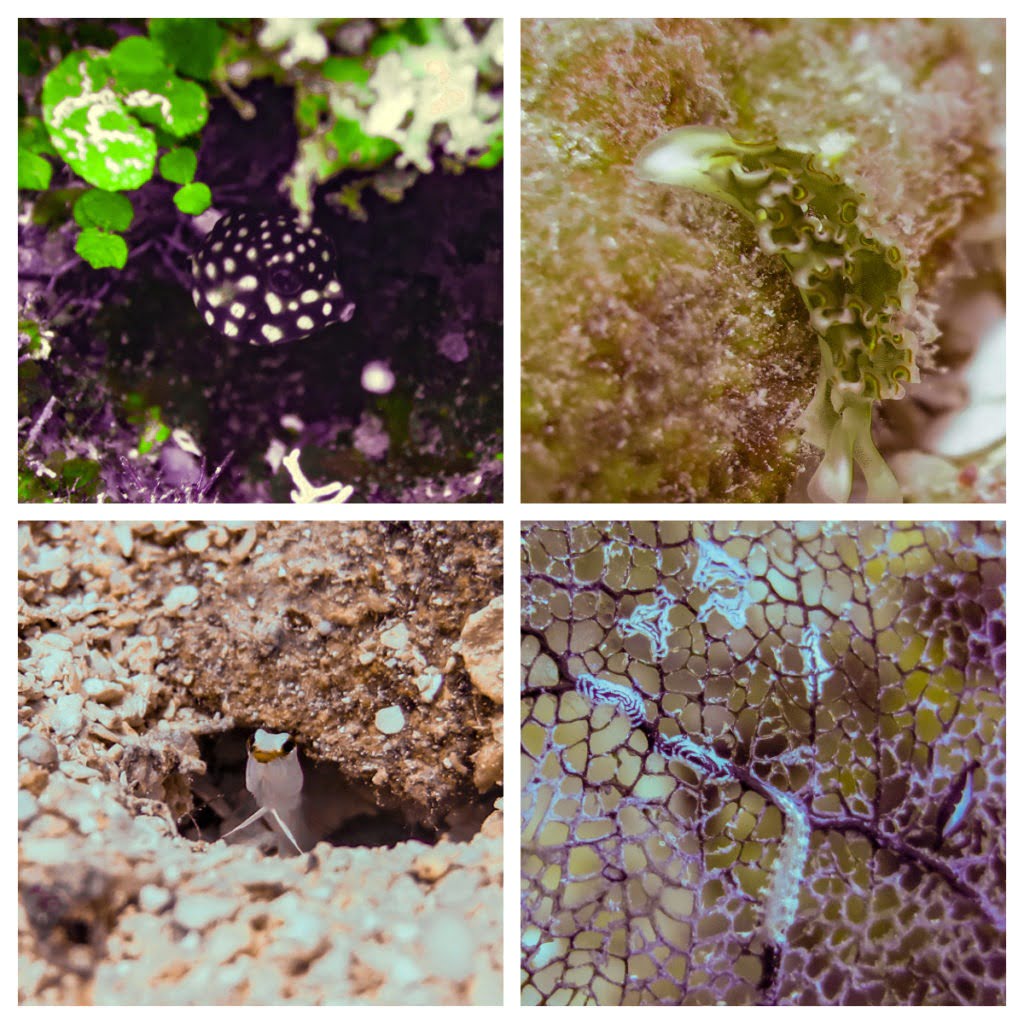 I even managed to find a nudibranch that hasn't been spotted on Roatan before! Say hello to this babakina anadoni, which was named Rika's Rainbow Unicorn Nudi by me… but you can use either name!
The rental dive gear is all new Mares equipment that is carefully taken care of. On this trip, I only had space to bring my mask, fins and dive computer, so I really appreciated that the gear was new and in great condition. Also, the weight-integrated BCDs stood out for me. I'm sorry, but I absolutely HATE using a weight belt (I don't need any extra help feeling like a sausage, thank you very much) so I give top marks for rentals with integrated weights.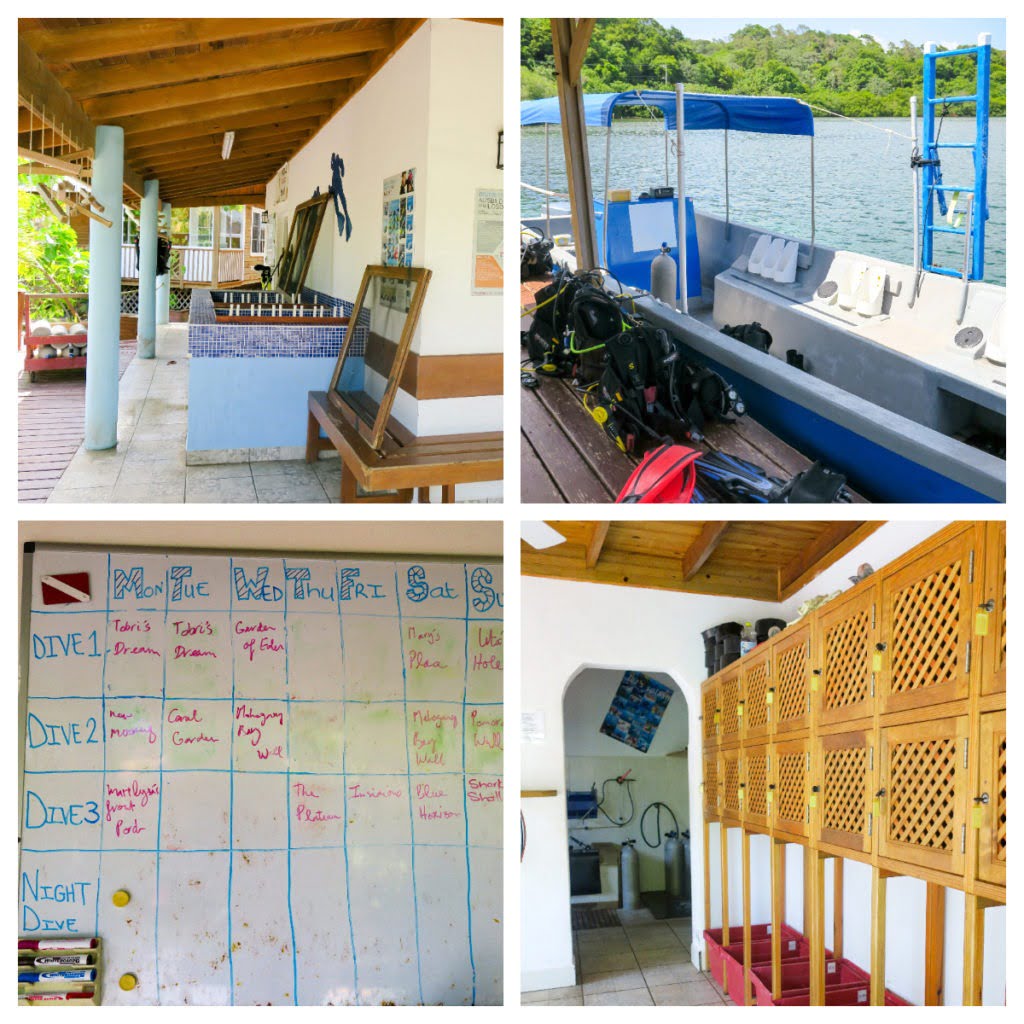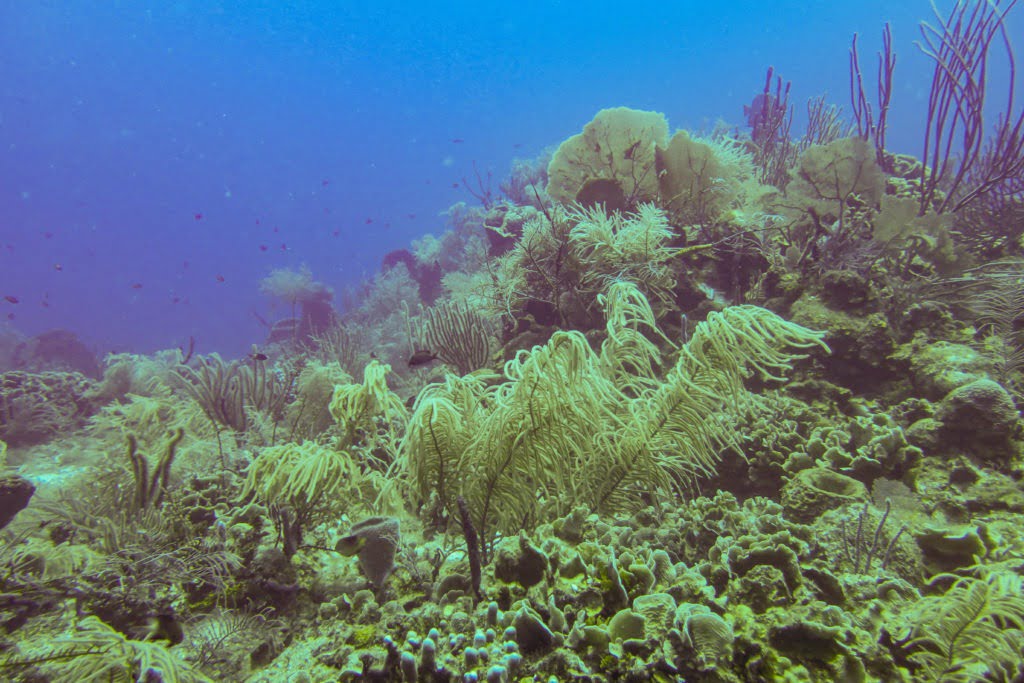 The Resort
I personally love small, boutique-style resorts. It makes it much easier to get personalized service, because the staff can get to know you well and provide better customer service. With just five rooms, Tobri is an intimate setting while still having large, beautiful rooms to spend time in if you're looking for some time on your own.
I spent a lot of time in the pool, staring out to sea while enjoying a rum drink with my friends, or on the dock loungers with Dexter and Abby competing for the absolute closest spot next to me.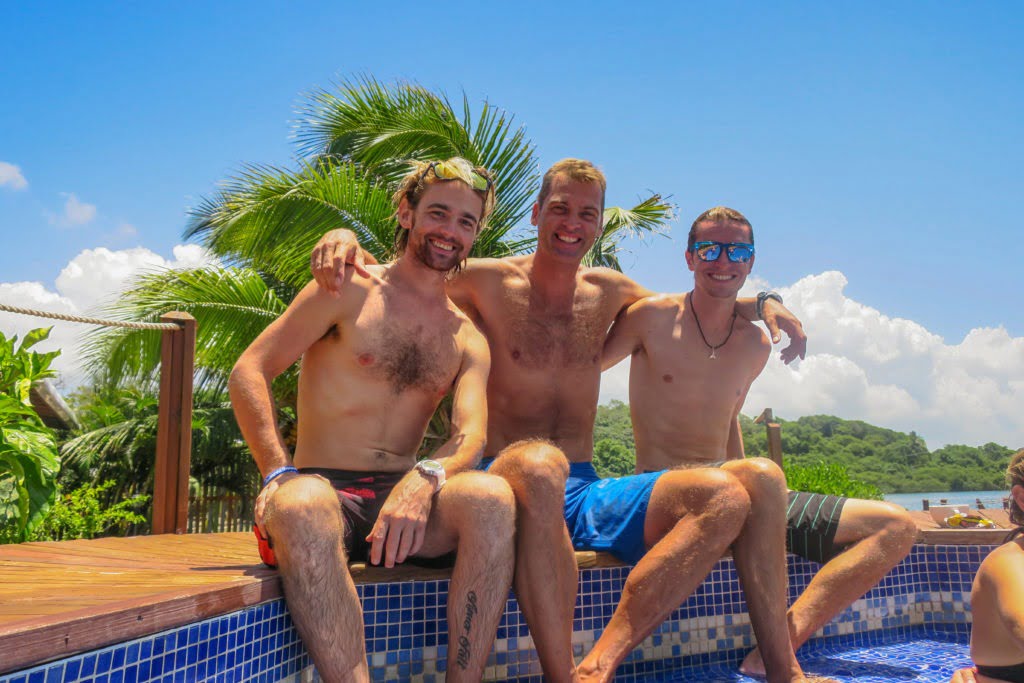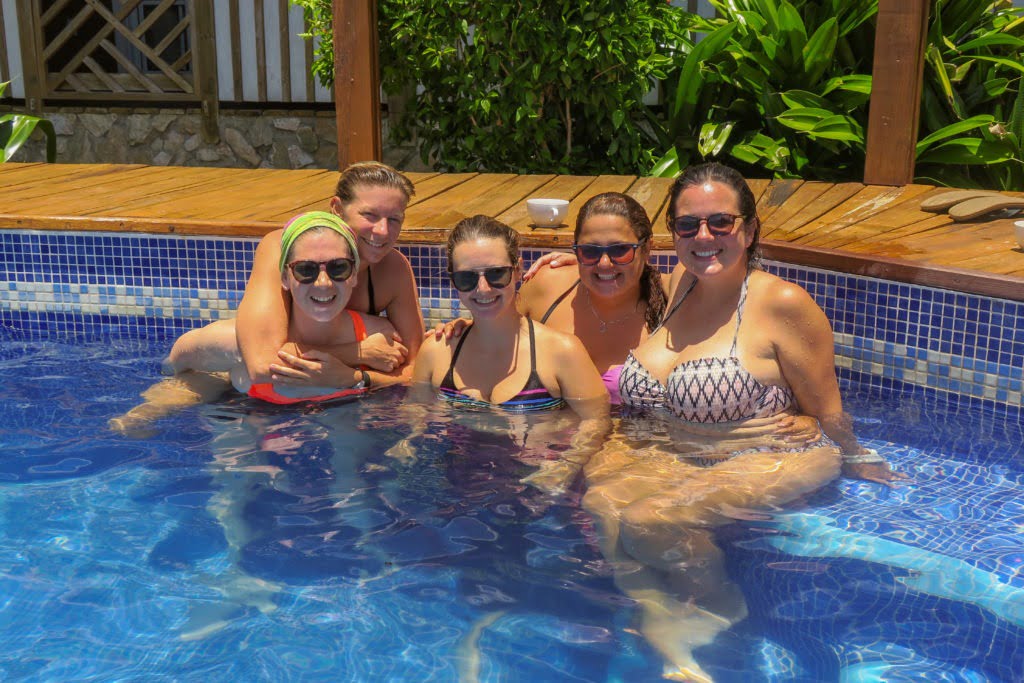 My friends and I really loved the family-style meals at the big communal table. We got to recount the days dives, share the delicious food that the lovely girls in the kitchen prepared, and play Heads Up until the wee hours of the morning. Once I had to be at another dive shop very early the next morning, so I can confirm that with your A/C running you won't hear even the most raucous games happening on the deck if you're trying to sleep!
I couldn't have asked for more with the accommodation. I loved staying in Angelfish (one of the three double rooms), which was impossibly clean and had way more space than I needed. The walk-in shower was fantastic for after dives, and the bed was massive! I also got to peek at the penthouse, and the bungalow. All the rooms were spotless and had all the amenities anyone would need on vacation there. (And yes, there's wifi!!)
One thing I really like about Tobri Divers is they are super transparent with the pricing on their website. The accommodation prices listed on there include 19% Honduran hotel taxes, breakfast & dinner, and transfers to the airport or ferry. I see too many places on Roatan trying to compete on prices, and listing prices that are a little shady because they don't include anything and charges get tacked on later.
Final Thoughts
If you're looking to stay & dive somewhere that you actually feel like family, and not just another person on the dive roll call on the cattle boat, then Tobri Divers is the place for you. I especially recommend this place for small groups of divers who want to focus on photography – you can have your own boat and spend as much time as you like hovering in one spot to get the perfect snap without annoying all the other divers without cameras who want to get a move on! This would also be a great resort for a large family or multi-generational family vacation as there are a variety of room styles yet you can still eat together and it's easy to keep a close eye on everyone. I went here with groups of friends and it was perfect for us too!
If you are diving on Roatan, I always recommend diving both the north and south sides if you get a chance. Head to Tobri Divers to get your south-side fix and then their sister shop, Roatan Divers, to hit the north-side sites.
Before You Go…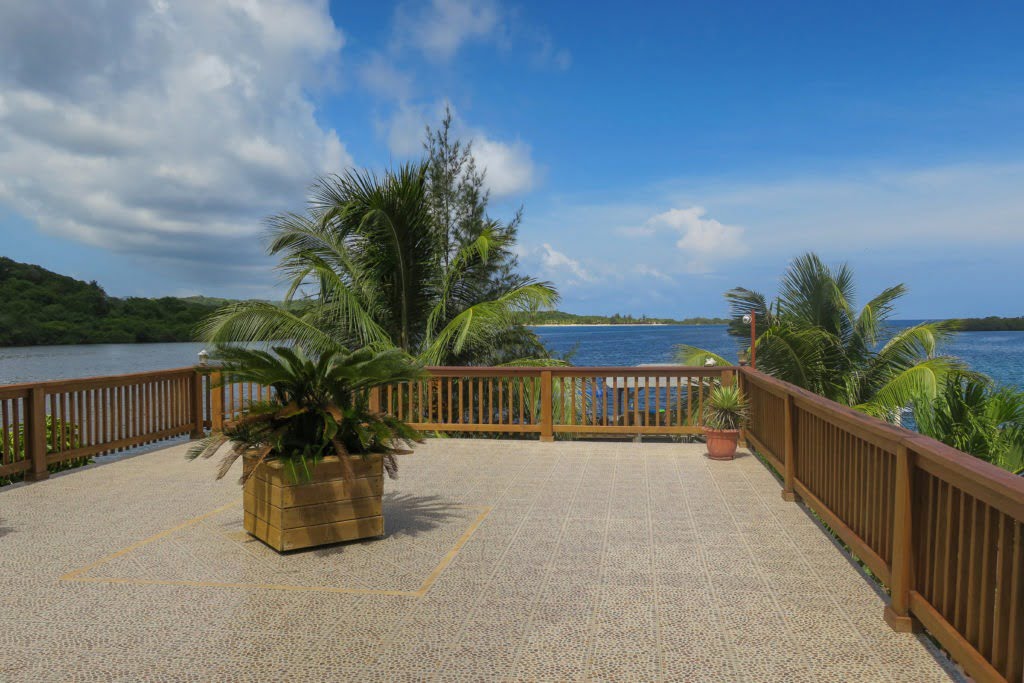 Disclaimer: I went to Tobri Divers several times during my trip to Roatan. Sometimes I paid and sometimes I was graciously hosted by Irma + Martijn as a long-time friend who was back to visit. I did receive a hell of a lot of free rum & cokes (damn you Martijn, the cause of many a headache-y morning!), but they did not ask me for a review on my site and will probably be very surprised when this pops up! As always, my opinion is my own, and life is too short to write about places I don't actually recommend. I only write about the great ones that I enjoyed and want my readers to enjoy too.
---
Want more Cubicle Throwdown in your life? Of course you do, you rockstar. You can follow me on Facebook, Twitter, Instagram, G+ and Pinterest, if you like. You can also add me to your Bloglovin' feed, or email me! If social media is not your jam and you just want my posts straight to your inbox, check out the sidebar and put your email address in the "Never Miss A Post" box. No newsletters or spam, just my posts – scouts honor. xo!