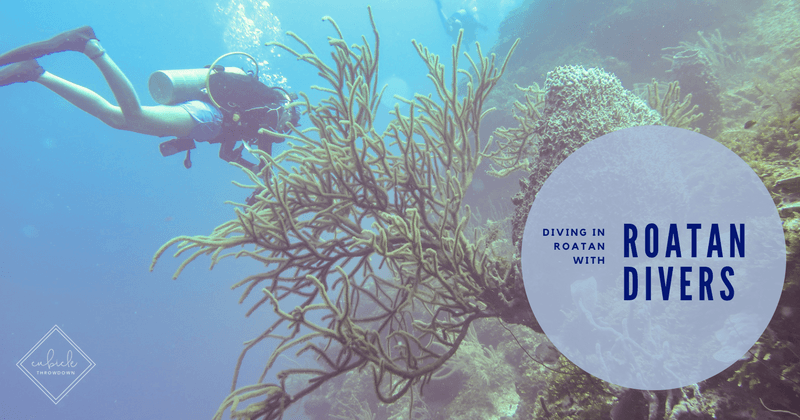 My first stop on my surprise trip to Roatan last summer was Roatan Divers. Not only was I super excited to see the owners, my friends Saaya (who counts both Japan and America as home) and Karl (who hails from Sweden), but I had a big goodie bag stuffed full of Japanese treats for Saaya that I wanted to deliver! There's a long list of things that are difficult to get on Roatan, and stuff from Japan is (understandably) pretty high on that list.
I've watched Roatan Divers for years. I first saw it when I arrived in Roatan in 2011 on vacation, and it immediately fell off my radar. With the old owners it was small, with not-so-great boats and equipment, and few divers were going there. Once Saaya & Karl bought the place, it did a complete 180 and has been improving ever since! Every time I see the shop again there is something that's been upgraded. I think Karl's got a taste for new boats now because the last 3 times I've visited there has been a brand new purpose-built dive boat on the dock each time. Yes, you read that right – three brand new boats! As highly experienced dive instructors themselves, Karl & Saaya knew exactly what kind of shop they wanted and what kind of services they wanted to offer, and – most importantly – they knew how to do it.
I've seen decks and docks built and expanded, I've seen upgrades to the classroom and new wetsuit storage, I've seen hot water showers installed and always more little touches that consistently remind me why this shop is always one of my top recommendations for diving in Roatan (huge point here – they have an AED. Ask your dive shop if they have one!). One of my favorite things about Roatan Divers is that the owners/managers are actually dive instructors themselves (you can always tell when a non-diver is running a shop!) AND they actually know what they're doing.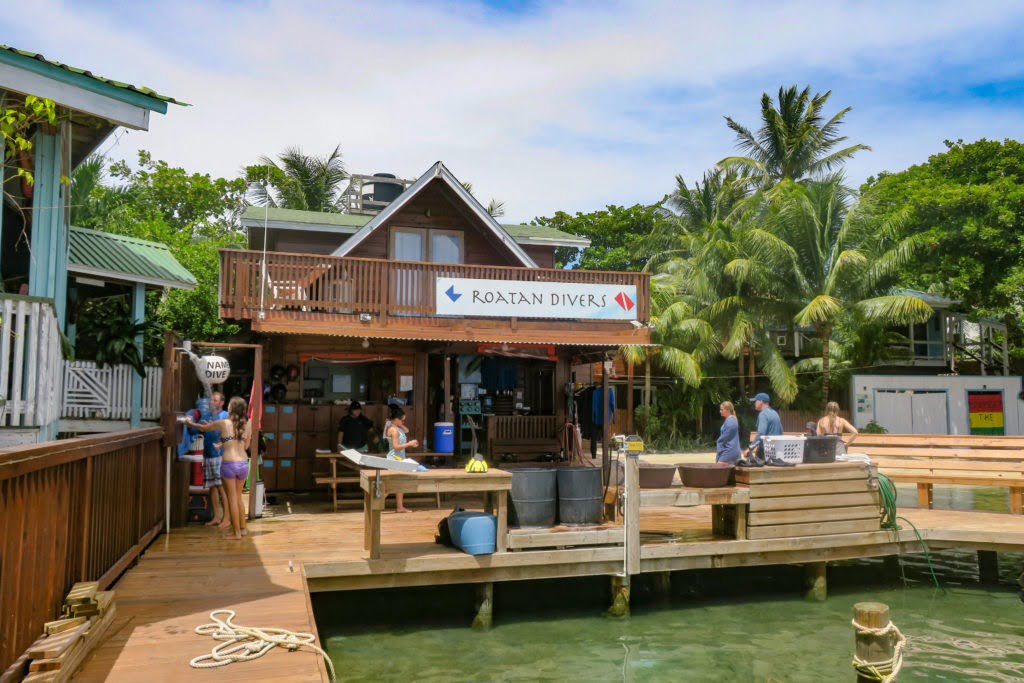 Oh, how do I love thee, Roatan Divers? Let me count the ways…
Roatan Divers Team
Saaya runs the tightest administrative ship I've ever seen on the island. Coming from me, a self-professed admin wizard (and someone who has run a dive shop herself, too!), you can trust that I know what I'm talking about. RD is impeccably organized, right down to the neatly printed dive schedule whiteboard. You'll also likely notice on their reviews that people frequently mention Saaya's professional, thorough and lightning-fast communication both prior to, during, and after a trip. This is an area that many dive shops both in Roatan and around the world need a lot of work on. No such worries at RD! Saaya ensures RD delivers top-notch customer service every time. I've had many conversations with her over the years about managing dive staff, and it's clear that she cares deeply about her staff being happy and successful. As RD has grown enormously over the last few years, Saaya gets some help in the office now by my friends Lauren and Russ, who are also two of the friendliest faces you could ever meet.
I don't know how to describe Karl other than saying the man is a mechanical wizard with a heart of gold. Karl is behind the equipment and boats at Roatan Divers, and boy, does he know what he's doing. He designed the dive boats himself and it's evident that copious amounts of thought about his customers' needs went into them. When I arrived last summer, the first thing Karl wanted to show me was the brand new compressor for filling tanks. He explained all the mechanical things in a way that I was able to understand – pretty impressive stuff! While Karl sometimes sports his no-nonsense Scandinavian exterior, he is one of the kindest people I know on Roatan. He's the first person to lend a hand whenever someone needs help with anything and jumps right in. I've personally seen him talk another dive shop through hot wiring their boat engine when it died… OVER THE PHONE while he couldn't even see the engine!
The staff at Roatan Divers is something else. This shop must have one of the lowest staff turnover rates on the island! Dive shops around the world are not known for taking great care of their employees. (With new instructors/divemasters constantly being churned out by training agencies, and the transient nature of working abroad, dive shops have a massive upper hand in the employer-employee relationship and sometimes take advantage of that.) It's been really great to see the same faces over and over every time I go back to RD. The team is experienced and actually enjoys working together. I've seen dive shops where staff had the not my divers, not my problem attitude, so it was refreshing to see the RD staff pitch in together to get the work done, regardless of whose divers were whose. I also was impressed with how much the boat captains helped with gear, divers, tanks, etc. before and after the dives. (For me personally, I can't stand captains who park the boat and then stroll off and then come back later asking the divemaster for half their tip.) I love seeing the RD team work like clockwork. It's a great example of how a dive shop should be run.
The staff also speaks a dizzying array of languages, so divers who speak any of the following can be catered to: English, Spanish, Swedish, Japanese, German, French, Danish, Norwegian, Basque and Catalan. (Bonus: Mitch speaks Australian and Lauren can handle any southern drawls!)
I would be remiss if I didn't get to the real boss of Roatan Divers, shop cat Singha. From high on her perch above the lockers, Singha greets all with the air of true aristocracy. While some may affectionately refer to her as a potato, Singha is well aware that she is the Queen of RD, no matter what shape she may be.
Of course, the Japan goodie bag had a present for Singha in it!
Boats and Equipment
The condition of a dive shop's boats and equipment is top on my list of priorities. I'm not interested in diving off janky boats with gear that's falling apart or hasn't been serviced. I know some divers are all about the budget or living on the edge lifestyle, and there's something out there for everyone, but that's not for me.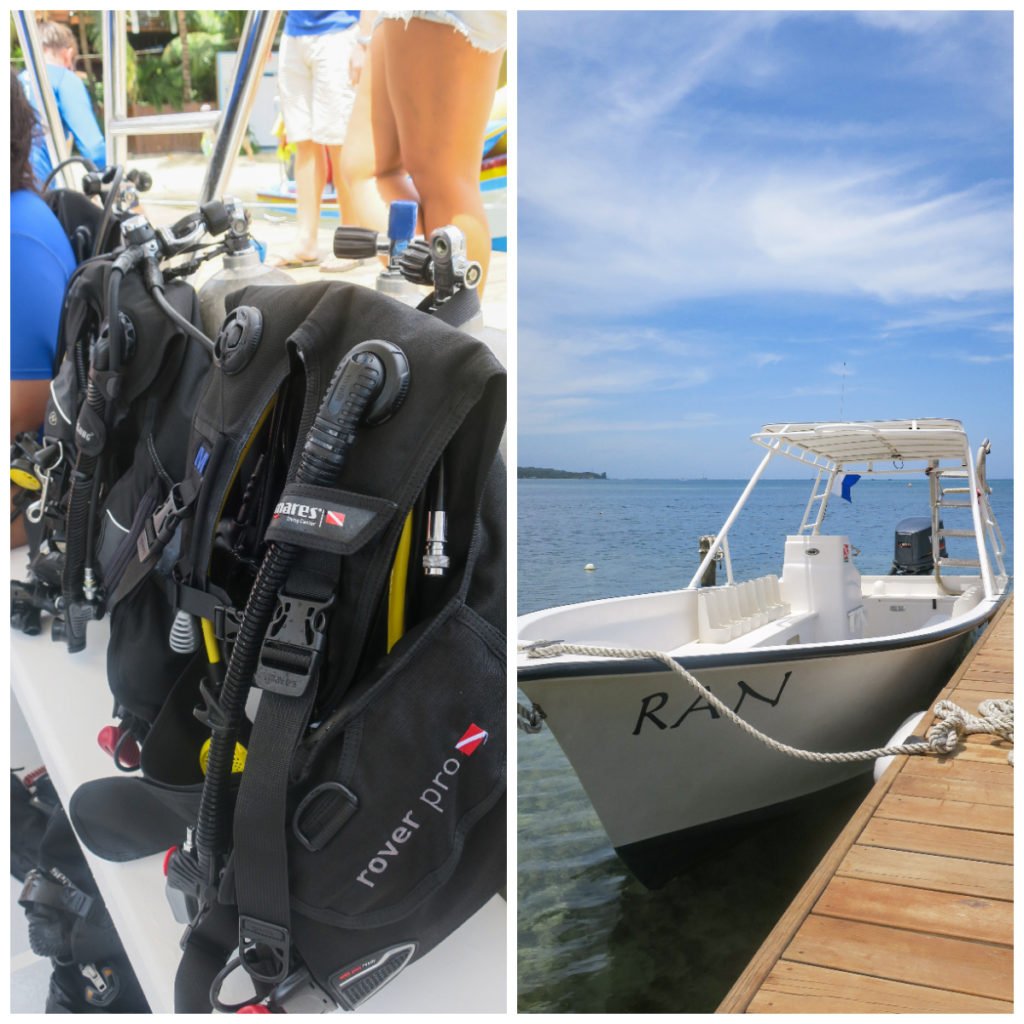 I LOVE the Roatan Divers boats. LOVE LOVE LOVE. I love that they're spacious and built with divers needs in mind. I love that they have everything they're supposed to, like flying dive flags and having working marine radios, rescue equipment, oxygen kits, first aid kits, and spare gear. And I especially love that the captains love their boats. Many holiday divers would probably never notice, but I've worked with tons of boat captains and I can tell when someone likes their boat or not. The RD captains love their boats, and take fabulous care of them. They drive them safely and efficiently, and every once in a while you can catch a proud grin on their face as they pull out of the channel in their sleek boat.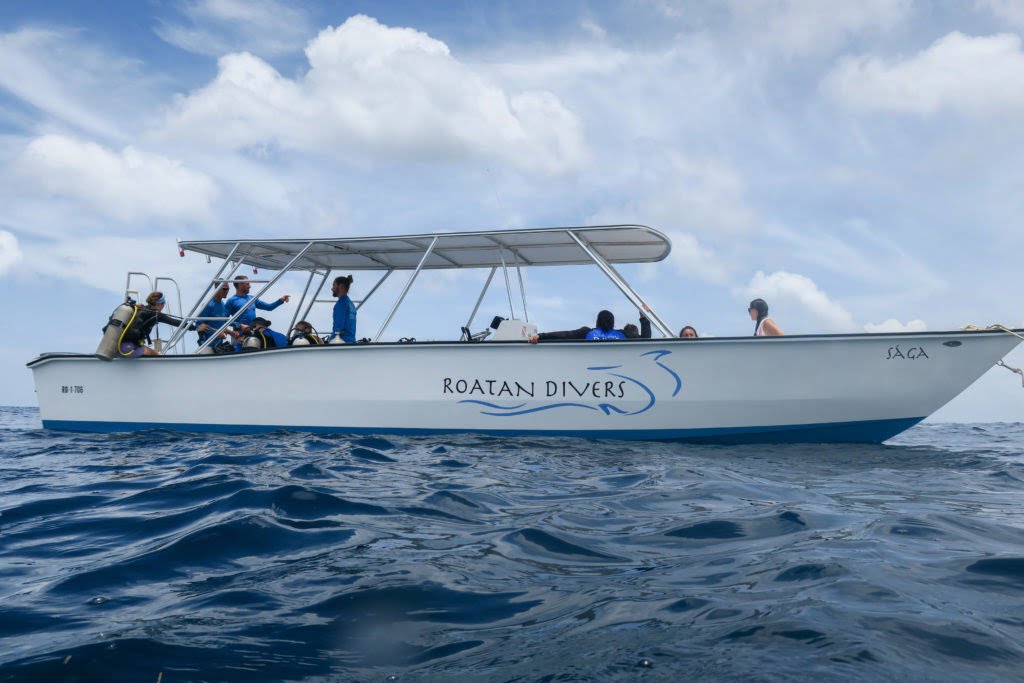 The equipment at RD is fantastic. They have excellent Mares gear that gets taken care of well by the staff. Shoutouts for weight-integrated BCDs and rental computers! Upon request they can also produce 40, 63, 80 and 100cf tanks. (Obligatory reminder from me: if you're an air hog wanting a bigger tank, it's always a good idea to seek continuing education first – try a Peak Performance Buoyancy course with one of the RD instructors! – before just jumping onto bigger tanks.)
You can also enjoy valet diving service at Roatan Divers. As a dive instructor out for a fun dive, I was shocked when the staff offered to set up my gear, and then broke it down and rinsed it for me after the dive! It's not often that dive pros get treated like true customers (and I'm happy to do my own gear to lighten the load on the staff) but I definitely felt like I was living in the lap of luxury. One less thing to worry about on vacation! (Obligatory reminder from me: no matter where in the world you dive, all certified divers are responsible for checking their equipment before diving, even if the dive staff set it up for you. Valet diving or not, you should know how to properly assemble, check, use, and disassemble your gear. If you don't remember how, it's time to take a refresher course.)
Roatan Marine Park Support & Eco Awareness
I think Roatan Divers has some of the best examples of supporting the Roatan Marine Park and being very eco-aware. They encourage their guests to be responsible with the use of resources, and are ardent supporters of the marine park. There are little factoids dotted around the shop reminding guests not to buy irresponsible souvenirs like conch shells, sea fans, or dried seahorses. Karl & Saaya have even purchased a dive site through the marine park's donation program, a beautiful shallow site known simply as "Saaya's".
One of my favorite eco-friendly initiatives at the shop is this custom-built drink station! Coffee, tea, sugar, etc. is all in glass jars in the top, and the bottom holds clean/dirty cups that are handwashed at the end of the day. No wasteful paper cups or plastic straws here!
Diving with Roatan Divers
I loved my dives at RD! I even managed to convince Saaya to go out diving with me – and it's no small feat to get Saaya out of the office on a workday, but hey, I came all the way from Japan! We shared the boat with a group of students and their instructors, but we went off on a photo mission and did our own thing. It was great to be in the water with her again, as we haven't been diving together since working on getting footage for the Roatan AirTransat video I did back in early 2016.
She will be thrilled at me posting these photos of her 🙂 You can see how things progressed during our dive – the big arm X is a "batsu" in Japanese and it's the universal sign in Japan for "no" or "don't do that!" (It's also a diving sign for aborting the dive… but we were being Japanese haha.) She is a typical photographer… great behind the lens, not interested in being in front of it! I am very much the opposite. But her parents read this site so I thought they'd like to see her, in all her massive freediving-fin glory! (Yes, the fins are big! But she's also really tiny!)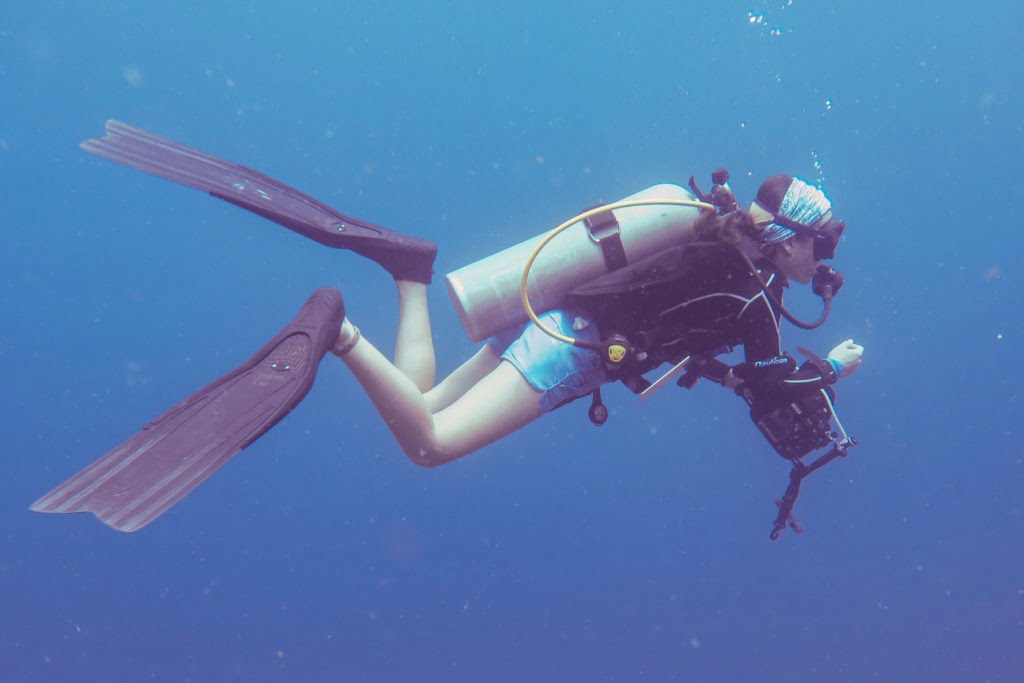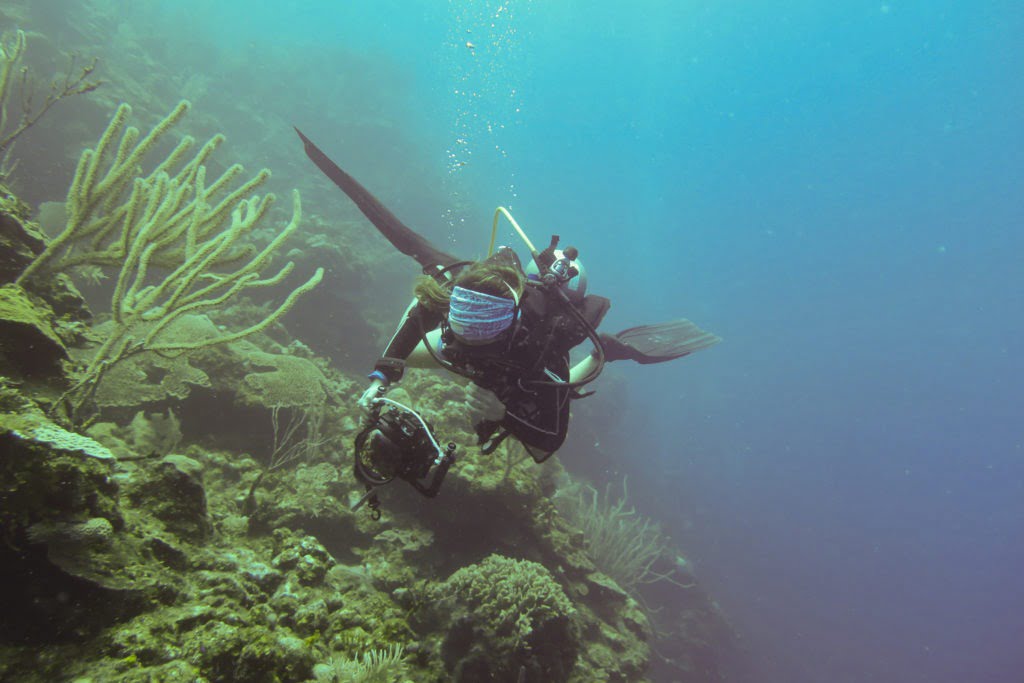 Some more photos from our dives: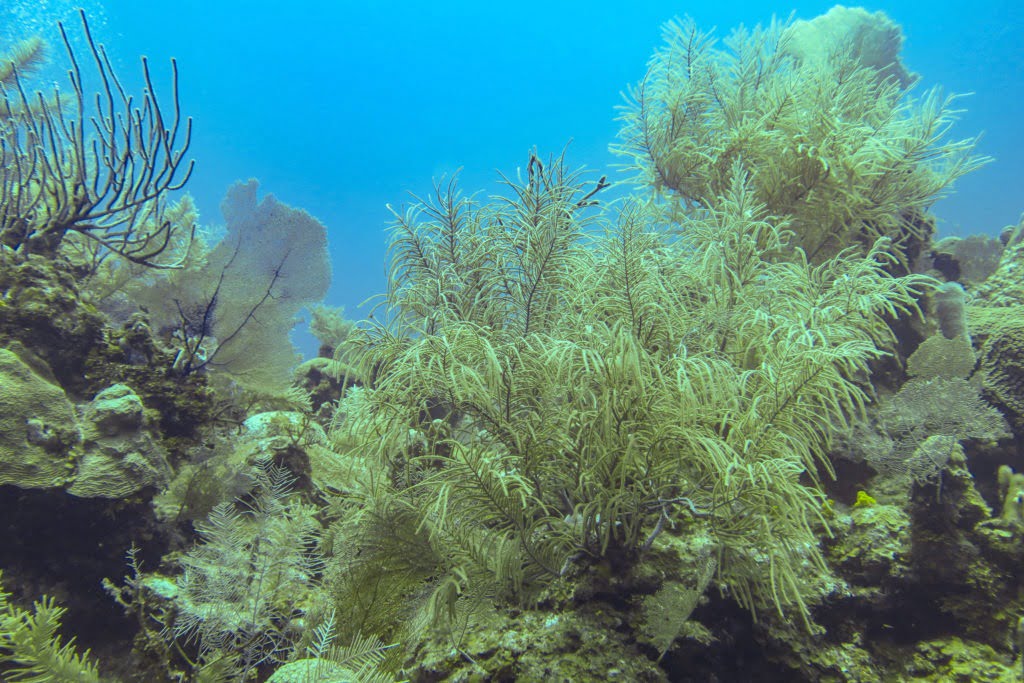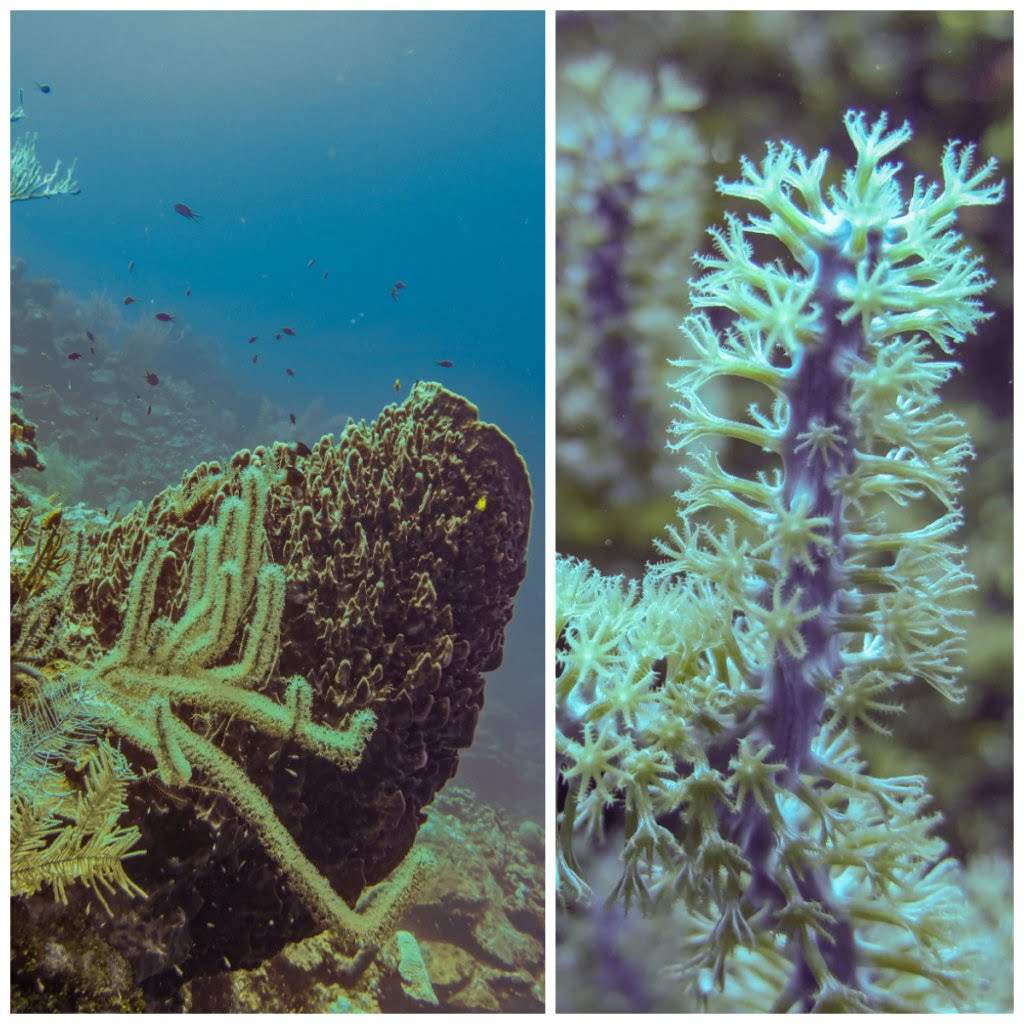 And my proudest find – a filament blenny (Emblemaria hyltoni), which is rare to spot and is endemic to the reefs around Belize and Honduras!
Final Thoughts
If the gushing hasn't already shown you, I absolutely love this dive shop. I always recommend it and hopefully now it's clear why I think it's so great! For anyone staying on the west side of Roatan, RD is the place to be. If you're looking to also hit up some south side diving spots, their sister shop, Tobri Divers Resort, can handle that!
I recommend Roatan Divers for all types of divers – individuals, families, groups, friends, etc. No matter what you're looking for, or whether you've got zero minutes underwater or a lifetime, I promise you'll be well taken care of by the RD team.
I haven't taken any courses here seeing as I'm already an instructor, but as an instructor I have a unique perspective while I'm fun diving and watching the staff with their students. The instructors at RD are experienced and highly capable, and they meet or exceed safety standards. You'll be in good hands!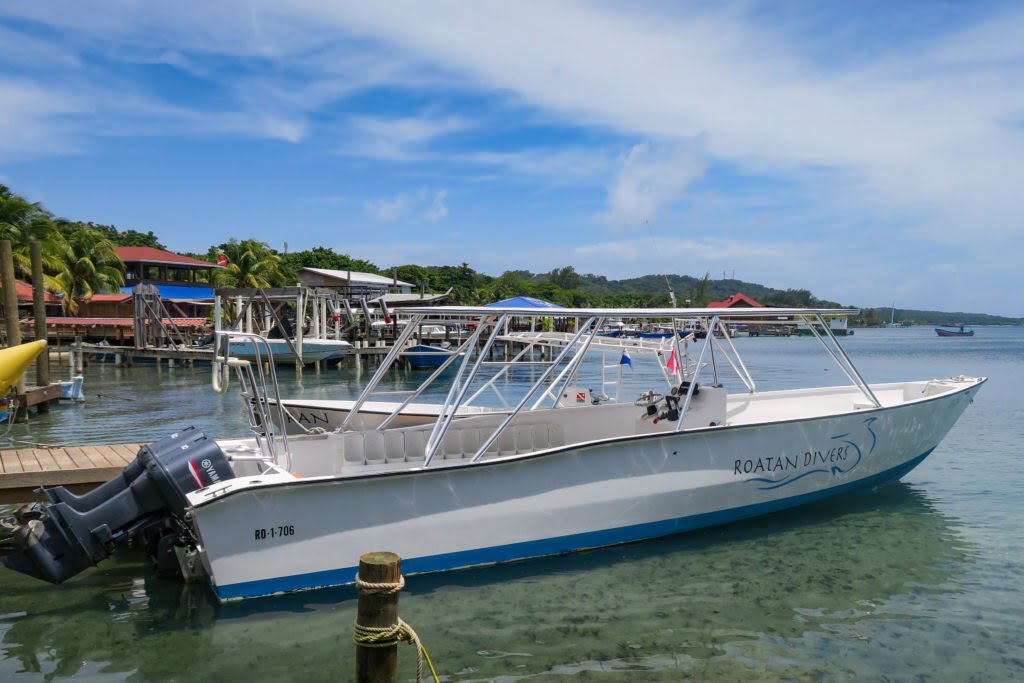 One thing a lot of people don't know is that Saaya is an insanely talented videographer, both underwater and topside. Her production company, Umi Productions, has an underwater videography course that you can do as a standalone course or as a two week addition to divemaster training. I highly recommend this if you're interested in working as a videographer (or just a personal passion). Fun fact that I've learned since arriving in Japan: umi is Japanese for ocean!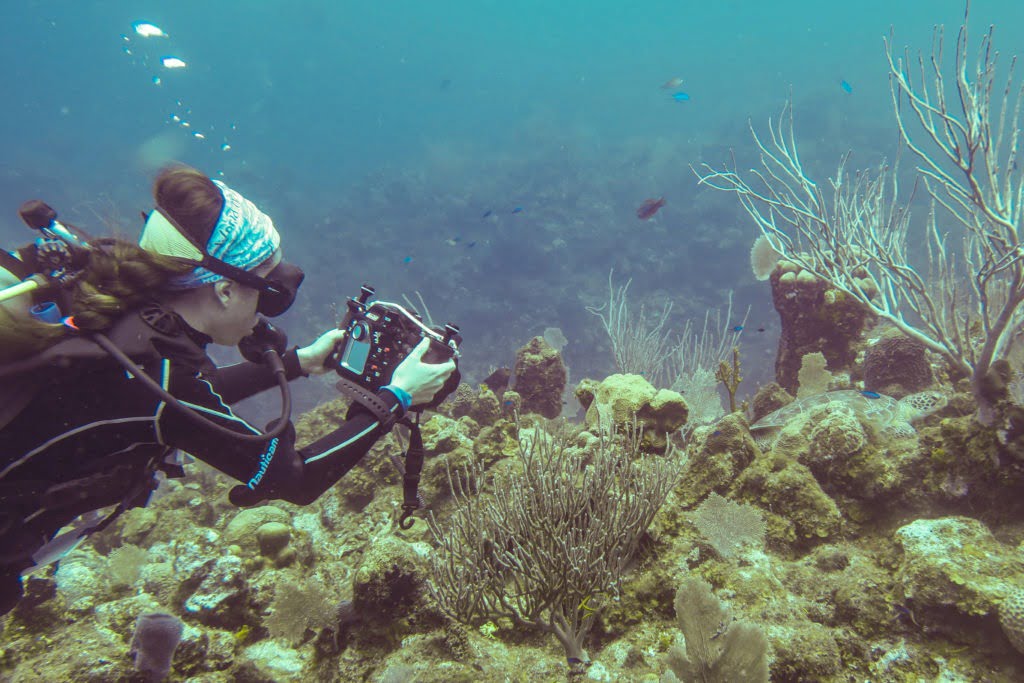 I often recommend RD for people wanting to do their divemaster course, as I believe you can get some of the most professional DM training on the island at this shop. Saaya & Karl, the captains, and all the instructors have an incredible wealth of knowledge that they share with DMTs. I have been known to say that I wish I did my DM here, and I mean every word of it. See more at their dedicated DM training site, RoatanDivemaster.com
EXCITING NEWS: Roatan Divers is now offering IDCs with course director Peter Hughes! Please check out their Instructor Training site for more information.
Before You Go…
make sure to visit the Roatan Divers website! It's gorgeous and chock-full of all the info you need, including a detailed FAQ page and a regularly updated blog.
be like me and stalk the team via the newly installed webcam if you want to see what's going on on the dock in real time before you go to Roatan!
make a booking through their easy online booking form
for certified divers – bring your certification card, get your gear serviced if needed, and if you've been out of the water for more than a year, either schedule a refresher with your local dive shop before you leave or email RD to schedule one on your first day of diving!
for diving students – you'll need a dive medical signed off by a doctor before you can get in the water, and you can do this before your trip (ask RD for the form when booking your course) or on-island (but remember you can't get in the water until this is signed!) It's also a good idea to check out PADI eLearning if you'd like to minimize study time while on vacation. Ask RD for more info.
ensure your passport is valid for another six months after your departure date
review my Roatan Tipping Guidelines for Scuba Diving (and General)
review my Using US Dollars on Roatan Guide
let Karl + Saaya know I sent you, and say hi to Singha for me!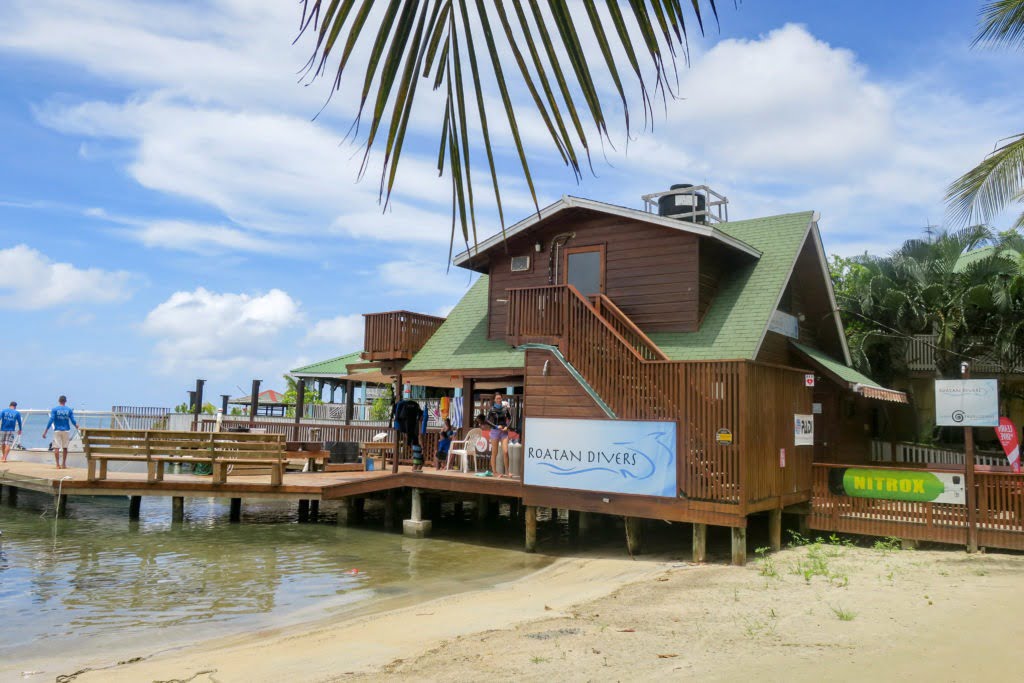 Disclaimer: I was graciously hosted by Roatan Divers as a long-time friend & dive pro who was back to visit. They did not ask me for a review on my site! As always, my opinion is my own, and life is too short to write about places I don't actually recommend. I only write about the great ones that I enjoyed and want my readers to enjoy too.
---
Want more Cubicle Throwdown in your life? Of course you do, you rockstar. You can follow me on Facebook, Twitter, Instagram, G+ and Pinterest, if you like. You can also add me to your Bloglovin' feed, or email me! If social media is not your jam and you just want my posts straight to your inbox, check out the sidebar and put your email address in the "Never Miss A Post" box. No newsletters or spam, just my posts – scouts honor. xo!