This post has been hinted at several times in the past, and the day has arrived for me to announce myself to the vast reaches of cyberspace (or to my mom and my little group of readers who still come here to read all my ramblings – thank you!)


Hi! I'm Rika.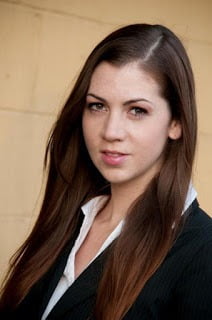 and this is what I look like in my cubicle.


I haven't been able to let you all know who I was. Sorry! I had to hide my face in photos and use my initials instead of my name because there were still so many people (including my employers) who didn't know I was planning to walk away from my life here in Vancouver and move to Roatan/other locations indefinitely. I wasn't comfortable having everything out online but I always felt guilty responding to readers' emails and signing off as EM, or commenting on other blogs as EM at Cubicle Throwdown. I am sure you all understand though as you're such a nice buncha kids. Thanks for sticking around!


But now the whole world knows about the upcoming cubicle throwdown, including YOU!


I'm Rika, and I'm so happy to finally meet all of you 🙂


I'd love for you to follow me on Twitter (I'm @RikaFromCT for those of you wondering who that was following you) but I'm still a bit new to the whole thing so please give me a little leeway. I was anti-Twitter for a long time but I'm coming around, it is a great way to keep in touch with everyone (and you can also see when I post new blogs!)


Want to get to know me better? Updated About Rika page for you to peruse. And now, because I am a narcissistic camera-whore, here are the many faces (and places…it is travel blog after all, right?) of Rika for you to enjoy.


First…I'm from a really cold place in Canada. And we like to shoot stuff. Any guesses?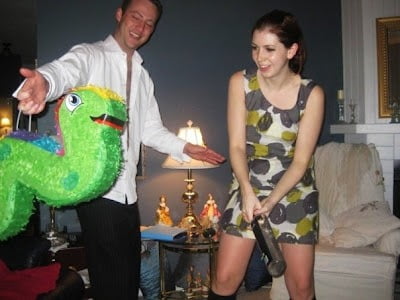 Did I mention I was ridiculous? Busting a pinata with Polar Ice vodka, no big deal.
Tofino, BC in February… I will forever be a west coast girl at heart, no matter where I am.
Hiking Quarry Rock in Deep Cove, big beautiful British Columbia!
Backpacking in Japan in 2009… this is my first view of Japan, I was so excited that I cried. My favorite country by far.
At a zen temple in Kyoto.
Kawaii, ne? Me in my Hello Kitty yukata at a ryokan in Gunma. I bought that yukata and it's sitting in storage!
In Arashiyama, Kyoto. There is an alarming number of photos like these in my travel pictures. I am sillier than this blog lets on.
Kaiyukan (Osaka Aquarium) – my love of all things underwater is not new.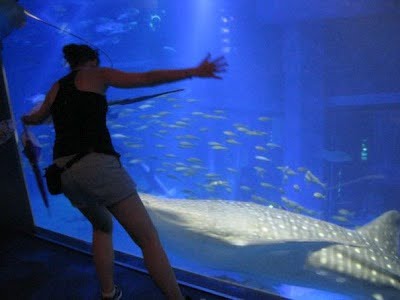 I love this photo of me with a whale shark at the Osaka Aquarium. I had no idea what it was at the time. But you know where has tons of whale sharks? Roatan and Utila. Foreshadowing much? The day I dive with one of these beasts is going to blow my socks off. [UPDATE 2013: uhhhhh yeah – so this happened. Check it out here.]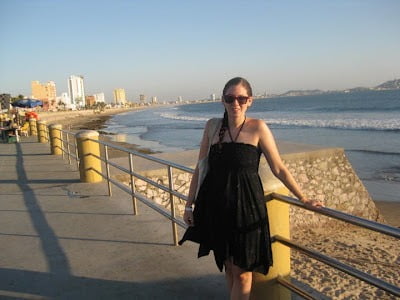 On the malecon in Mazatlan, Mexico in 2010
Christmas time in Mexico traveling solo, I made some friends. Or I got drunk at a restaurant by myself and harassed the waiters….
Surfing (kind of) in Mazatlan
Somehow wrangled myself onto a high-security US army training facility in California in 2011, here's me inside a Bradley tank… nice security guys.
Near Ft. Irwin, California 2011
Backpacking through Peru in 2011, this is me in the Andes at a hummingbird sanctuary.
More Peru… Laguna 69 – a glacial lake at the top of a 15,000 ft mountain. This the is proudest moment of my life as I barely made it to the top, I have never pushed myself so hard physically or mentally before.
And finally, me at West Bay Beach in Roatan, February 2012 – the trip that started it all.