Sometimes having a blog is so, so awesome.


For those of you who don't have blogs, let me tell you some cool things I get with this blog:
I can see blog views by country (using your computer's IP address when you visit my blog). So I know someone in Russia either visits my blog 300 times a day, or I have a LOT of fans in Russia!

I can see if you came to my site by clicking a link to my site from somewhere else, and it shows me the original site you came from.

I can see what operating system and browser you use to view my site! Useless but whatever!

Finally, the most fun: I CAN SEE WHAT SEARCH TERMS PEOPLE PUT INTO SEARCH ENGINES (Google, Bing, Yahoo, etc.) AND THEN CLICK ON MY SITE FROM THE SEARCH RESULTS. This. Is. Hilarious.
I have gotten some absolute gems from this search engine term tool. Usually it's regular stuff like "cubicle throwdown" (spelled about 50 different ways) or "cubicle roatan blog" or something like that. But sometimes I get absolutely ridiculous stuff, and I usually laugh and forget about it. But I thought you guys might like a giggle today.


I woke up today and because I am a nerd, checked my blog stats for the morning so far. Search engines had sent me a few readers, and one of them clicked on my blog after searching this: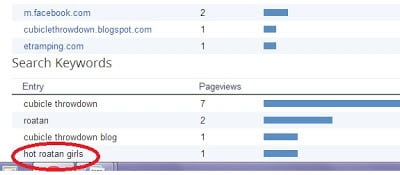 Well Mr./Ms. "hot roatan girls", I hope you found what you were looking for here! I'm going to take it as a compliment that you clicked on my blog after searching that.




If you have a blog – what's the best search keywords you've gotten?
If you don't have a blog – did you know we can see all of those things?