Being a 'blogger' (I guess I can call myself that now, at this stage of the game?) has a lot of perks. One of these is getting to connect with people all over the world. I love hearing from people! However, due to the focus of my blog on where I live (Roatan, seriously you guys should know this by now) I am now getting lots and lots of emails asking me for my recommendations about Roatan… where to stay, who to dive with, what to do and where to eat. I really want to share what I know from living here with people and I want them to have great holidays here or an easy transition moving. But guys, I work a full time job 6 days a week. And a part-time one 5-10 hours on top of that. Oh, and I write this blog, and for other people too. Also I do have a social life!! Sadly, I don't always have time to give people all the details they're looking for.


Out of this, "Roatan Reviews" is being born. I had a Recommendations page with a few links to some places up, but it was hard to keep updated and only contained placed I had ate/stayed/dove personally. Now that I live here, I don't usually go to hotels, because, well, I live here. Also I don't really dive at other dive shops, because, well, I dive for free at mine. But I know people want to know these things, so I've reached out to local hotels, restaurants, activity providers and dive shops that I wouldn't normally visit to see if I can come and find out what they're all about. In turn, they'll each get a "Roatan Review" post, and these will all be linked up in the top navigation bar (here). So you can look forward to this being an ongoing series!


If you've come to my site looking for recommendations and reviews from my experiences here, please visit that page and check out the (hopefully ever-growing) list and my intention is that it will answer most of your questions and steer you in the right direction.


So please join me in kicking off the very first Roatan Review….




ROATAN BOAT EXCURSIONS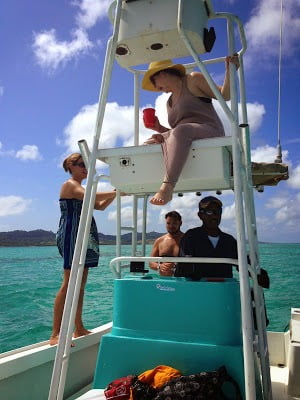 Weird things happen all the time on Roatan. Like Sarah Facebook messaging me at 8am on a Saturday morning and asking what I was up to, and did I want the boat her and her friends were doing a tour on to stop at the resort where I live and pick me up? Uh…..yeah! A sunny Saturday with nothing to do – in the Caribbean my friends, there is no better way to spend it than cruising around on a boat.


So I quickly got ready, picked up my snorkel gear at the dive shop and headed out to the dock where Captain Sam was parking Island Time and patiently waiting for me as I scrambled down the beach. I jumped on board with the help of his shy assistant Javier, who is the cutest little thing, and was promptly handed a rum and pineapple juice. It was 10am. Did I mention I love living here?


sarah!
Now, in the interest of full disclosure, some of the 'island tours' and 'boat rides' and 'snorkeling trips' peddled to tourists here are absolute garbage. Shitty boat captains that whiz right by snorkelers and don't respect the Roatan Marine Park rules, cruise shippers who only want to go to places for lunch with clean bathrooms and American hamburgers, overpriced snorkeling over a boring sandpatch… this kind of stuff is not for me at all. And I feel a little bad for the people who book it. But this tour was great – and since only 1 out of the 4 guests on board was a tourist we knew we would get the real deal.






Captain Sam, a knowledgeable Roatan local who (as most islanders do) speaks English as a first language and Spanish second, expertly maneuvered us through the inside of the reef towards the east end of the island so that we could have lunch in Punta Gorda. Honestly, I spend every day on dive boats motoring around in lovely turquoise seas so I probably would have passed on this excursion had it not involved a stop in Punta Gorda. I feel embarrassed to admit this, but I've lived here a year and a half and still hadn't been there! This traditional Garifuna community has its own distinct culture, food scene and language. I tell tourists to go there all the time, but I had never been myself! From the moment the little ramshackle buildings began to appear out of the verdant green hillside meeting the ocean, I knew it was going to be great. We careened by a few places where I held my breath and hoped not to slow down, as I could clearly see they were tourist traps, but happily we went onwards to an unnamed dock and palapa over the water. I finally had a sigh of relief as an old Garifuna man plunked down beside me on the bench and started chatting with me…as soon as he found out I lived on the island, he switched to Island English to see if I was for real – I kept up, and he told me all about the old days in Punta Gorda.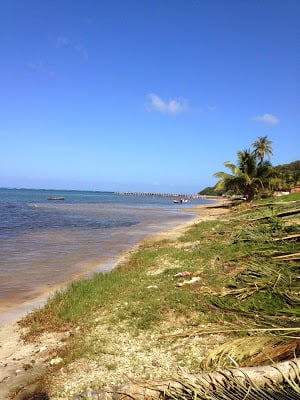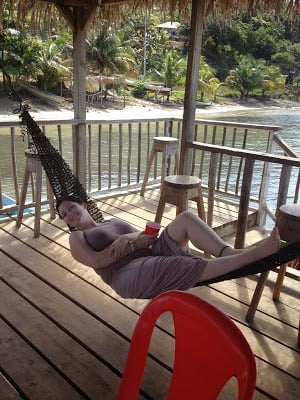 claire chilling in the palapa waiting for lunch
We set up to eat lunch on the dock while watching two little local boys jump off a boat tied to the dock and try to get back on over and over again, screaming with laughter and shoving each other in.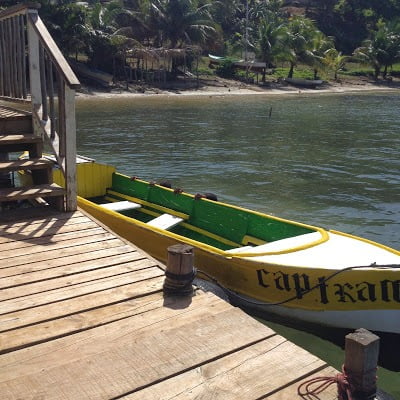 We waited in the cool breeze (a rarity in this part of the world, and most welcome) for lunch which was instructed to the cook as "just make us whatever you want". We watched a fierce game of table-slapping dominoes going on in the main restaurant on the side of the road, led by a ferocious lady who yelled at everyone and seemed to be having the time of her life. We watched guys from all ages sit down on the beach beside the restaurant and get a haircut from the barber, whose electric razor was powered by a 40ft extension cord snaking up to the restaurant. Our friend Alex decided to get a badass fade while we were there, and Captain Sam got a haircut too. Hey, why not?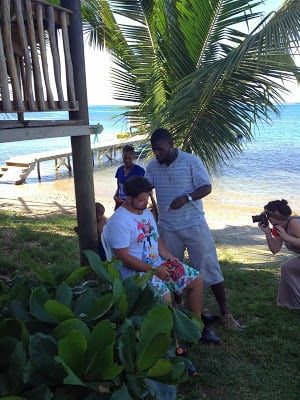 alex's beachside fade




The food arrived and we got to work on red beans, rice, deep fried jack, boiled green banana and conch stew. So, so good. I would have felt better if I could get some verification on where the conch came from as it's illegal to harvest, buy or sell conch here. I guess it was probably from here though. It's a tough call as I fully support the Roatan Marine Park, and CLEARLY the conch is over-harvested here. But if you take away someone's livelihood, you need to provide them with another way to make money. Despite my personal tug-of-war over the conch I managed to make short order of the delicious stew along with everything else. The entire feast was about $30 and fed six people (and a few of us had seconds).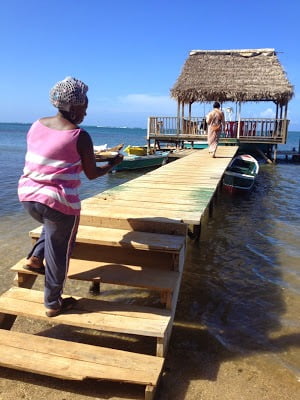 After lunch the crew split up – Sarah and I decided to take a walk through town and the others relaxed at the palapa. We found a quiet little town that while bigger than our home base of West End, was infinitely more tranquil. A couple guys rode by on a horse. A few ladies sat in the shade in front of their house called our friendly hellos to us. We saw about 3 cars. I couldn't believe in a town that size (and by that size I clearly still mean TINY, we're on a little island guys) that on a Saturday afternoon everyone was just chilling. Even the mini supermarket was closed. Everyone was really nice and said hi as we walked around….and no one bothered us to buy anything. This doesn't happen often on Roatan if you are white. I loved it.






The boat picked us up at the other end of town and we began the trip back to the west end of the island. Part way we stopped a couple times for snorkeling – once to throw the anchor in the sand at 'Sam's Spot', which was full of sea stars, and then another time to tie up to the buoy at a little old steamship sunk intentionally to create an artificial reef for snorkelers. I jumped in here and actually had a pretty good time snorkeling. I almost never snorkel anymore (I get paid to dive, remember) but I saw a ton of stuff, including a lettuce leaf slug that I was stoked to find and show to my friends. Macro creatures rule.


alex snorkeling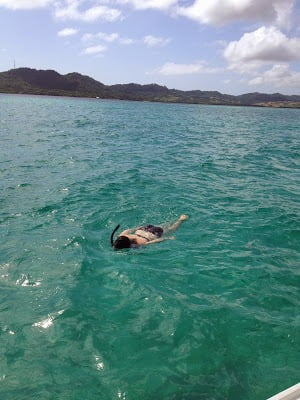 claire snorkeling


After our snorkel Captain Sam dropped me back off on the dock at the resort I live at, and sped off into the sunset to deposit my friends in West End with an ipod & speaker blaring dancehall music and everyone laughing. It was such a relaxing day. All we really did was go around on a boat, eat lunch, take a walk and snorkel, but I had a blast.


** All photos were taken with my iPhone 4S and are unedited (sorry, lazy). Isn't my island beautiful?




What you need to know:


Captain Sam does all kinds of tours on his boat (island tours, Pigeon Cay, Cayos Cochinos, Utila, fishing, charters, sunset cruises, hourly excursions and more) so the price varies wildly depending on what you are doing, where he has to pick you up, how much gas it's going to burn, and if snacks/drinks/lunch are included or not. Contact him to discuss options.

gratuities are not included in the price and, as everywhere else on Roatan, are appreciated if you enjoyed yourself!

make sure to let Sam know what you want out of your tour, and most importantly – how much time you have to do it (especially if you need to get back on a cruise ship).

see reviews from others: TripAdvisor
website: Roatan Boat Excursions
contact info: phone 504-9968-9413 or email samroatan@gmail.com (tell him Rika sent you!)


Rika's Rating: Awesome! Would totally do it again, and would recommend to anyone.




Disclaimer: I was not a guest of Roatan Boat Excursions for this trip, however I was a guest of my friends who paid for this island tour I went on. I left a generous tip for the captain and his assistant for the great day and valet service to my dock!






Guys, make sure to follow me on Facebook and Twitter … there's lots of extras posted there that don't make it onto the blog. Plus it makes lettuce leaf slugs happen. So there's that.