When I first came here on holidays, I was mystified. There are loads of expats living on Roatan, so how did everyone seem to know I was a tourist? I could have been a dive instructor living here…how did they know I wasn't?


After less than three months of living here, I had all the answers. When I ask people, "how long are you on holiday for?" they giggle and ask how I knew they were on holiday. At this point in time, I can spot a tourist a mile away. Some things are easy to pick out, some are trickier. Here's how I know.


#1. You're taking pictures of sunsets, the beach, the road, palm trees, stray dogs/cats or locals who are going about their business….with a camera (and it's not your job). Bonus points for having a camera around your neck.


jumping photo on the beach = TOURIST (yes, that's me…in my defense i was here on holiday in all these photos)




Yeah, sometimes we take photos of these things too, but it's always with our smartphones so we can upload them to Facebook and make all our friends at home in the snow jealous. And we don't take photos when we eat a burger and fries.


#2. You're walking around barefoot in the street.


TOURIST! had my shoes stolen at the bar the night before. also note my backpack and water bottle, which scream tourist.


There's only two expats who do this on a regular basis (and we all know who they are). The rest of us see enough dog shit, broken glass, puke, horse shit, garbage and needles in the street to keep our shoes on when we're walking in the road.


#3. You're super, super sunburned.


We did that too on our first week. But most of us that actually live here don't spend all day laying out in the sun trying to get a tan.


#4. You're drinking a monkey la-la, pina colada, or an imported beer.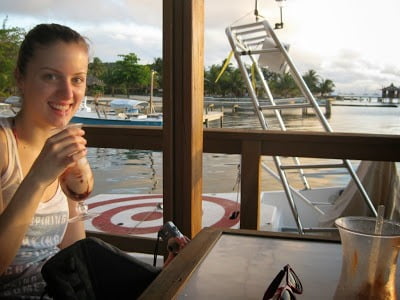 this is my friend steph and i drinking monkey lalas during my first trip to roatan. actually i think this was during the first 5 minutes i was on roatan. anyway, that's the last monkey lala i ever had.




First of all, DO YOU KNOW HOW MANY CALORIES ARE IN A MONKEY LA-LA!? These drinks are our 'local specialty' and are variations on rum, Kahlua, cream of coconut, vanilla ice cream, condensed milk and chocolate syrup. Have fun going home with diabetes. Also, re: pina coladas…only tourists drink these. It's just a fact. And none of us can afford to drink imported beer.


#5. You can't understand the islanders.


Every day I'm astounded that I have to translate for my boat captains WHEN THEY ARE SPEAKING ENGLISH to our diving guests. It's just a Caribbean accent guys, it's not that hard. If you're a tourist, I'll give you a pass on not understanding their creole or "island talk", but I know for sure you don't live here when you can't understand them speaking English to you. FYI: I have to translate most often for guests from the southern United States….guess what y'all, I can't understand y'all either.


#6. You panic wildly and loudly during any of the following: lengthy power outages, lack of toilet paper in the bathroom, scorpions/tarantulas/snakes in the general vicinity, stray dogs chasing you, our town drunks yelling at you, cold water showers, slow internet or ice cubes in your drinks.


Self-explanatory.


#7. Your legs (or your entire body if you're unlucky) look like this:






Welcomes to Roatan. We have sandflies. A LOT. Don't scratch. Good luck. (These are my legs after 3 days on the island. After this they got worse, way worse, and infected. It took me a YEAR before I got used to the bugs. Fun fact: in West End, the islanders still refer to me as 'Sore Legs'. Once you get a nickname it sticks.)


#8. You're wearing your hotel all-inclusive wristband.


Duh, guys.


#9. You're all over the local talent.


Heads up ladies, most of the island guys love to go out to pick up tourists. You're the perfect girl – way too drunk, holiday-level-inhibitions (low), wearing next to nothing (beach vacation!) and leaving soon. Any expat has either steered clear or learned their lesson the hard way and THEN steered clear. Not telling you which camp I fell into…


#10. You are wearing either: (a) tiny string bikini, American Apparel super slouchy ripped tank top/coverup with clever saying or band name on the front, no pants, a tribal headband, lots of jewelry and $300 sunglasses OR (b) button up shirt, shorts pulled up high, socks with sandals, those stupid neck money holder thingies.


so many tourist faux pas here. good lord. uh…wearing a bikini and a sarong in a store. drinking in a store. wearing a messenger bag with a bottle of water in the side. sunburn. drunk. oh man.




Ok, let's get real. If your clothes are new, cost more than $10, you have on makeup and your hair is straightened, I can pretty much tell you're a tourist. Or if you're walking around in a sarong. I've only rarely seen a local do that, and they're probably saying to their friend that they feel like a tourist. You will never, ever see an islander walking around off the beach in a bathing suit. Nope.




So welcome to Roatan! We know who you are 🙂