We've been dodging a very big bullet on Roatan for nearly two months now… RAINY SEASON. The dreaded few months of the year where gray skies and rain only leave us a few days of sun, where the power is out more than it's on and when you get 'trapped' in bars, restaurants or your friends house because you want to wait out the torrential downpour that just started outside. It's the time of year when you go to take out one of your clutches from the back of the closet and discover all 4 of them are most definitely molded together and sporting tiny fur blankets. When you wake up in the morning and your sheets are damp even though you're finally not sweating… and you wonder for a second if you're back in Canada, camping in May. Some say it's the season when your clothes don't dry, but I call bullshit because clothes never dry here.


Rainy season has finally solidified itself and we've been treated to a most impressive tropical storm for the last 5 days. We're looking at a couple days off and then another one starting. Now, I have a tendency to exaggerate (who, me?) so please don't get any typhoon Yolanda images going on. No one here is in danger. But Mother Nature has sure been putting on a show! The rain is coming in my house, the wind is knocking lamps over inside and I am freezing. My dirty little secret is that I actually love rainy season… the heat here is wayyyy too much for me. I'm also all about the wind blowing all the goddamn bugs out of my house finally. But in the diving community, that only means one thing – no work, no money and nothing to do. Bad combo all around.


me on the dive boat and an ominous sky… from last rainy season. i no longer fit into that rash guard or shorts. le sigh.


A lot of my guests have been stuck in their fancy villas (oh, tragedy) waiting out the rain and the wind. They've all come by the dive shop to ask what exactly we do here when the weather is bad? Well…nothing really. There's drinking, watching movies on your laptop or playing cards with your friends. Or writing blog posts about doing all of that.


I thought I'd share what I get up to so I could answer the burning question of what do you do here during rainy season?




1. I cook.


We all know by now I looooooove to eat. And living alone in the middle of nowhere that means I need to cook as well. One huge can of pumpkin that I didn't know what to do with inspired the following cook-off last night:


savory pumpkin pizza dough that I used to make two mini-pizzas and a 'hot pocket' type thing (filling/topping is ground beef, spinach, tomatoes and mozza cheese), plus two extra things of dough to freeze and use later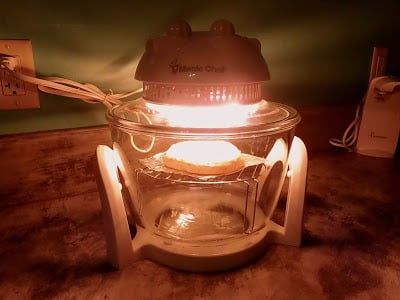 so…i have no oven, just a stovetop. i use this thing i found in the cupboard. it sucks kinda.
pumpkin coconut curry with chicken, spinach, tomatoes and chickpeas
pumpkin-blueberry-coconut-chocolate almond milk popsicles (uhh…for when it warms up outside?)
and on a non-pumpkin-related-note, cabbage/rice/ground beef/tomato casserole that I ate too fast to take a picture of.

And I still have pumpkin from the can left to use!!


2. I watch movies.


Well, that shouldn't be a shocker.


I finally have had some good luck with my stupid 3G internet stick and was managing some decent Netflix connections the last couple weeks. I made my way through the first 3 seasons of Parks and Recreation and looooved it (why did I not know about it before!?).


I think I like Ron so much because he kind of reminds me of my dad. Especially that sweet, sweet 'stache.
After I finished that I watched a bunch of documentaries, including a rather ridiculous BBC one about Pompeii. I should know better than to watch documentaries from the 1990s. Now I'm slowly wading through The Pillars of the Earth. It was a great book, I'm not 100% sure about this mini-series but I'm hooked enough to keep watching. Other than movies and TV shows, I also often get trapped down the wormhole of following different youtube videos until I've watched 7 "Best of Honey Boo Boo" compilations in a row. Impressive.
3. I listen to music (and waste my internet stick data rapidly).
I like to find long DJ mixes on youtube and listen to them while cooking, washing dishes, etc. This drains the F out of my 3G internet stick but sometimes I don't care if I have to pay $14/week instead of $7, I just want to feel like a real person who can listen to an hour and nine glorious minutes of dancehall if she feels like it. I'm also really digging Alt-J right now.
But I'm kinda out of books at the moment. I need to get back to town with the 5 books I have ploughed through 2x each since I brought them back from Canada in September, so I can exchange them at the book exchange place. I'm currently rereading The Red Tent for the 70billionth time on my Kobo app on my iPhone, since it's the only book I have on it. I should probably ask for Kobo gift certificates for Christmas. Or an actual Kobo. I really, really need an e-reader!
5. I watch the weather from my deck like an old lady.
if you click on this photo to make it big, and then look to the left of the super dark bit in the very center of the photo… you can see a waterspout!
And this is very embarrassing for a Canadian to post as it was 26C/79F in this picture. BUT I'M COLD OKAY. It's usually 45C/113F here so it's a little chilly for me right now…and I am loving it!!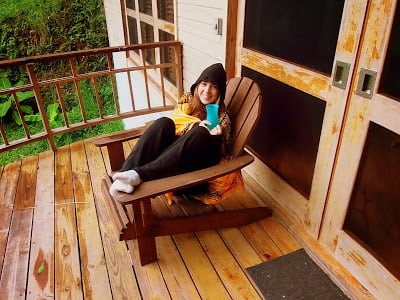 do two sheets, four sarongs and a big beach towel count as a blanket?
I also write for this blog, for other sites, run an online business, put together Youtube videos of dive sites for my shop, edit and upload photos of the resort I work at for the marketing company I work for, and chat with friends. However, you can see that 99% of the stuff I do here relies on the internet. And did I mention the internet was shitty here?
So those are some things I do when it's raining here. I don't have the luxury of roommates, cable TV or a boyfriend to pass the time with so I have to keep myself occupied. I'm literally stuck in my house since the road down to the main building from my house is washed out and the road into town is too muddy for my scooter now. Mostly I just check Facebook a lot though. So please keep me entertained over there!
Guys, make sure to follow me on Facebook and Twitter … there's lots of extras posted there that don't make it onto the blog. Plus it makes sunny days happen. So there's that.