It's been pretty hard keeping this one under wraps. I am bad at keeping secrets! So here it is: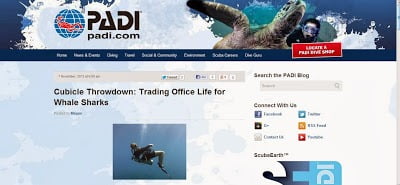 Check it out and let me know what you think.




I have to thank Carmel for having friends in high places (aka PADI media specialists) who approached me to do this interview. For those that don't know, PADI is the scuba diving training agency that I did all my certifications and teach under. This is a really big deal for me! PADI is a massive worldwide organization and I'm so flattered that they asked me to be a part of this. That's a pretty big honor for a dive instructor. I'm hoping to make lots of new connections from this exposure – if you found my blog via my interview, comment below and say hi, and please follow along for all my future adventures (and misadventures) in paradise!