It's been a really, really nice week.



I passed my dive instructor exams and spent this week doing speciality instructor courses. It was much more chill and I got some fun dives in, which I was missing like crazy. I always tell people diving is my yoga – I have a hard time getting 'zen' in my life, but as soon as I hit the water and start going down my brain finally turns off and gives me a break for 55 minutes. Someone at the dive shop was talking about underwater headphones the other day, and for me personally, I can't think of anything worse. Dives are the only time I get any quiet in my head, and I need that in my life.
Our house is a little different now – 4 out of the 6 people living here have left, one home to France, one home to England, and two to Costa Rica to have an adventure there. I am missing my Roatan family a little bit but this place is always changing and people come and go, you have to be able to roll with it or it will make you sad. I've been here almost three months now and I'm getting used to meeting awesome people and then they leave – but then more awesome people come.
I love my friends here.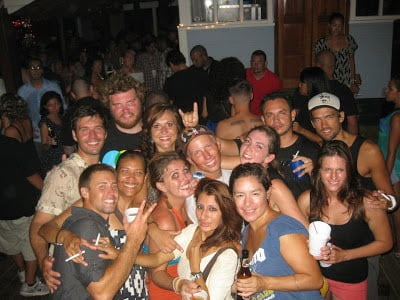 We have new roommates now, a couple from the States. They are pretty rad. And everyone is happy because no one has to sleep on the couch or the floor anymore! It's a little more relaxed with only four people here too.
Next on the agenda is getting a job. I have something lined up but it's not 100% sure yet so I don't want to jinx it. I don't think I will have trouble finding work though.
I just had a look through my archives and can't find anything about this, and I can't believe I forgot to tell you all… but about a month ago the TV show Private Islands came to Roatan to film, and they came to our dive shop to do a Discover Scuba Diving course and get some footage (our shop/resort is on a private cay). It was fun and I got to do some of the underwater filming because they were just learning to dive. You can see me at about 1:33 helping the host get off the boat, and the black & grey fins in the diving shots are mine! Here's a sneak peek of some of the footage, they haven't finished the actual show yet…
Today is my first real day off in ages. I am hungover, have nothing to do, and it's a beautiful sunny, breezy day here. These are the kind of days that remind me that I live on a tropical island, and pretty much have the best life ever. Things get me down sometimes, same as back in Canada, but then I remember that my work clothes are now flipflops, I sometimes find seahorses, I live by the beach, and I can get lunch for 3 bucks. Life is good.