Monterey Bay, California, is world-famous with scuba divers for its amazing dive sites. Though it is cold-water diving, divers are rewarded with good visibility to explore massive kelp forests and underwater canyons full of marine life. Both shore and boat diving are available, and you can see large creatures like harbor seals, tiny critters like nudibranches, and everything in between. Be sure to prepare for cold-water diving when planning your trip!
Where to Stay
Monterey Bay is accessible from many locations by the bay. You can check for nearby accommodation in Santa Cruz, Watsonville, Monterey, Carmel-by-the-Sea, or even Salinas if you don't mind being a bit inland. Staying right on the bay provides stunning views and a short commute in the morning to the dive shop!
What to Bring
Certified divers should always bring their certification cards and dive logs wherever they go in the world to dive. Don't rely on shops being able to look you up on your training agency's site — if for whatever reason your listing doesn't come up, they won't take you diving. If you need to order a replacement card from your training agency, do it well before the trip.
If you have your own dive gear, make sure to get it serviced before your trip so that it's in top shape before you hit the water again. It's always recommended to do a refresher in the pool or in shallow water if you haven't been diving in more than a year or if you're using freshly serviced gear. You'll want to know before the dive that everything is working properly!
Finally, a boat coat is worth the investment when you're doing cold-water diving. It's a good feeling knowing that when you get back on the boat, there's a warm, fuzzy coat waiting for you. Just put it on over your wetsuit, and it'll keep you warm until you get back to shore.
Don't Miss These Dive Sites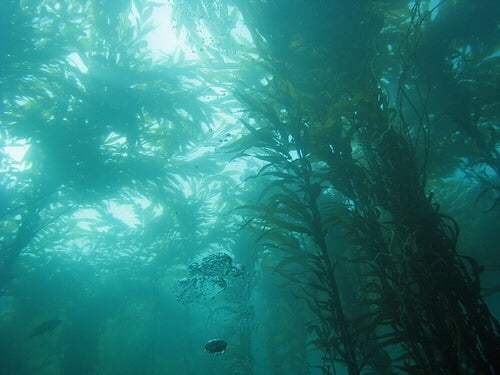 Image via Flickr by Vlad & Marina Butsky
Butterfly House: If you're looking for kelp forests, this site is a must-visit. This shore dive has a fairly easy beach entry point. You'll need to bring your underwater torch, as there is so much kelp canopy here that light can be limited. Divers are rewarded with stunning kelp scenery, boulders, and hydrocorals.
Lovers Cove: This shore diving site is good for beginners, since it has an easy beach entry. This site is also a nice alternative if the popular breakwater area is too busy. At Lovers Cove, you can see monkeyface eels and seals. There is also free parking!
Point Lobos: Considered by many to be the premiere diving area on the west coast, Pt. Lobos offers kelp forests, schooling fish, vibrant anemones, opportunities to spot seals and otters, and beautiful underwater topography. You must make a reservation with California State Parks to dive here, but it's worth the extra planning.
Monterey Bay is a marine sanctuary. Always follow the diver's motto of, "take only pictures and leave only bubbles." Do not touch or take anything from underwater unless it is trash that you are removing. Enjoy California's best diving in Monterey Bay!