Shopping in Bangkok is an unforgettable experience, as many indoor malls are between five and nine floors in total. Night markets don't close until midnight and are ideal for younger crowds. Here, shopping calls for a little stamina and a curious mind, so it's easy to cover a lot in little time. Planning ahead is best, so put on your walking shoes, grab a cold bottle of water, and head to the nearest SkyTrain station for the fastest directions.
For Shoppers Who Crave Maximum Variety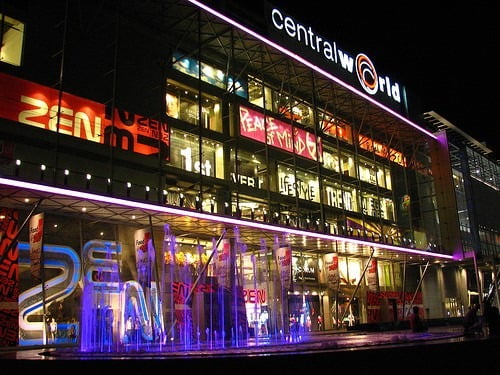 Central World is the 10th largest shopping center in the world and is open from 10 a.m. to 10 p.m. daily. It boasts eight floors, each dedicated to a specific category. You'll find an enormous selection of merchandise, including automobiles, local and imported edibles, and a ground-level ice skating rink. While you're in Bangkok, look to stay at a nearby hotel, like the Centara Grand Hotel. You'll be in close proximity to Central World to get a lot of shopping done.
The Chatuchak Weekend Market is an outdoor venue with 27 sections that carry everything from Buddhist amulets to live pets. One section is dedicated to local artisan wares. Full public access is granted on Saturdays and Sundays from 9 a.m. to 6 p.m., but you can find exceptional deals on Fridays from 6 p.m. to midnight.
The Bangkok Farmer's Market is held at various locations on the first and third weekends of every month. Local growers and crafters sell artwork, food, jewelry, and toys, but you can expect at least one surprise on your trip here. Times and details of each appearance are updated on the market's Facebook page.
Something for Barflies, Music Lovers, and Night Owls
JJ Green is a night market that sells mostly trendy and vintage goods. You can also relax to live music at the many bars and clubs. Hours are Thursday through Sunday from 5 p.m. to midnight, but the nightlife hotspots stay open later on Saturdays and Sundays.
Rot Fai Market is located near the Seacon Square shopping center. This place is so large that it's divided into three sections:
The Warehouse Zone carries everything from anime to used vehicle parts at discount prices.
Roo's Antiques is ideal for the serious collector, as the inventory comes from around the globe.
The Market Zone has over 2,000 stalls and most merchants are ready to negotiate.
The Upscale Shopping Experience
The Emporium is the place for high-end fashion, home decor, and technology. Inside the sleek interior, you'll find exclusive brands like Dior and Louis Vuitton. There's an ample selection of gourmet dining, or you can take a break in the IMAX theater. Hours are from 10 a.m. to 10 p.m., seven days a week.
Siam Paragon is near Central World and inside its nine floors are 250 retailers, which range from mid-priced to premium stores. Siam Paragon is open daily from 10 a.m. to 10 p.m.
While there are many shopping centers worth checking out, don't forget about the smaller shops that sell electronics, flowers, or native produce. A lot of these are within walking distance of most major hotels. However, it helps to keep taxi fare handy, as traffic gets congested during certain times of the day. Happy shopping!