Want to know all about rent in Roatan? Here's the latest in my Roatan Rent series! (You can check out the $350/month one and the $400/month one for more posts on this topic.)
Hello from my new office!!
this is my dining room table. it's on my deck!
One of the most common questions I get emailed is, "how much does it cost to live on Roatan?" While I've answered this a couple times already, I know people have different budgets and price ranges than I do. However, I've just moved to a new house, and I thought I'd show you what $300 USD per month can get you for a rental in Roatan.
My advice if you're looking for a cheap rental: first, these are only cheap because these are LONG-TERM prices. They're not this cheap for a month or two. They're cheap because that price is for six months or a year. Second, everything on Roatan is done through word-of-mouth and in Roatan Facebook groups. Search for the Roatan Rentals groups on Facebook, post your dates and budget and wishlist, and see who gets back to you. Don't send any money to book a place unless you're 150% sure it's legit. There's really no way to prevent someone taking your deposit and then renting the place out from under you (and fun fact, there's no functioning legal system there so good luck getting that back). For this reason, I personally don't recommend booking in advance for a long-term rental.
My recommendation is always to book a hostel or vacation rental for the first two weeks and then start asking around when you arrive. Viewing places in person is best. You can also get a feel for the neighborhood – the pictures of the house might look nice but they won't show rowdy neighbors with hundreds of screaming kids, a tied-up dog next door barking non-stop, the bar nearby blaring bachata music until 3am… you get the idea.
(Edit 2017: small reminder that I no longer live on Roatan and cannot find a rental for you. See my suggestions above. There are many people on the island working as property managers and they deserve your business.)
My house is just outside of the popular village of West End (about a 10 minute walk which is safe in the day but totally not at night). The neighborhood is fairly small with a few gringos living around here but mostly local families. I have a 1 bedroom apartment that is on top of one other apartment, so it's just the two of us in this two story building. My rent includes cable (of which approximately 3 channels are in English, the rest are in Spanish), water, drinking water (we have an onsite well that brings up filtered drinking water through a separate tap, this is way better than buying water and hauling 5-gal jugs up the stairs), propane gas for the stove and…drumroll… a cleaning lady once a week. This is seriously such a godsend. I love my cleaning lady!! We also can use the washer and dryer across the way at the landlord's house but the dryer is $4/hr. Still cheaper than taking it in to get done, so I use it. (I can't line-dry because my next door neighbors literally cook for their family on an open fire behind my house, so when I use the line all my clean clothes smell like campfire. It sucks, but I can't ask people not to cook!) My apartment is by no means fancy and $300 is actually a killer deal for what I'm getting. I also have A/C, but I pay my own electricity bill so we'll see how much I use it! I am the most happy about my king size bed (nice upgrade from a futon) and my beautiful deck.
You know you want to see it….
living room
living room
living room splits into bedroom, kitchen and bathroom
king size bed! yay!
i also have a real closet for the first time on roatan
tiny kitchen
tiny kitchen
bathroom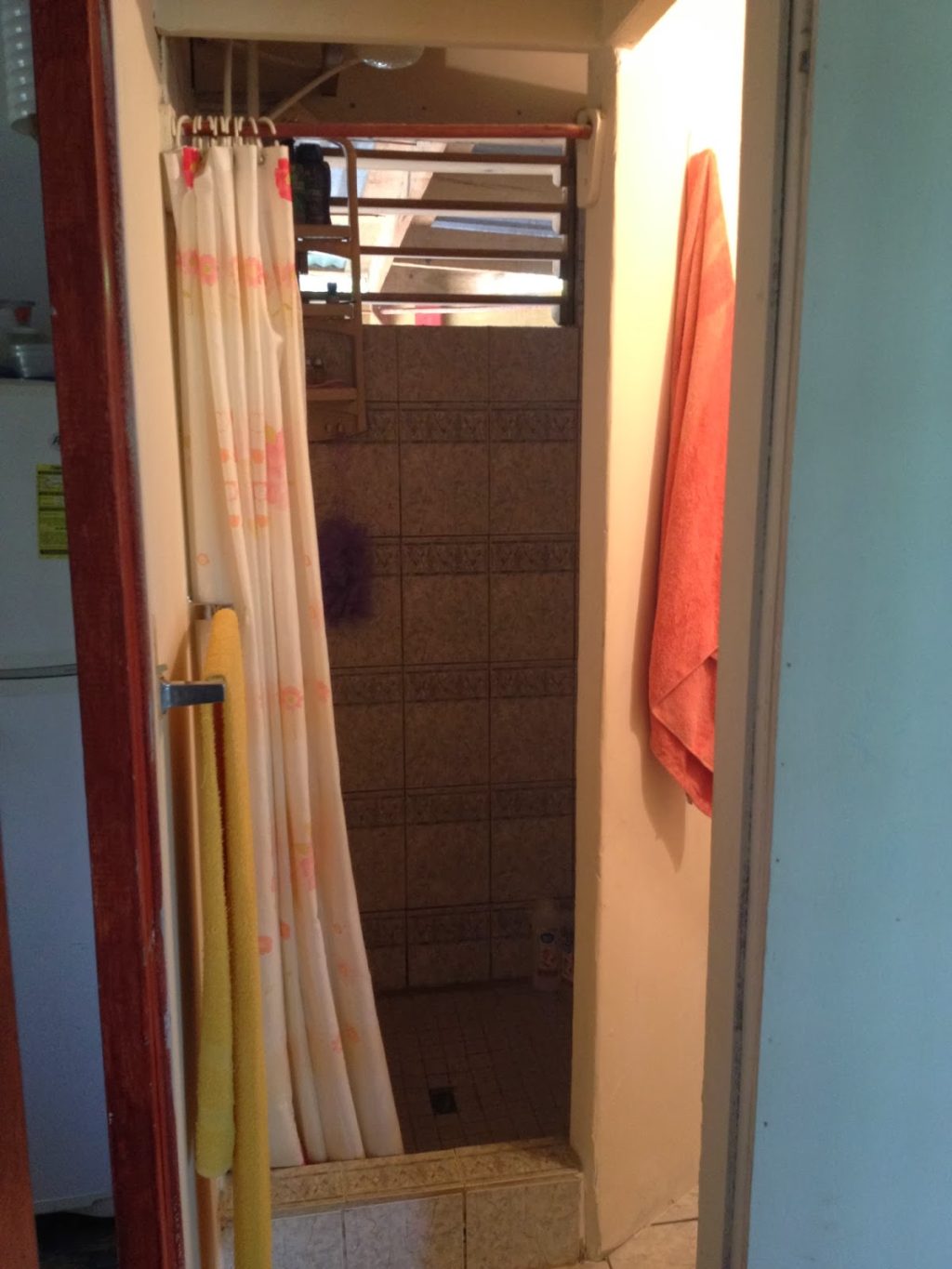 bathroom
So what do you think? Rent is pretty expensive on Roatan for budget accommodation (especially with the 'gringo tax' landlords seem to charge when they see it's a white renter)… I don't think anywhere in North America this would be a steal for $300 (except maybe Vancouver, where I moved here from, so I have a skewed perception for rent!). In the $600+ rental prices, you can get some pretty nice stuff here. But budget rentals are few and far between, and if you want to live solo you're probably going to have to pay more than you'd like if you want to live in/near town. It can be cheaper the farther away from the west side of the island you get, but most people don't like living so far away from shops, restaurants and stores. I think I found a great place here and I'm really happy with it! I also think if/when I go back to Canada I will be much less picky about rental places. I can't believe the kind of stuff I used to turn my nose up at before living here!
Guys, make sure to follow me on Facebook and Twitter … there's lots of extras posted there that don't make it onto the blog. (I also have Google+ if anyone even uses that?) Plus it makes me not strangle the roosters outside that are waking me up at 4am daily. So there's that.