As a serial expat, location-independent work is always on my mind.
Through my traveling and living abroad, I've been lucky to connect with all sorts of people and learn about their passion projects. One that I've been following from the get-go is my friend Sarah's boutique jewelry business, Soul State of Mind Jewelry. If you know Sarah, you know that she loves jewelry! I can't count the number of times I've seen her wearing a beautiful new piece of jewelry and asked where she got it from. It's been amazing to see her flair for jewelry turned into a business that she loves.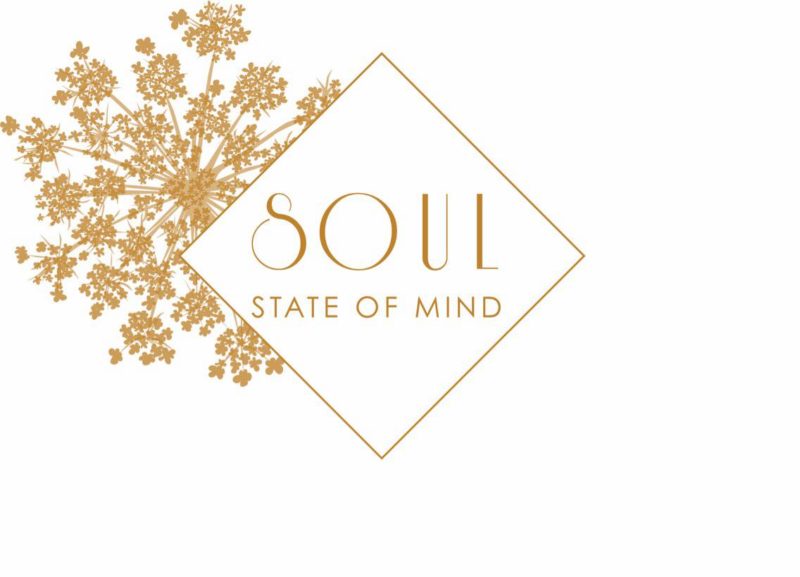 I first met Sarah back in 2013 on Roatan. After a few days of asking around about who the new girl was, she introduced herself to me and we've been friends ever since. She was my upstairs neighbor on Roatan for a while, and though both of us eventually left Roatan, we have stayed in touch and continued adventuring together. We've checked off her hometown of Portland, and last year we went to the Philippines! I can't wait to see where we meet up next.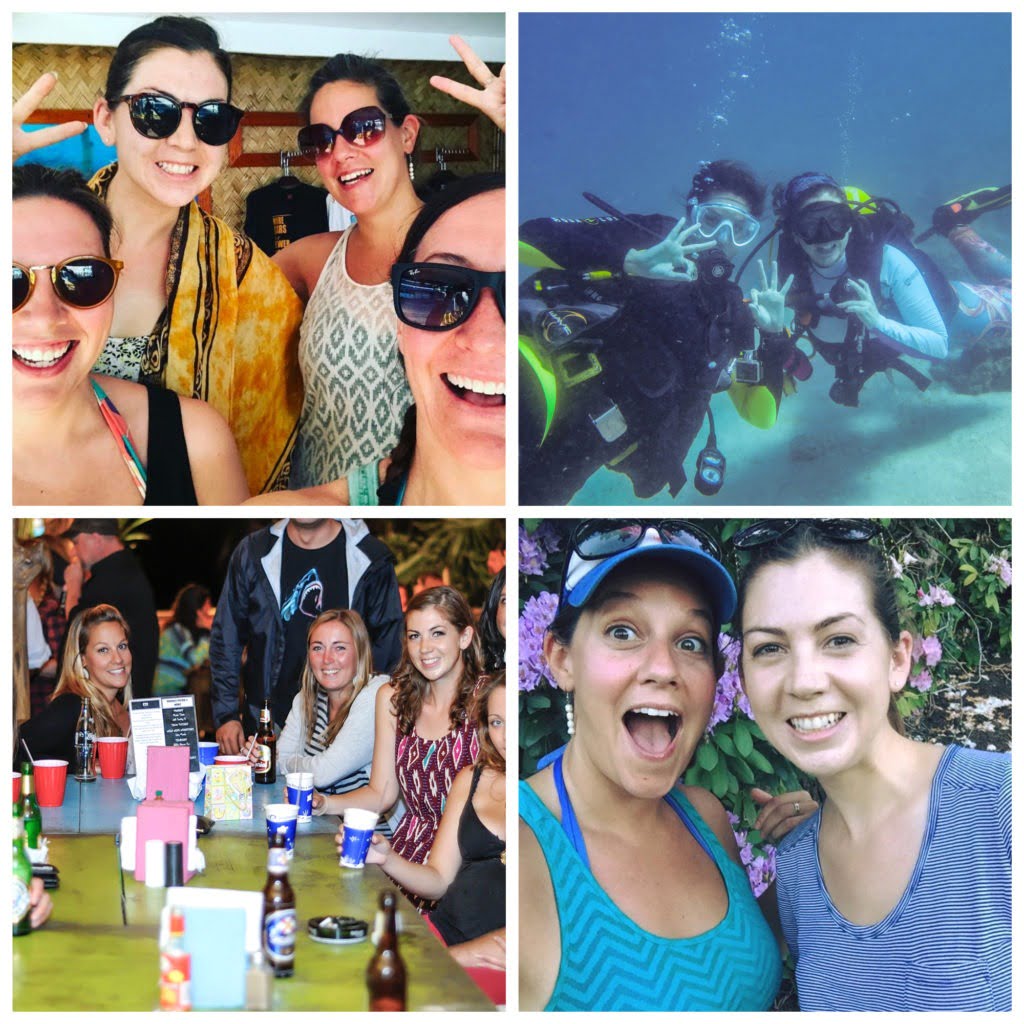 I recently bought a piece from Sarah, and did a short interview with her about running Soul State of Mind. I have a lot of readers looking for ways to do their own cubicle throwdown – who knows, maybe someone will be inspired by this! Read on after the interview to see the beautiful piece I received from Soul State of Mind.
---
TELL ME ABOUT SOUL STATE OF MIND! WHAT IS IT, AND HOW DID IT COME ABOUT?
// I have a love affair with the SOUL. To me, it is the essence of who we are, what we believe and the safe place where our true passions lie. A soul is a creatively decorated, safe, cozy place within us that we love to nurture and grow.
STATE OF MIND came about while planning a roadtrip in 2016. I wanted to blog about my adventures bumming around the southern US, in search of warm sunshine; seeking refuge from snow and ice storms back home. As it turns out, driving an RV, visiting friends, adventuring with the pup and working remotely… there is no time for blogging! And so my sweet little domain name sat empty…
Fast forward a few months after arriving back in Oregon, where a friend and I were (again) road tripping to the Oregon Coast for a girls weekend. After listening to me ramble on about things 'I'd like to do someday', she suggested I put my wanderlust heart and love for jewelry in motion and see where it might go. Within a week, Soul State of Mind was coming to life.
WHAT'S THE CURATION PROCESS LIKE FOR YOU? DO YOU MAKE ANY OF THE JEWELRY, OR IS IT ALL SOURCED?
// My boutique offers pieces created by myself, as well as a few other designers from the Northwest (Portland, Seattle, Northern California, and Utah). I spend a lot of time researching like-minded local jewelry designers, and have connected with many artists to pitch my curated jewelry collection concept. They have ALL been amazingly willing and supportive, whether it be sharing advice, display props, collaboration ideas, etc.
I'm incredibly humbled and grateful by these women. It took a lot of courage to jump into the pond, and I've been pleasantly surprised by them sharing and celebrating my splash!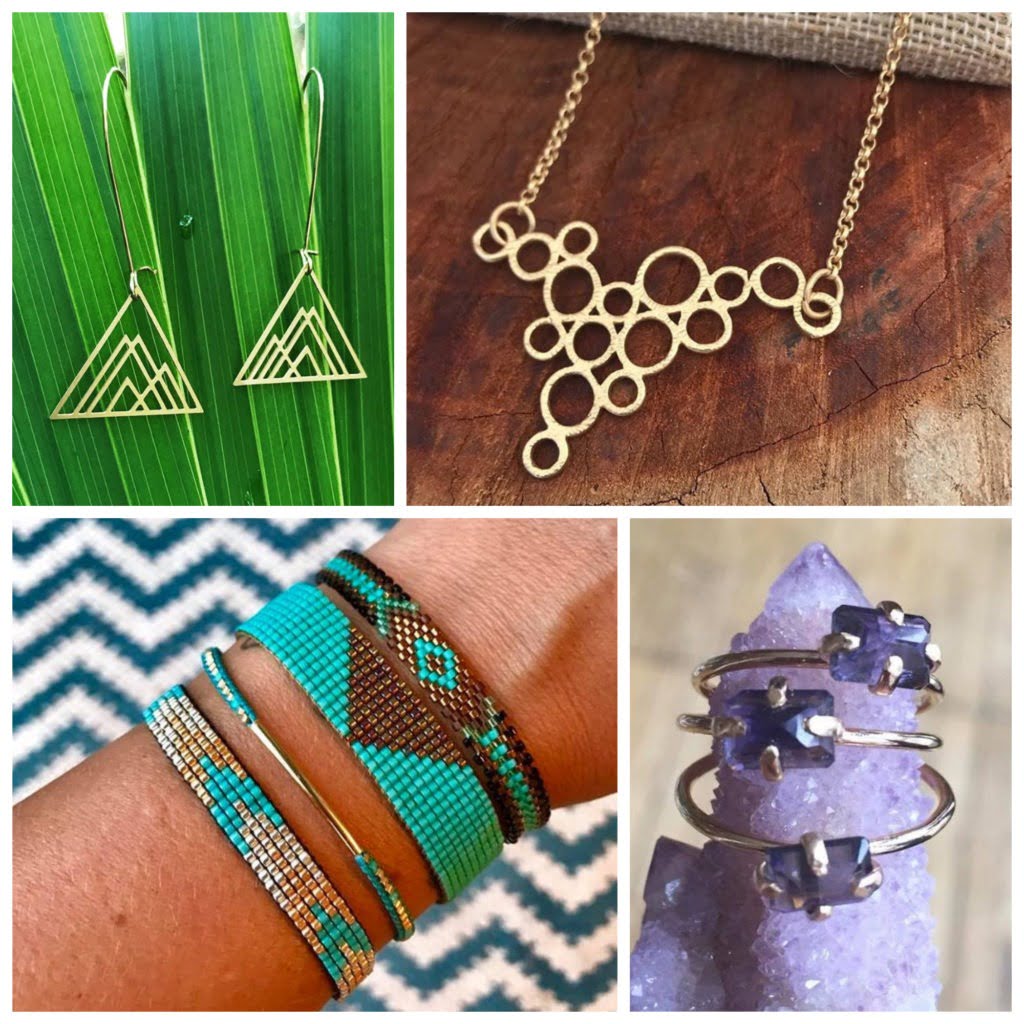 WHAT'S THE BEST PART OF HAVING A MOBILE BUSINESS? IS THERE ANYTHING THAT'S DIFFICULT?
// The best part? NO RETAIL HOURS! The beauty behind my 'gypsy jewelry boutique' is I can traipse here, there, and everywhere. My schedule is flexible, and the scenery is ever changing. I'm the kind of person that can't take the same route home day in and day out. I need variety; I like change.
On the same note, it can be tricky because no two set ups are ever the same and I often don't know what I'm working with until I arrive at a market, winery, pop up, home party, etc. I've had a lot of fun with getting creative though. My favorite so far was visiting friends in Honduras and hosting a pop up with jewelry displayed on palm fronds and banana leaves while the sun set over the bay.
WHAT ADVICE DO YOU HAVE FOR SOMEONE THINKING ABOUT MAKING THE JUMP TO A LOCATION-INDEPENDENT BUSINESS?
// You don't know what you don't know… so do your due diligence (aka lots of homework!) I listened (and still do) to hours and hours of podcasts about mobile fashion businesses within the US. I soaked it up as much as I possibly could. For months I listened obsessively, taking notes while listening to podcasts, working my day job, and researching ideas on my breaks and lunch hour.
Trial and error never hurt anyone. Don't be intimidated to try, because everyone started something by trying.
ANYTHING EXCITING COMING UP FOR SOUL STATE OF MIND?
// Absolutely! A few seasonal collections are in store. I've also been squeezing in a few classes here and there and have discovered I really love metalsmithing. The thought I can (someday) create any style or piece of jewelry I want is incredibly exciting for me! For now I'm focusing on enjoying the present, because it's all part of the journey.
WHERE CAN WE FIND YOU?
// You can find me on:
Instagram @Soul_State_of_Mind
Facebook @SoulStateOfMindJewelry
Website/Online Boutique SoulStateOfMind.com
We also love hosting events, public or private, and we travel to you! (See Where to Find Us Next)
---
I fell in love with a photo of a necklace that Sarah posted, and asked if she could figure out a way to ship it to Japan! I'm so happy we got it sorted out because I'm now the proud owner of this beauty:
I especially loved the adorable (and eco-friendly!) packaging that Sarah uses: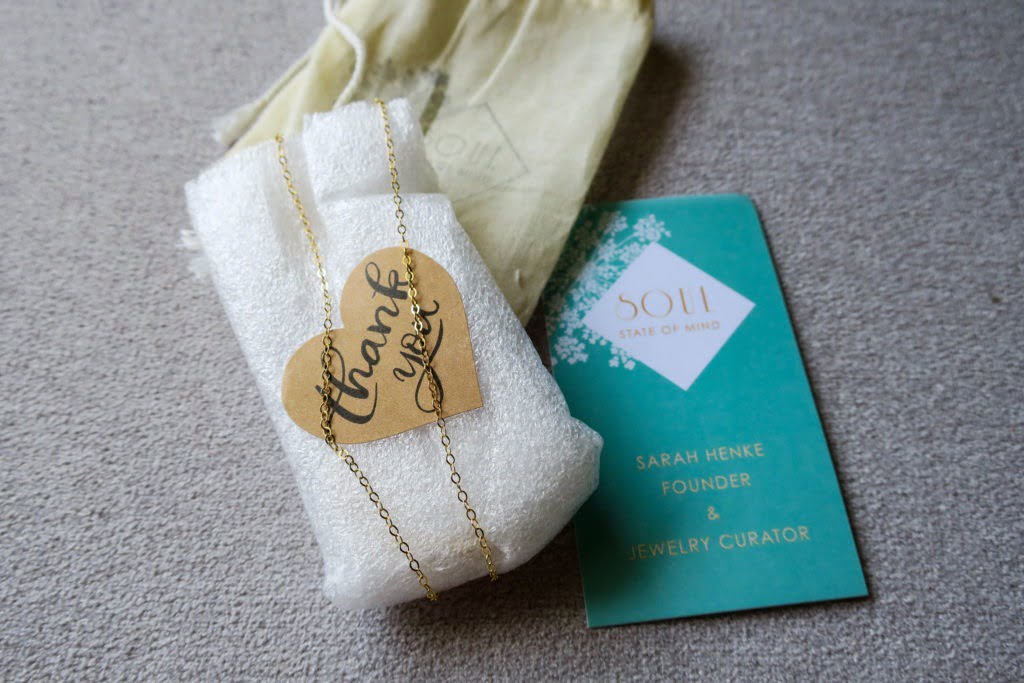 If you're in the market for some pretty gems, visit Soul State of Mind! Sarah can help you find the perfect piece for you.
And remember, friends don't let friends shop at chain stores. Support independent retailers and small businesses!
Disclaimer: This post is not sponsored or comped! I just like sharing my friends' success stories 🙂
---
Want more Cubicle Throwdown in your life? Of course you do, you rockstar. You can follow me on Facebook, Twitter, Instagram, G+ and Pinterest, if you like. You can also add me to your Bloglovin' feed, or email me! If social media is not your jam and you just want my posts straight to your inbox, check out the sidebar and put your email address in the "Never Miss A Post" box. No newsletters or spam, just my posts – scouts honor. xo!