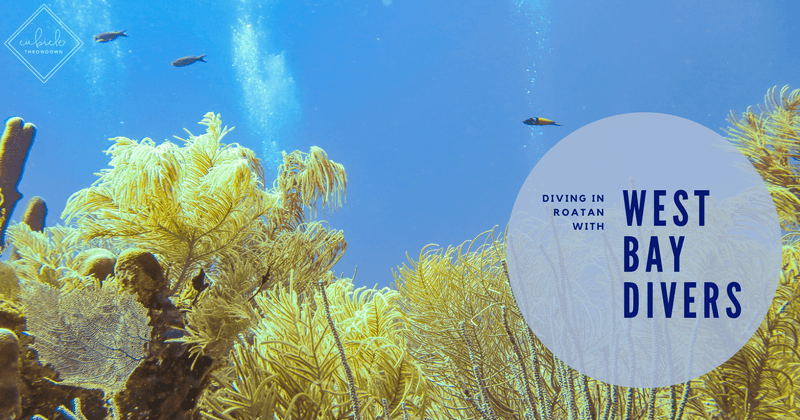 West Bay Divers is truly a hidden gem on Roatan, tucked away just back from West Bay Beach behind Beachers, a lively bar & restaurant. If you weren't following the signs, you might miss it – but this is not a dive shop to miss.
As most of you already know, I am picky about where I dive in my time off. Having been an instructor and also having run dive shops, I know exactly what I'm looking for in a dive shop, and West Bay Divers (WBD) ticks all the boxes for me:
friendly and experienced dive guides + captains
well-maintained, purpose-built dive boats
highly competent and organized shop staff
high-quality rental gear
extremely high safety standards
That's all there is to it, really!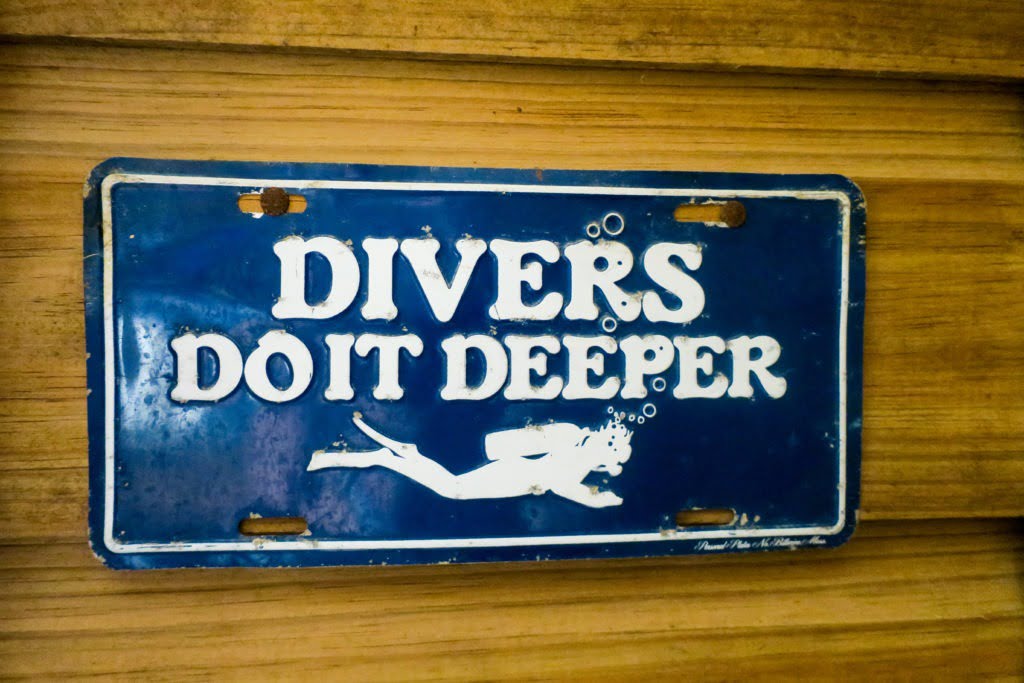 I love the laid-back vibe of the shop, and how it's tucked away off the "main drag" (ie. West Bay Beach) so that I can relax before and after the dive without all the noise of the beach or vendors trying to sell me bracelets. And, as someone with a real thing about tracking sand everywhere, I love the feet rinsing station! I also am a big fan of the changing room. I seriously do not understand why dive shops don't have change rooms!! It's not great to be taking up the only bathroom in the place while you're trying to shimmy in and out of your wetsuit.
One of my island besties, Kieran, worked at WBD as the head instructor for several years and during his time he took on the mammoth task of creating a dive site map for Roatan. It always made me happy to see the map proudly displayed right beside the dive schedule on the deck. You can see a close-up of this on WBD's Dive Sites page.
I've been fun diving with WBD as far back as 2012, so I've seen it go through a few iterations as owners, managers, and staff have changed. I'm loving the current set up! I was especially happy to see the full refit of El Gordo, one of WBD's boats. I knew El Gordo back when she was not looking so sharp, but they gave her a full revamp plus a new wrap thanks to the shop's partnership with Salt Life.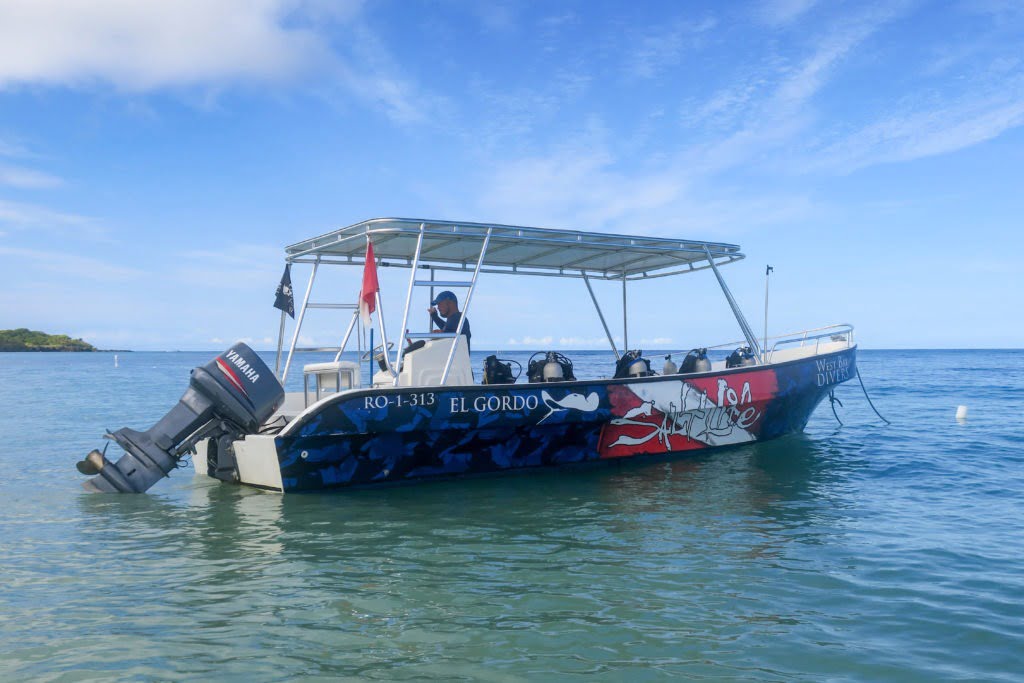 When I was on Roatan last summer, their purpose-built boat, El Ray, was in the shop getting tuned up so I wasn't able to get a photo of her, but here's one courtesy of WBD so you can see her! The photo is from Pigeon Cay, which is one of their amazing excursions.
Here's some photos from the fun dives I did with WBD: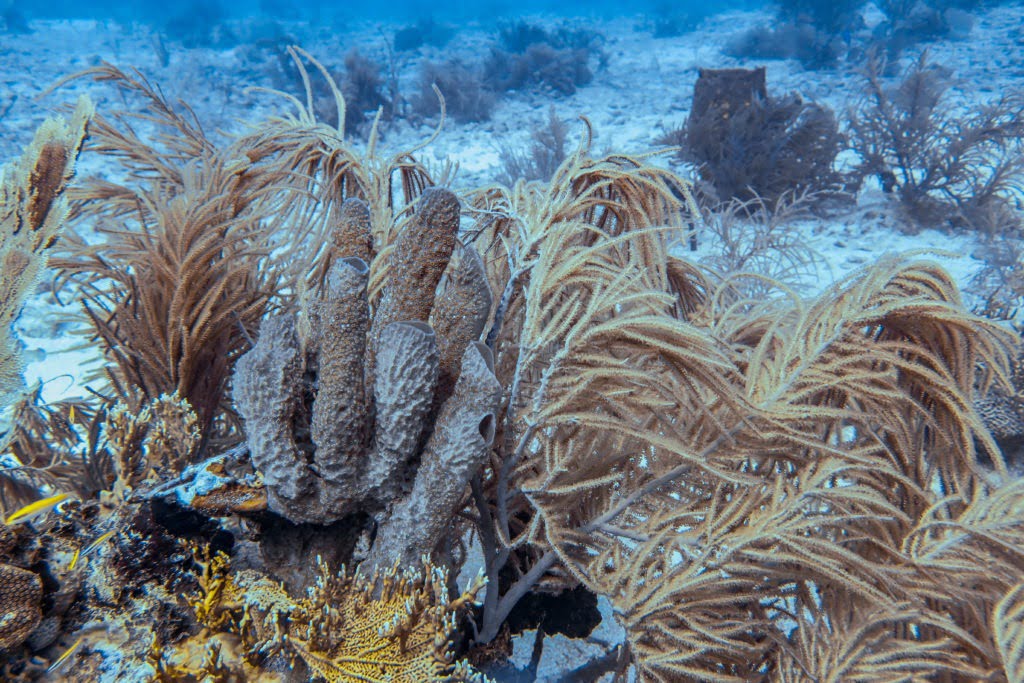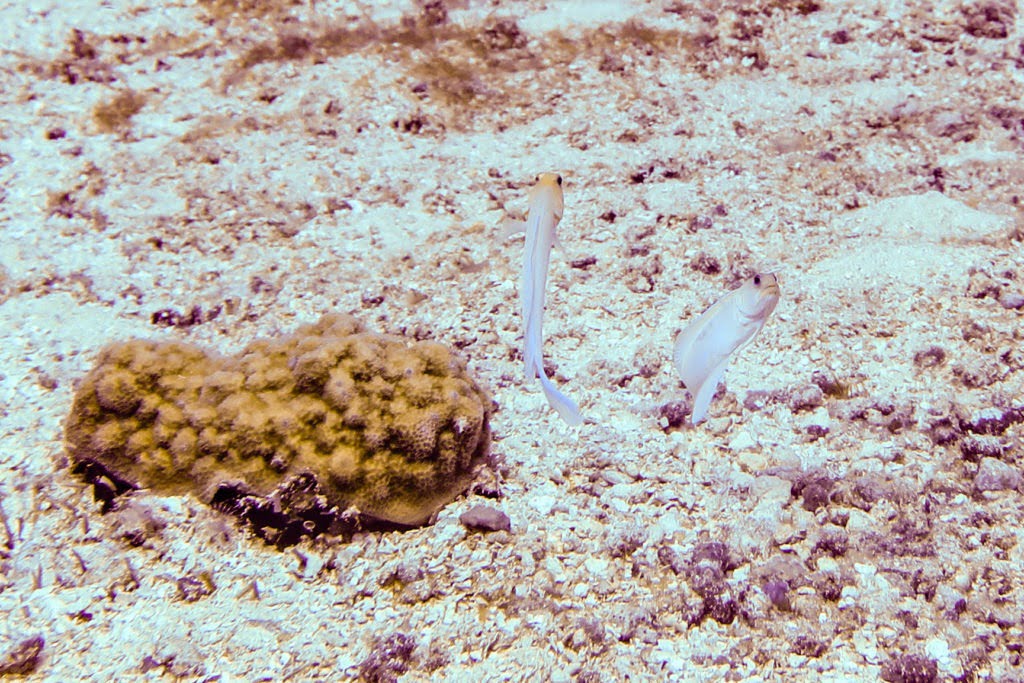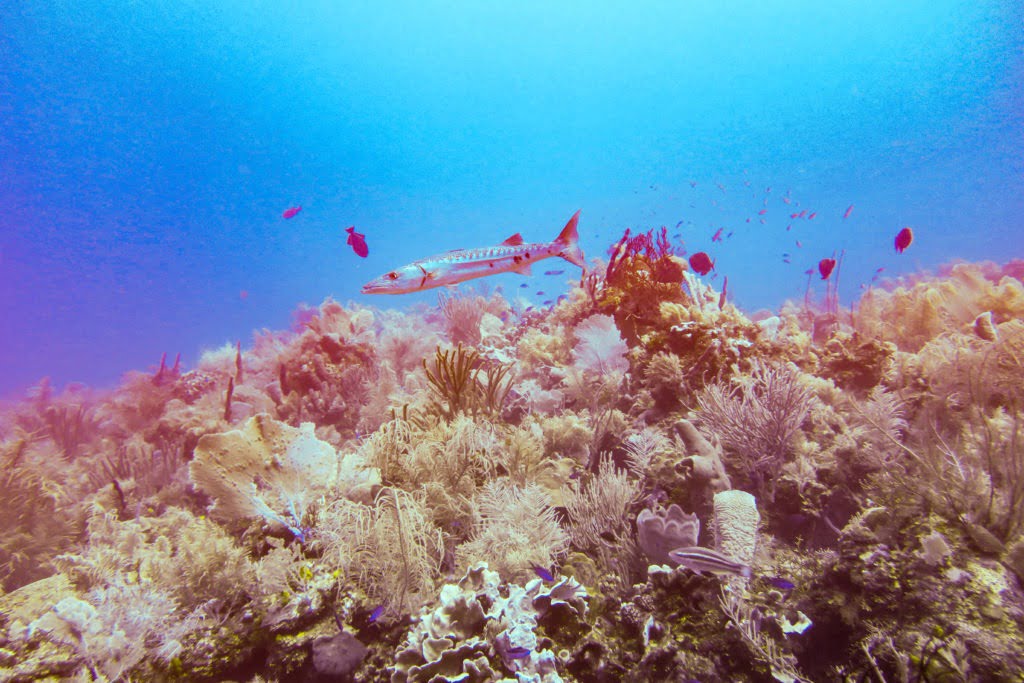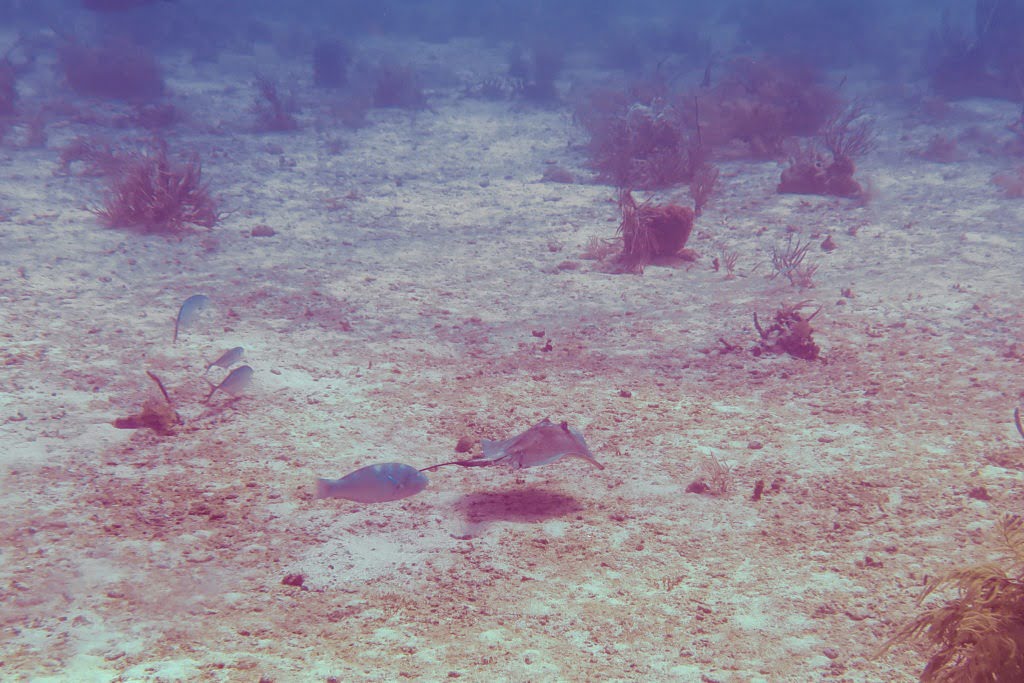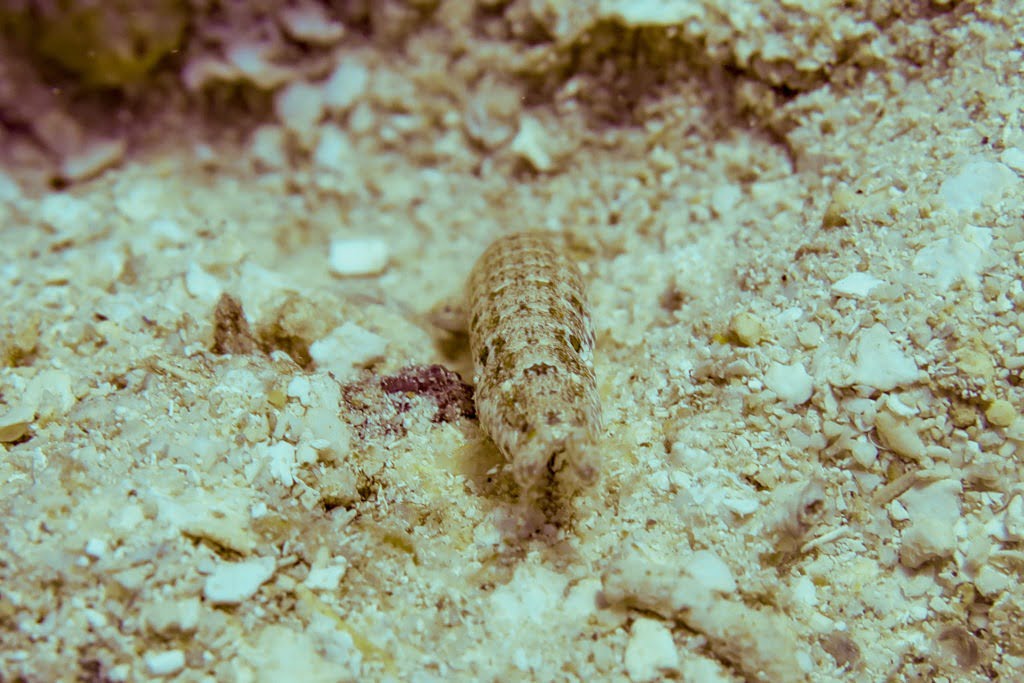 I always have such a good time diving with this crew. Special thanks to Kieran for taking me out (and for letting me put my drinks on your shop tab 🙂 )!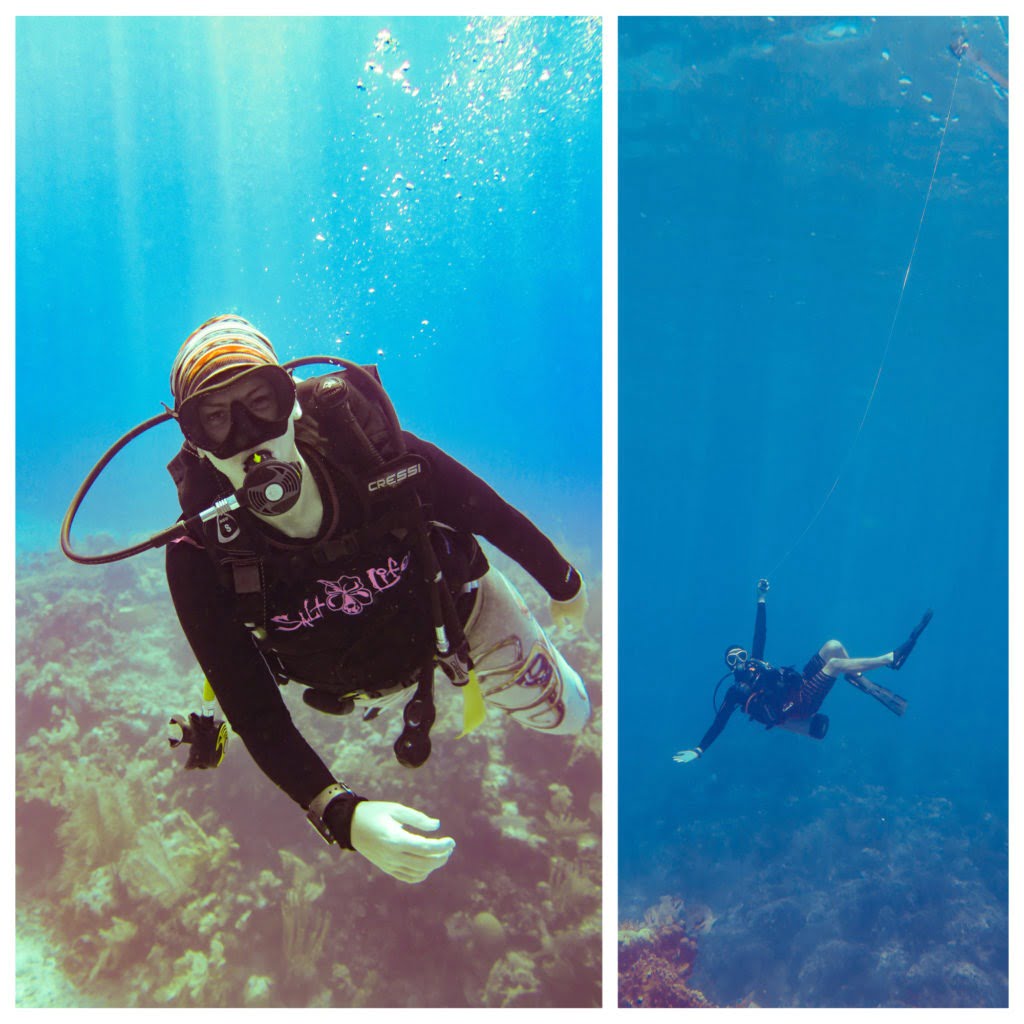 Overall, I can't recommend this shop enough. The standards for everything are high (as they should be), and this, combined with their quality staff, gear, and boats makes for an excellent dive shop. There's a reason they're constantly at #1 on Trip Advisor! They have almost 600 reviews and nearly 100% of them are a 5.0 rating. That really says something… divers can be a demanding bunch. (I've seen divers give shops a poor rating because they wanted to see a certain marine creature and didn't see it – quick FYI – dive guides are not in charge of the marine life, people… sheesh.)
Diving can be a relatively expensive hobby, but you will get your money's worth and more at WBD. They cater to all their divers with small groups, and they try to separate groups by experience level. The staff are professional and clearly love what they do!
I also like that WBD has a partnership with Wilson's Blue Lagoon on the south side of Roatan. Having a location to dive from on both sides of the island ensures easy year-round diving, and less chances of dives being called due to poor weather.
For anyone looking at doing a divemaster internship, WBD is one of the top places that I always recommend. This shop is a great learning environment and has excellent models for dive pros. They take safety and standards seriously, including the Roatan Marine Park rules, and that's the kind of place I want all dive pros to train at. You can see more information on the divemaster training page.
Before you go…
Make sure to visit the West Bay Divers website! There's loads of info and the site is well laid-out. You can also follow them on Facebook or Instagram. The staff keep their shop FB updated very regularly, so you can see recent sightings, photos, and more.
Ask any questions or start the booking process through their contact page.
For

certified divers

– bring your certification card, get your gear serviced if needed, and if you've been out of the water for more than a year, either schedule a refresher with your local dive shop before you leave or email WBD to schedule one on your first day of diving!
For

diving students

– you'll need a dive medical signed off by a doctor before you can get in the water, and you can do this before your trip (ask WBD for the form when booking your course) or on-island (but remember you can't get in the water until this is signed!) It's also a good idea to check out PADI eLearning if you'd like to minimize study time while on vacation. Ask WBD for more info about your options.
Ensure your passport is valid for another six months after your departure date
Review my Roatan Tipping Guidelines for Scuba Diving (and General)
Review my Using US Dollars on Roatan Guide
Let the crew know I sent you, and say hi to shop pup Marshall for me!
WBD crew, thanks for all the good times. I loved every second. Can't wait till we can all blow bubbles together again!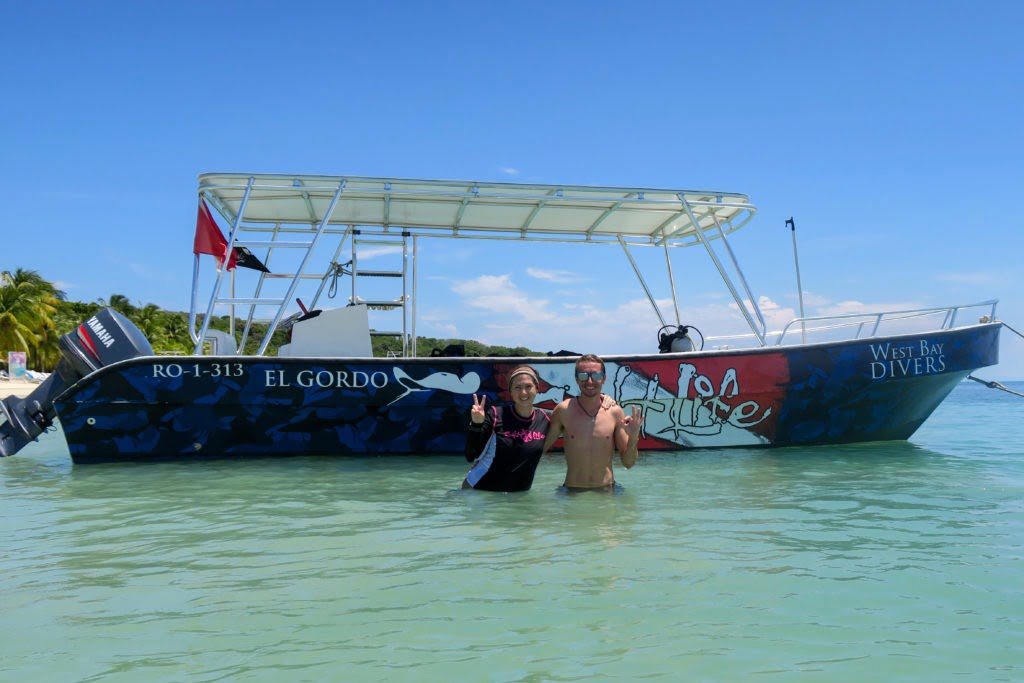 Disclaimer: I was graciously hosted by West Bay Divers as a long-time friend of the staff, former freelancer for the shop, and a dive pro who was back to visit. They did not ask me for a review on my site! As always, my opinion is my own, and life is too short to write about places I don't actually recommend. I only write about the great ones that I enjoyed and want my readers to enjoy too.
---
Want more Cubicle Throwdown in your life? Of course you do, you rockstar. You can follow me on Facebook, Twitter, Instagram, G+ and Pinterest, if you like. You can also add me to your Bloglovin' feed, or email me! If social media is not your jam and you just want my posts straight to your inbox, check out the sidebar and put your email address in the "Never Miss A Post" box. No newsletters or spam, just my posts – scouts honor. xo!