Visitors to Los Angeles, California have a dizzying array of activities to choose from in this sprawling urban city. But what if you're on a budget? Good news — the city has plenty on offer to fill your days up for free! You don't need to spend a lot of money to enjoy unique and interesting activities in LA.
"The Price Is Right" Taping
It doesn't cost anything to attend a taping of the iconic game show "The Price Is Right." All you have to do is visit the ticket website and show up! Make sure to follow the audience requirements, such as not wearing smartwatches and ensuring all ticket holders are over 18 years old.
City Hall Observation Deck
The city charter that kept City Hall as the tallest building in LA is no longer in effect, but you can still get a fabulous view of the city from the observation deck on the 27th floor. The viewing deck is open Monday through Friday from 8 a.m. to 5 p.m., and you'll need a valid ID to check in before going up.
Infinity Mirror Rooms at The Broad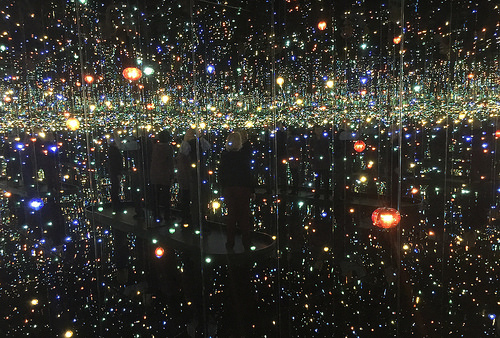 Image via Flickr by Ron Cogswell

Famous Japanese artist Yayoi Kusama's installation at The Broad museum is the stuff of Instagram dreams. Mirrors combined with thousands of LED lights provide ample photo opportunities for your next profile shot. Admission to The Broad is free, but reserve tickets in advance, as they are timed. If you don't reserve, you may be stuck in the standby line.
Griffith Observatory
While the shows in the Planetarium have a small admission fee, you can visit the Griffith Observatory and view public telescopes for free! There are also Star Parties one Saturday each month that are family-friendly and a great chance to interact with volunteers who have a vast wealth of knowledge about astronomy.
Eataly
Eataly is an Italian marketplace that features cafes, eateries, and specialty shops. You'll have to shell out a bit if you want to eat or drink, but entrance to the market is free, and it's an excellent place to people-watch and window-shop. This is a good place to spend time if you get caught by rain!
Venice Beach Boardwalk
A stroll down the Venice Beach Boardwalk promises not only beautiful beach views, but also a glimpse of the quirky, zany side of LA. There are street vendors and performers everywhere. You can see roller skaters zooming by as your peruse arts and crafts stalls, or grab a bite from the food carts and then get your fortune read.
Zuma Beach
A sunny day in California isn't complete without a trip to the beach. Zuma Beach in Malibu is the place to see and be seen! This beach is great for swimming or just spending the day relaxing and listening to the waves. There's lots of parking, plus amenities like food stands, bathrooms, lifeguards, and more.
Los Angeles is a wonderful place to visit for travelers on any budget. If you're looking to keep your trip costs down, consider booking accommodations in Montebello or another nearby area. Montebello is only 20 minutes from Los Angeles and is a lovely, smaller town to explore if the big city tires you out.