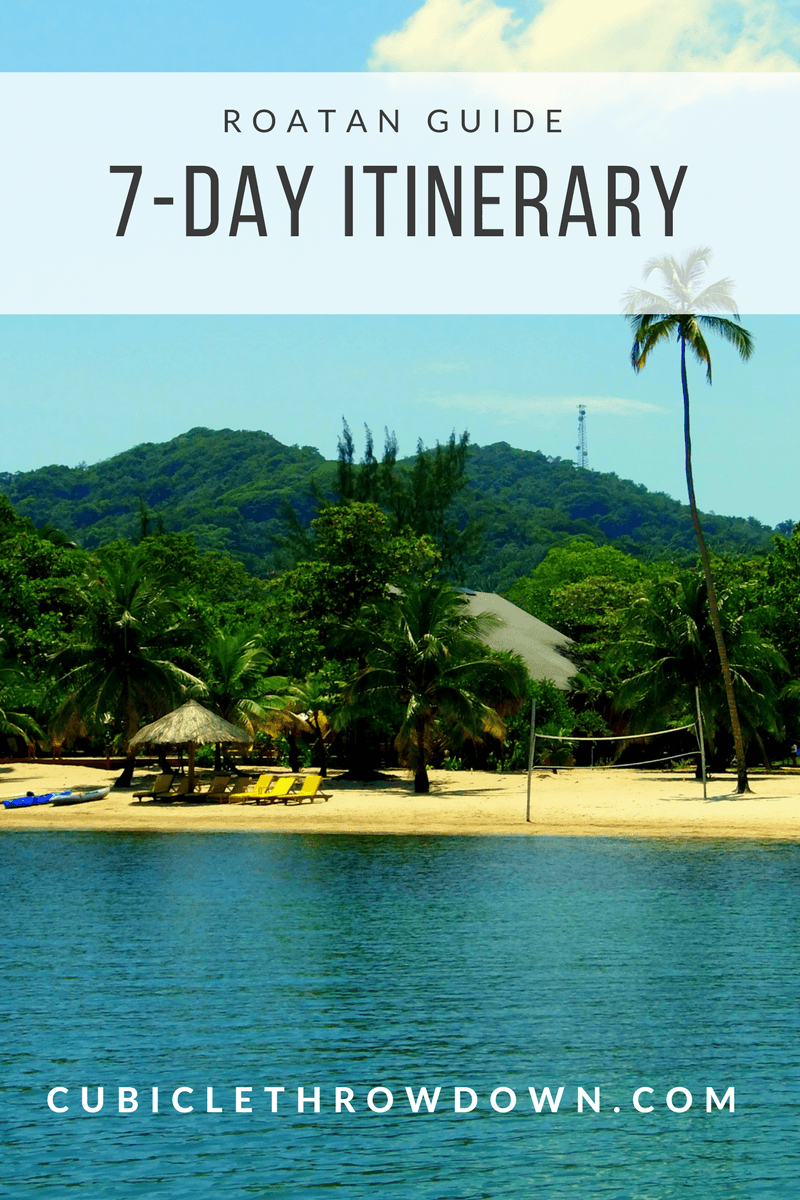 Most travelers arrive on Roatan for a week. We only have a few airlines that run direct routes from hubs in the USA (Houston, Atlanta, Miami) and you can usually get the best deal by booking a week-long return ticket. The Canadian charters (Sunwing + Air Transat) have also started for the busy season and the Milan charters as well, and all the charters run on a one week schedule. A week is the perfect amount of time to explore Roatan!
(Only have one day? [Hi cruise shippers!] Check out my 1-Day Itinerary here!)
(Only have a few days? Check out my 3-Day Itinerary here!)
I think the best way to get to know Roatan in a week is to spend half of it underwater and half of it topside, so that's how I'll schedule this itinerary. I'm still not really sure what non-divers/non-snorkelers do here for an entire week since the reef is pretty much the main draw of this island… I guess they tan on the beach? Drink 400 monkey lalas? Read their Kindles? I don't know.
Here are a few insider tips to keep in mind for your week-long stay on Roatan:
we have a dry law (called ley seca in Spanish) in Honduras on Sundays from 5pm till Mondays at 6am. This means the bars and stores are not allowed to sell or serve you liquor. You might find some sneakily skirting the law, but be prepared for this. It's enforced sporadically. Technically it is a consumption law as well, so legally you cannot even drink previously purchased alcohol in your own room on a Sunday night. Yes, it's stupid, and no, we aren't happy about it either. (Those of us that live here tend to not even bother asking 'why?' anymore.)
at minimum please read over my guidelines for tipping on Roatan and using US dollars on Roatan, and if you have the time – my entire Roatan FAQ page is a good resource.
we have a rainy season that runs for a few months anytime between September and February. It can rain for an entire month straight or it can be interspersed with some sunny days. But please don't come here in rainy season and complain about the rain. (There's this thing called The Google that you should use when planning trips.) The end of November through January is usually the worst weather on the north side of the island, which sometimes gets slammed by northeastern storms. If you want to lay on the beach all day and tan for a week straight, book your trip from the end of March to August and you should be good.
check the cruise ship schedule for the week while you're here. Expect all attractions, West End and West Bay Beach to be completely overrun with hordes of cruise shippers while they're in port. Good days to go diving or get off the island!
if you're diving, make sure you leave at least 18-24 hours between your last dive and your flight. In this itinerary, I've scheduled all the diving at the beginning of the trip to avoid any issues with this.
So, what can you do with a week on Roatan? Let's see what a week half underwater and half above would look like:
Day One
Arrival day, so take it easy. If you're arriving on a flight from the States you're likely coming in during the late afternoon. Immigration lineups can take a while, the luggage for some reason takes forever getting off the plane (it's literally 60ft from the plane to the carousel, but again, we don't ask 'why' here), and almost all of the hotels are a 30+ minute drive from the airport, so don't expect that you'll be kicking back on the beach within an hour of landing. Pack mini bottles of booze and mix in your carry on and make yourself a cocktail while you wait!
Tip: if you can choose your seats on the plane, sit on the right side – you'll get an INCREDIBLE view while landing. Our landing strip is verrryyy close to the ocean!
If you're staying at a place with a kitchen, see if the driver can stop at Eldons (the American grocery store) for you to stock up before heading to your accommodation. Eldons is in the main town, Coxen Hole, and there aren't any hotels or resorts in this area so it's best to stop here on the way to avoid having to come back later.
Get settled in to your room and enjoy the view – hopefully you can see the ocean from where you are! Today is also the day to check into the dive shop and complete paperwork, get geared up, confirm your diving schedule, etc. Most shops need you to get set up from the day before so it isn't a crazy rush in the morning while they're trying to get ready for the first dive.
Day Two
Get underwater!!
For snorkelers: If you want to do shore snorkeling, you should book accommodation in West Bay. The reef is too far to swim out to in most other areas. Otherwise, you can arrange with locals to go out in their boats to some snorkeling spots. Keep in mind the vast majority of these guys are untrained with no emergency equipment on board. It's cheaper, but is that worth your safety? I usually recommend talking to a dive shop that will take snorkelers out on the dive boats and let them snorkel while the divers are down. You'll be on more of a schedule, but there will be a lot more variety in the sites and you'll be with trained professionals.
For certified divers: if you haven't been diving in the last year, you should take a refresher at your local dive shop before you come, or do one today at your chosen dive shop. If you've been diving within the last year and you are comfortable and capable of jumping on the fun diving boat, go for it!
For non-certified divers: the best thing you can do if you want to learn to dive is to complete the PADI e-Learning before you come on vacation (budget 12-15 hours for it). This teaches you all the academics that you learn in the PADI Open Water course, and you get all the exams out of the way too. That way, when you arrive here you can get straight in the water without having to spend your evenings reading and studying. If you complete the PADI e-Learning, you can expect your course to take about 2.5 full days in the water. If you want to cut that down even more, you can do your academics and confined water training with your local dive shop, and they'll give you what's called a 'referral' – basically the instructor there signing off that you've completed all your academics and confined water training, then you present your paperwork here and all you have to do is four open water dives (usually done in two mornings) and you're certified! I highly recommend this route so that you can get the most out of your vacation and not spend it studying. If you don't do anything before you arrive, you can expect your course to take 3-4 full days with most of your evenings filled with studying (though studying in a hammock by the ocean sure beats studying at a desk!)
For everyone: make a reservation!!!!!!!!! If you like to check out shops personally and make a decision once you get here, that's cool, but if they can't accommodate your wishes then you do not get to cause a scene, be rude or huffy, or leave a shitty TripAdvisor review about it. Also, make sure to follow all marine park rules (plus extras for snorkelers and divers) while out on the reef.


Day Three
Dive, dive, dive! Hit happy hour at Sundowners once the day is done and enjoy an ice-cold beer – I swear they taste better after a day underwater. This is also a fantastic place to watch the sunset.
Day Four
Enjoy the two morning dives and then reward yourself with an afternoon lazing around on the beach. Even out those wetsuit tan lines! Ask around at the dive shop or any bar/restaurant where the live music will be tonight. Chances are someone is playing somewhere and it's always fun to check out the live music here – we have some incredible talent on the island. My favorites are Scotty C, Branan Logan, Duane Forrest and Scott Haynes.
Day Five
Time to get topside. You've explored the bottom of Roatan, now explore the top! A full-day driving island tour is the best way to get to know the rock. You can schedule stops for snorkeling, lunch in a traditional Garifuna community, mangrove tours and more. Your driver can tell you island history and information along the way. Bring a camera, there are some amazing viewpoints to stop at on the road. You can expect a full-day tour in a private car to run about $80-120.
You can sleep in tomorrow, so if you're after nightlife, head to West End after 8pm and walk up and down the (only) road – head into anything that looks busy and is playing music that you like!
Day Six
After spending all day yesterday in a car, today is the day to get active again! Today is a great day for visiting one of Roatan's many zipline experiences. They are a lot of fun and have good safety records. Bring your GoPro and the guides will snap your next Facebook profile photo. After ziplining, bring the adrenaline down a bit with an easy trail hike at Carambola Gardens. You'll learn about the local flora and fauna while working off all those monkey lalas, and have some beautiful photo opportunities to boot.
If you're feeling a little more laid back, head out on the open ocean by booking a fishing charter. Deep sea fishing here can get you mahi mahi, barracuda, wahoo, snapper, grouper and more. I highly recommend Captain Enrick on the Wahoo Slayer for an amazing day of fishing – he also comes from one of the oldest and most respected families in West End so you can get a bit of authentic island history from him between bites.
Day Seven
Now that you know the island – get off of it! Your last full day on the island is a fantastic day to take a trip out to Cayos Cochinos on a comfortable and fully-equipped charter boat like Ruthless Roatan. If you follow my blog regularly, you've probably seen a couple posts about Cayos – I looooove it there. A day trip there usually involves breakfast on the boat, a 1.5 hour ride over to the islands, a stop for a local lunch on the inhabited island and time to enjoy the scenery and play with the kids, a couple snorkeling stops and fishing on the way back (did I mention it's all you can drink?)
For dinner on your last night, you have to visit Roatan Oasis! This is the #1 restaurant on Roatan and my personal favorite, so you might even see me there. It's closed on weekends and reservations are recommended. Their menu is always changing and is up-to-date on their Facebook page, so check that
out.
Last Day

Departure day – boo! Get some last minute Roatan souvenirs at the Rusty Fish or the Shawn Jackson Gallery. Enjoy your final coffee oceanside, and pack those bags. You'll need to arrive at the airport at least two hours before your flight time, so make sure you schedule your ride with plenty of time.
So there it is – a week on Roatan filled with fun, sun, sand and rum 🙂 All suggestions and links are my genuine recommendations at the time of publishing.
Guys, make sure to follow me on Facebook, Instagram and Twitter … there's lots of extras posted there that don't make it onto the blog. I also have Google+ if anyone even uses that? And I'm on Bloglovin', so you can follow me there too! Plus it makes me try to post more than once a month. So there's that.