One of the first things that readers ask me when they meet me in real life is: why don't you ever post about a boyfriend/dating/etc.?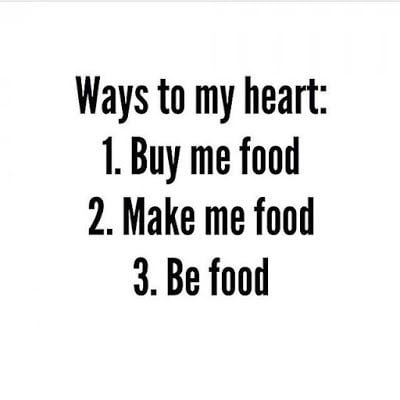 accurate.
Other than the fact that this part of my life is usually not very entertaining (you can read my girl Shannon's recent post if you want to see a somewhat similar rundown), it's something I've always been hesitant to put out there for the world to see. Since I started this site, I've seen many other bloggers include this part of their life online, and when it goes south there is an expectation in the blogosphere that this will be mentioned and explained to readers. It's heartbreaking enough to go through a breakup, but to have to diplomatically detail it on your website as well when all you really want to do is cry and punch that motherfucker in the face can't be very much fun. Readers, I love you guys – I'm so thankful that you check in here and enjoy what I post. But I don't know most of you, and I certainly don't owe the internet any explanations about my personal life. Creeeeeepy!
But apparently people want to know – and when I meet them they ask me things like:
What's the dating scene like? [Small. Veryyyy small.]
Do the dive instructors date each other? [Oh, yes. We're a rather incestuous bunch.]
Do you date islanders? [Some people do, some people don't.]
Where do you go on dates? [Usually the bar or a restaurant – options are limited!]
Do you have flings with the tourists? [Me – no, others – yes.]
Do couples end up married here? [Yep, and some end up divorced too.]
A lot of people come to Roatan running away from real life wherever they are from. They treat the island as their fantasyland and do things they would never consider doing at home. Roatan and the lifestyle here has a way of making you forget about regular things like, oh, you know, consequences for your actions. It's a weird place to date, because I think people get a really one-sided version of each other. The life we have here as expats is usually not the same or as multi-faceted as it is at home. Before living here, most of us didn't drink at a bar with our friends 6 nights a week. Most of us participated in hobbies and activities that we can't or don't pursue here. There are so many things about me that people here don't know – nobody here knows that I can play the drums, that I love camping, that my favorite craft beer is Juniper Ale, that I snowboard, or that I can speak Japanese. I can't do those things here, so they've just sort of faded into the background for now which is weird because they're still a part of what makes me, me. And everyone else here has these things too. It's strange to sit back and think about, especially when you meet someone here and miss out on all that background. I think this is one of the reasons that many people who get into relationships here end up breaking up once they leave. When you get home with someone in tow and find out that person is not exactly who you thought they were on Roatan, it can be really disconcerting.
There are three really common types of scenarios that I have seen over and over here during the last few years. If you want to know what a lot of the dating on the island is like, well, it's like this:
Dutty Love
Dutty is the Caribbean way of saying 'dirty', not in the sense of physically soiled way but in a rough and hot way. This mostly refers to expats who come here and date islanders. I feel like a lot of people look down on expats who date locals, but I think that's bullshit. Just like anywhere in the world, some of them are wonderful people and some of them are shitheads. What I will say is that if you're a tourist dating an islander and you don't live here full time, there is a 90% chance your dutty love boo is cheating on you when you aren't here. I see guys with girlfriends/wives all the time in the bar doing things they really shouldn't be doing. There is kind of a different attitude here towards cheating… I know people in Canada and America cheat too, of course, but for the most part they at least try to keep it under wraps. People here do it out in the open in front of everyone. You're expected to keep your mouth shut about it and stay out of other people's business. I do have several friends that live here in committed relationships with islanders and no one is cheating and they are very happy (yay!). I have other oblivious friends who have been physically chased down by irate island women who found out her husband had a gringa girlfriend on the side. All I can say is you really should do a thorough background check before proceeding in this department.

Drunk in Love
It's no secret that a lot of our activities on Roatan revolve around drinking. With limited entertainment options (it's not like we can go out and see a movie or go to a Foo Fighters concert) and alcohol being pretty much the only cheap thing on the island, we end up doing a lot of drinking here. They don't call it a drinking island with a diving problem for nothing! However, we've all been drunk and we all know that this can lead to situations that we wouldn't have gotten ourselves into while sober. The worst part? Like I said, this is a small island… if you've never experienced small town living where everyone knows everything about you and everyone else… well, this place will hit you like a ton of bricks. Yes, everyone saw what you did last night at El Boske, and they saw your walk of shame this morning from behind the gas station. And guess what? You're gonna have to see that girl again every time you go out, because there's only a few places to go here. Awkward city.

I've also seen couples who seem to do nothing but drink together. Do you guys not have anything to talk about when you're sober? Do you even KNOW each other sober? So weird.
Delusional Love
I think anyone who has been to a third world country has seen this one. Here's my public service announcement:
Dear gross old gringo men with Honduran girlfriends 50 years younger than you – newsflash, they aren't with you for your stellar personality or your hot body. You're not helping anyone here by teaching them to sell themselves for food, money or a place to stay. Also, ew.
Sorry, but someone had to say it.
Roatan is a fun, strange and insular little place, and being in a relationship here can be a minefield or an amazing playground to explore with someone. It's all about how you approach it and cultivate it. Don't be scared to make a connection but use your brain.
And as for me? A lady never tells…

Guys, make sure to follow me on Facebook, Instagram and Twitter … there's lots of extras posted there that don't make it onto the blog. I also have Google+ if anyone even uses that? And I'm on Bloglovin', so you can follow me there too! Plus it makes me try to post more than once a month. So there's that.