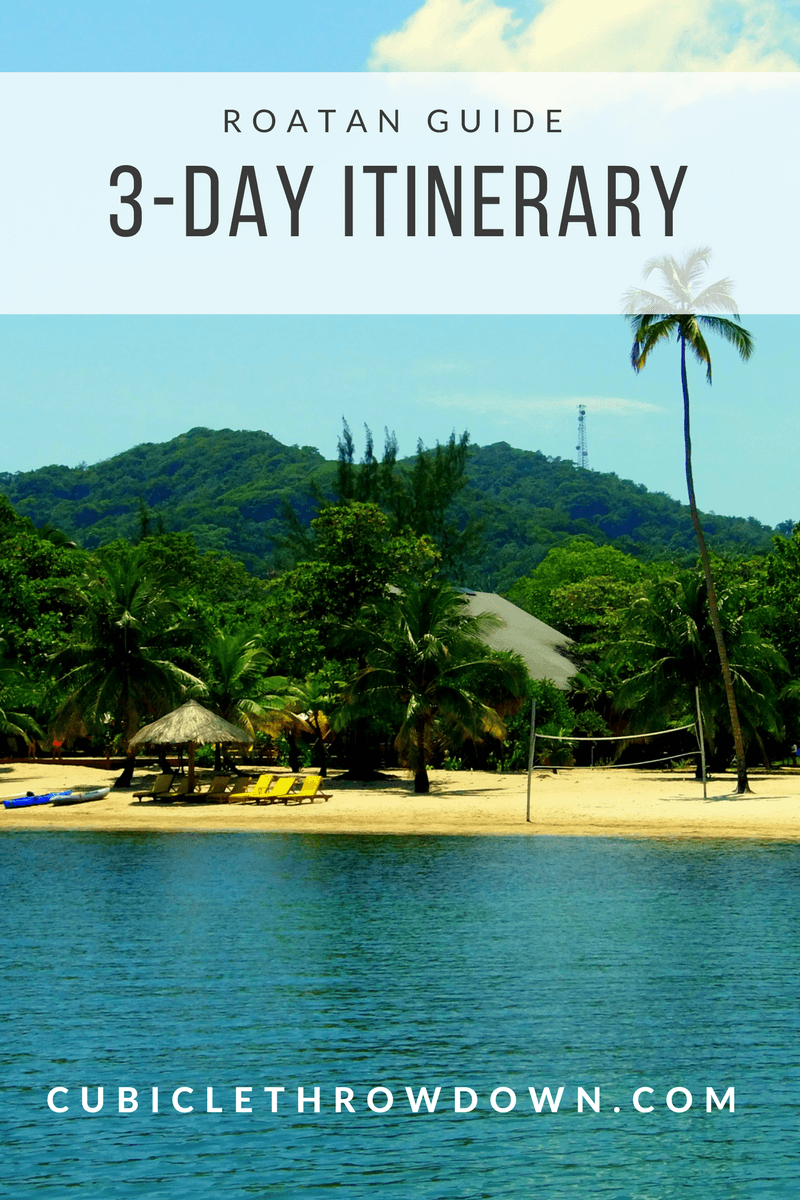 Three days is not a lot of time on Roatan, but you can still get to know the island! Most travelers come here for a week (many of the flight schedules to Roatan run on a weekly basis), but some independent travelers and those coming from close Central American and US cities do sometimes come for a long weekend.
(Only have one day [hi cruise shippers!]? Check out my 1-Day Itinerary here!)
(Have a whole week? Check out my Full Week Itinerary here!)
What can you do with three days on Roatan? Here's an idea of an itinerary to make the most out of it:
Day One
Get acclimatized and oriented with a private island tour by car. (Island tours by boat will not show you much of the island – the island is very narrow and long so it takes a long time to get anywhere by boat!) With a full day, you can go all the way from the western tip of the island to the east end. With a half day, you can do about half the island. Normally you can stop for snorkeling or suntanning on a beach, lunch at a local restaurant, mangrove tours, visiting the iguana farm and more. Your driver can also share history and information about the island, and you can ask all your burning questions so that you have the inside scoop for the rest of your trip.
Cost: anywhere from $50-75 for a half day to $80-120 for a full day, depending on the driver. Price is for the car, not per person.
Day Two
Time to see Roatan's most famous attraction: our beautiful coral reef!
For non-divers, you can do a 'try-dive' experience which takes a few hours and you'll get to do a real dive on the reef with an instructor. Other options are snorkeling, underwater scooters, or a glass bottom boat tour. Watersports like jetskis, standup paddleboards and kayaks are also readily available, although that doesn't let you see the amazing underwater world below.
For certified divers, sign up to do the two morning dives at the dive shop of your choice (if you have a limited time on the island, especially if it's in busy season, a reservation is a must!). Since you only have a couple days, you'll want to dive right in – so if it's been a year or more since your last dive, do your refresher course at your local dive shop before heading out on holiday so that you're prepared to jump right onto the fun diving boat. Watch your flight time out – you'll need 18-24 hours out of the water before flying.
Either way, spend the morning checking our our healthy reef and all the amazing creatures that live there. Make sure to follow all marine park rules (plus extras for snorkelers and divers) while out on the reef.
After you're done in the water, you've earned yourself a cocktail! Spend the afternoon beachside at Sundowners or chilling in the air conditioning with a burger at Dix Halfway Inn. Try Roatan's most famous drink – the Monkey Lala (check out the link, you might see someone familiar) – they are deceiving though, so stop after 3. Just trust me on that one. You could also do a little souvenir shopping during this time. Check out The Rusty Fish or the Shawn Jackson Gallery for gifts that are authentically Roatanean. (Insider tip: the trinkets at the touristy shops are all Guatemalan. Don't waste your money.)
If you like nightlife, your best bet is to walk the West End road from about 9pm onwards. Go into anything that looks busy and is playing music you like!
Day Three
It's your last day, but don't let that get you down. If the weather is nice, you can get your day going with a hike at Carambola Gardens to learn about the local flora and fauna, and get some incredible views along the way. Raining? No worries. Head over to Fresh Bakery and take a long, lazy morning with the best coffee and desserts on the island.
Get away from all the tourist traps by heading east. Parrot Tree Plantation or Big French Key are beautiful places to spend a day relaxing. I would avoid Big French Key on a cruise ship day though. Get completely off the island on a cruise ship day with a fishing trip (I highly recommend Captain Enrick on the Wahoo Slayer), or if you want to get even farther away, take a day trip to Cayos Cochinos on Ruthless Roatan. If you're a golfer, we have a reportedly tough championship Pete Dye course at Pristine Bay.
For dinner on your last night, you have to visit Roatan Oasis! This is the #1 restaurant on Roatan and my personal favorite. It's closed on weekends and reservations are recommended. Their menu is always changing and is up-to-date on their Facebook page, so check that out.
And there you have it! Three jam-packed fun days on the island. All suggestions and links are my genuine recommendations (at the time of publishing).
Which of my suggested activities would you like to try?
Guys, make sure to follow me on Facebook, Instagram and Twitter … there's lots of extras posted there that don't make it onto the blog. I also have Google+ if anyone even uses that? And I'm on Bloglovin', so you can follow me there too! Plus it makes me try to post more than once a month. So there's that.