Cubicle Throwdown turned one year old this week!


How can I even begin to recap the last year?


It's been a year since I first came to Roatan and learned to dive. It's been a year since I fell in love with this little island, and felt the pull of the 'Roatan Vortex'. It's been a year since I decided that life is short, and I'm not spending the best years of it sitting behind a desk doing something I don't enjoy.


I had no idea what I was doing when I set up my little corner of the internet and wrote my first post. I spent six months budgeting, working two full time jobs, selling everything I owned and chronicling the ups and downs I had on this site. I got asked a million times why I was doing this, so I finally came up with an answer to share with everyone. And then I got on a fucking plane and did it.


I arrived in Roatan for good last August with a suitcase full of dive gear, four months worth of living expenses, a deposit paid on my divemaster & instructor courses and still panicking if I was doing the right thing or not. I got right into it and started diving my face off and settling into life in West End. I learned that peacing out on 'real life' doesn't equate with 'everything is happy and fun 24/7' and had my fair share of fun and disappointment throughout the fall.


I became a dive instructor in October and I honestly think that's one of the most fulfilling things I've ever done in my life. I've never wanted something so bad or worked so hard for ANYTHING. This was the culmination of nearly a year of work and stress so that I could achieve this, and I still think it's pretty badass that I did it.


It's still crazy for me to believe I showed up here last August with 14 dives under my belt and a big dream. Now I teach people how to dive for a living and I'm about to crack the 300 dive mark. This might be small potatoes to some of those asshole holier-than-thou dive gurus but for me I think it's amazing. I love teaching people how to dive and watching them improve. Seeing people's faces the first time I take them out in open water never, ever gets old. Some people are naturals and some people struggle. I've had 10 year old kids who plow through everything with absolutely no fear, who go balls to the wall and make me think they were a fish in their past life. I've had adults panic and physically shake with terror the first time they get in the water (I still feel so bad for them every time I see that happen!). I have had to be creative, adaptable, patient and understanding with those who don't 'get' it and have a hard time. I have had students that have humbled me in ways I can't explain. I had a 50 year old lady last week who for the life of her just could not get all the steps in the right order to do the mask clearing skill….but we worked and worked and she never gave up and got it in the end. I was so proud, not that she could clear a mask but that she kept trying over and over until she got it. Some people just give up and decide it's not for them. And yesterday I took an older guy out for his first dive and he was speechless and nearly in tears when we came up…he said it was the most amazing experience of his life and that he would never forget me guiding him through it. Yep, I barely held it together guys. Barely. Moments like that make me instantly forget lugging tanks, setting up and breaking down tons of gear 3 times a day, having sand in my wetsuit, dealing with the inevitable dive shop drama and all the damn paperwork.








While I sometimes felt like I couldn't successfully navigate the twists and turns of life on a little island, I had my job, my house, enough money to live and was finally living out the dream that grew from a holiday here a year ago.


The end of December and January brought the adventure of a lifetime when I got the opportunity to travel through the Caribbean on a megayacht and dive with the owners. It was insane and I don't regret it for a second, and I'm sure I never will. After the trip I ended up sort of stuck in south Florida for awhile, so I took my yacht crew courses while I was waiting and debated taking work on a boat rather than going back to Roatan. In the end, the vortex pulled me back. I was homesick for here, and I got on a plane in February and came home.


And now I'm back. It's been a year of awesome and I'm happy. I live on a Caribbean island, I work as a dive instructor, I wear flip flops and a bikini as a uniform and I play under the sea all day. I don't know what's coming next, but for now, this is pretty damn good. Our dive shop just opened a second location and I'm working out of there now…here is the view from where I just wrote this post: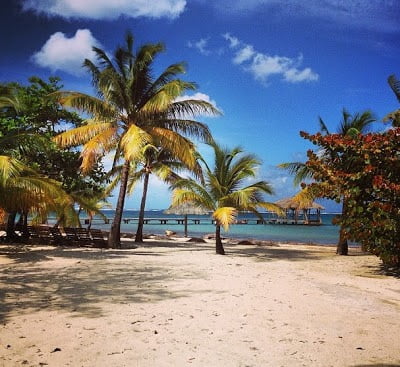 I'm going to keep pushing this adventure wherever it takes me. But in a year so far, I think I've done pretty well. And I love that I have Cubicle Throwdown to not only chronicle the journey for myself, but to help other people do what they want to do as well. I have had comments and emails from people all over the world telling me that I'm inspiring them to do their own cubicle throwdown, and that makes me feel amazing! If you want to do this, you totally can too. Anyone can start over (here's some things to keep in mind if you do).


And thank you, thank you, thank you to all my readers. This blog has grown from a boring little blogspot that had five page views a day (which dropped to 2 when I figured out how to turn off tracking my own views) and self-censored posts to keep advertisers happy, to something that is 100% me in both look and content with no advertising (anyone know advertisers that are okay with my potty mouth?) and now generates hundreds & hundreds of views a day. I still can't believe so many people want to read what I'm putting out there, but the love I get online is unbelievable and the blogger community I've gotten myself into has been supportive and wonderful. I can't wait to have this site get even bigger and better and help more people escapt the cubicle. When you put good things out into the universe, you get good things back. Gracias amigos!!