It's been a hot minute since I've done a roundup post (the last one was my mega-end-of-2016-roundup), so this time is a 2-for-1 deal! Here's the lowdown on my January and February 2017:
What I've been doing since the last roundup
Well, besides getting the overhaul of this site going and slogging through all that is a website/branding relaunch… I did all of this:
five days in Seoul, South Korea for New Years
another weekend trip to Osaka (I went last December too!)
went on a day trip to the next-door prefecture of Kagawa to trek 1368 steps up to the famous Konpira Shrine
took a full-day tour of my prefecture, Tokushima, to give feedback to the tourism association
rode the train to Okayama prefecture for a weekend trip to attend the Hadaka Matsuri (Naked Man Festival)
Not bad for just two months! You can expect recaps of all of these in upcoming posts. Oh, and I also taught English to kids at school every day, taught English conversation classes at night sometimes to elementary school teachers and the local community, and read English books to kids at the library. I'm getting sick of English!
I also celebrated my 32nd birthday in February! While it was very different than some of my ~extravagant~ Roatan birthdays (remember when I threw myself a "Dirty Thirty" party with a full pig roast, pinata and reef-themed birthday cake for 60 guests two years ago?), it was still full of so much kindness that I spent about a whole week with a permanent smile.
My Most-liked Instagram Photo
January 2017: me at Konpira Shrine in Kagawa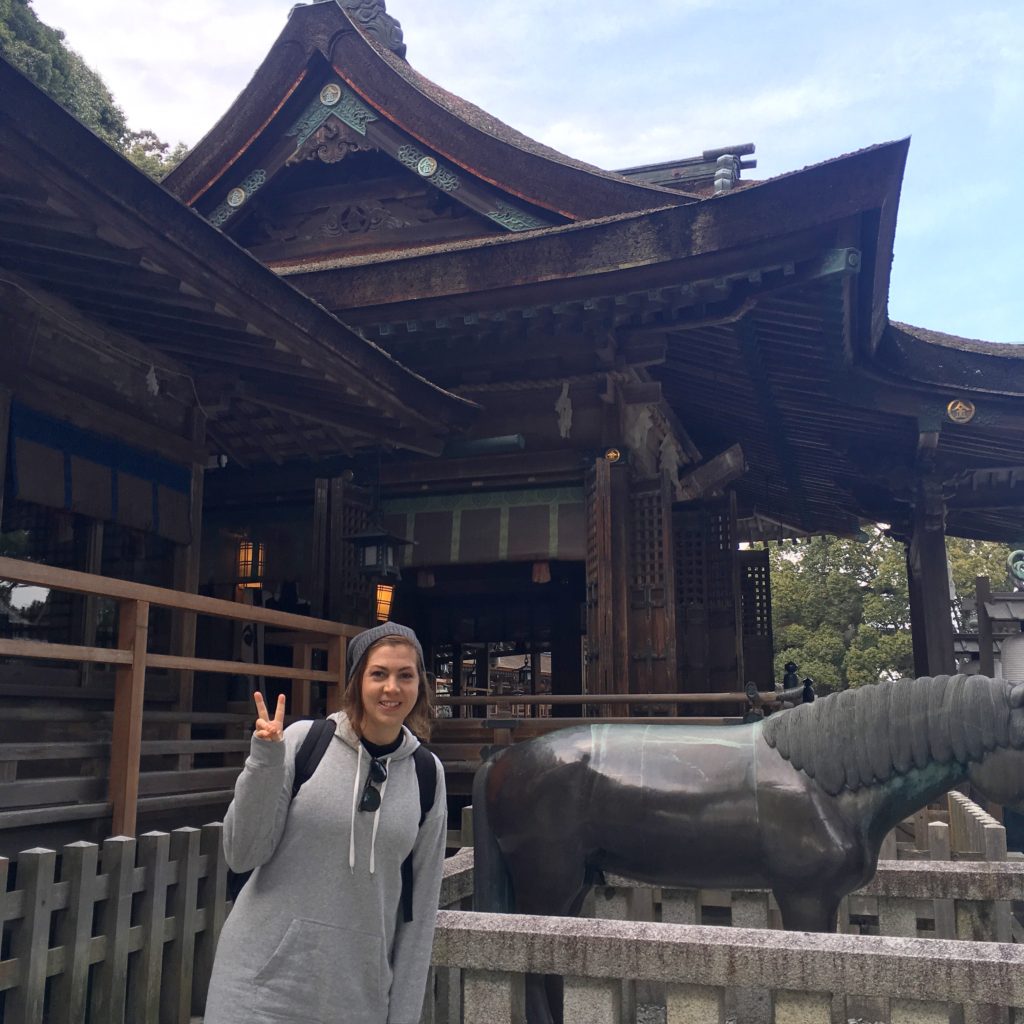 February 2017: Starbucks Japan limited edition Sakura Blossom Cream Latte, with matching pink nails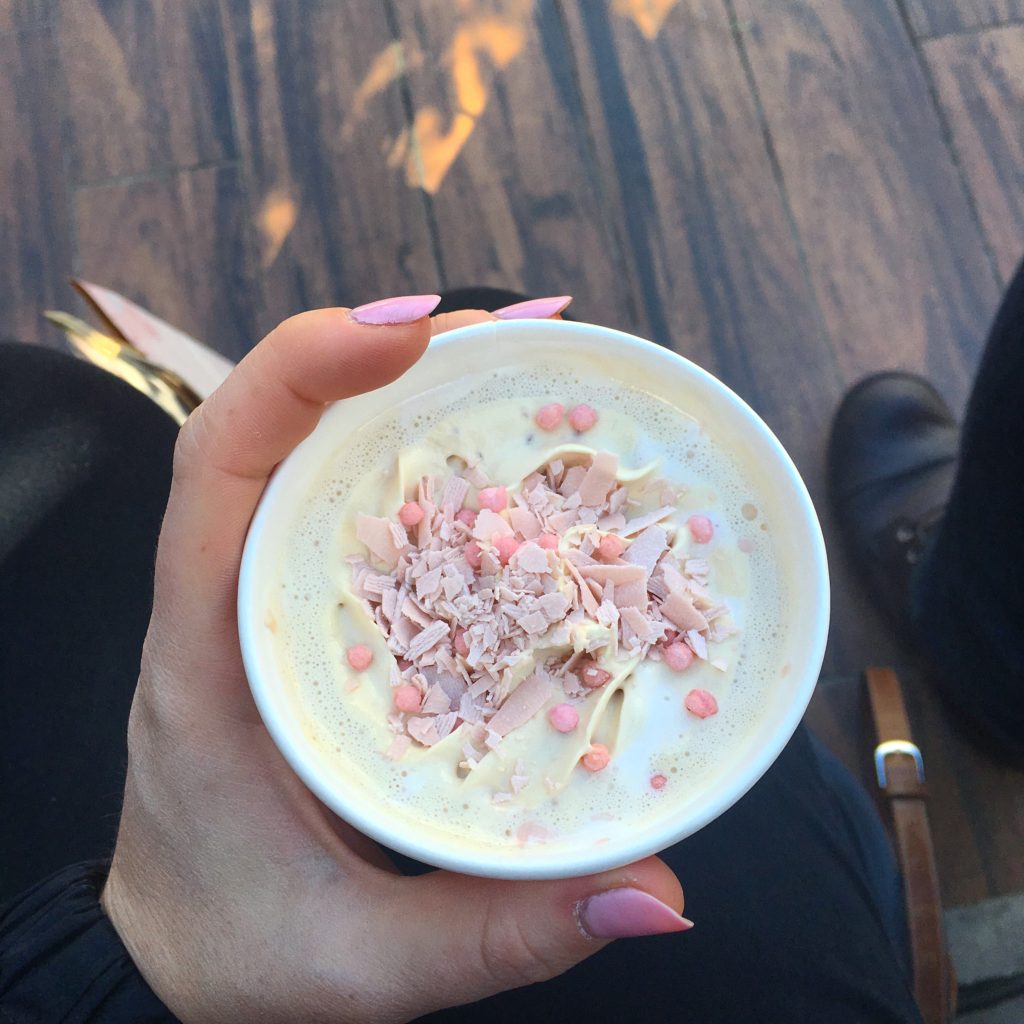 I'm still trying to find my groove with what I want the general theme of my Instagram photos to be, but I've been getting lots of positive feedback lately. I'm still one of those people rocking it old-school on Insta, and only using pics from my iPhone SE which has some pros (genuineness? holding a candle to the original concept of the app?) and cons (lots of my photos look like garbage?). However, I just ordered a brand new camera so I'm hoping to have some better quality photos coming soon. Or who knows, maybe I'm just a crappy photographer!
My regular Instagram side note: my personal policy is that Instagram is a give and take platform. My profile is private and if you don't have any photos on yours or you're selling crap, I won't accept your request! There's just too many scam/spam profiles out there, so I don't accept anyone who doesn't look like a legit user.
In Case You Missed It
There's no posts from the last two months, but I hope you're enjoying the new site! Expect this section to be much fuller next month.
One Second Every Day
I use the 1 Second Everyday app to quickly chronicle my time here in Japan by taking a one second video every day. At the end of each month the app puts it together, and you end up with a 30-second video each month. It's cool because it shows what I'm actually doing each day, not just all the highlights of super fun stuff once in a while that end up on social media. (Not sponsored! I just like this app!)
Coming Up
The end of the school year is here! In Japan the school year starts in April and runs until the end of March. Which means I have two weeks off… and…
At the end of this week, I'm off to the Philippines! I'm headed to the island of Coron for 8 days with two of my favorite ladies that I know from wayyyy back in the day in Roatan. One was my neighbor for almost a year, and one was my roommate and did my dive instructor course with me. I've been friends with both of them for almost five years. I'm so excited to see them and get back underwater again! The last time I went diving was April 2016 when I left Roatan. IT'S TIME!
I have a brand new camera (a Canon G9x) and underwater housing (the matching Fantasea case) that I ordered for this trip. I'm really looking forward to exploring underwater photography a little more! I have taken some photos on dives before, but not with a decent camera and I don't know all the tricks. Tell me any tips you have in the comments! Photos below are Amazon links for the housing and camera. (Heads up: they're affiliate links, which you can use to shop at no extra cost to you and I receive a small commission.)
I'm also hoping to have some better quality photos for this site with my new camera. I'm not ready for DLSR territory yet, but it's a super-portable nice compact camera and definitely a step up from my iPhone.
So, that's it for this roundup! You can see all my monthly roundups here. How has 2017 been treating you so far?
Want more Cubicle Throwdown in your life? Of course you do, you rockstar. You can follow me on Facebook, Twitter, Instagram, G+ and Pinterest, if you like. You can also add me to your Bloglovin' feed, or email me! If social media is not your jam and you just want my posts straight to your inbox, check out the sidebar and put your email address in the "Never Miss A Post" box. No newsletters or spam, just my posts – scouts honor. xo!