I'm back in Vancouver, BC and making the most of my last week and a bit in Canada. Today I hit up the 2nd Annual Vancouver Food Cart Fest (are you surprised I went to something all about food?) which was a great way to spend a Sunday. For anyone looking for something to do on a Sunday afternoon in the summer, go check this out.


It's located between the Cambie Street Bridge and Olympic Village, over at 215 West 1st Avenue. My friend and I walked over from Commercial Drive, but it's not a bad walk from the Main Street Skytrain station and there's lots of buses that go near there if you're on transit.


There is a $2 admission fee to get in, but it's not very well organized and you don't get a stamp or anything after you pay and you just walk by a couple guys with counting clickers. We paid and didn't realize this until after. Normally I would encourage everyone to be honest and pay anyway even though I think you could probably just sidle on by… but the food truck food is so overpriced that I think it's justified to skip the $2 if you can't afford it. Just don't be a jerk and make a mess or use the portapotties if you don't pay.


Onto the food!!


One of my best friends and my partner in crime for the day, Adrienne, and I made one lap of the 15-20 carts before deciding that we were having dessert first and stepped right up to brown paper packages, a gourmet ice-cream sandwich stall.








We shelled out $5 for this bad boy:






We also invested in a hibiscus limeade from the World of Drinks stand (which we initially read as "World of Drunks" so immediately headed that way… imagine our surprise.) Cold drink in hand, we made another lap to try to decide what we wanted to eat.




Had a look at some uplifting graffiti…


Found dudes serving with Hello Kitty glasses on (for those who don't yet know, I fucking love Hello Kitty):






Adrienne eventually settled on a BC salmon sandwich from Kaboom Box which I missed a photo of because I was waiting in line at Mangal Kiss for a lamb kebab. Unfortunately after waiting in line for 10 minutes I found out they were out. (Thanks for the heads up guys.) I headed over to Soho Road and ordered a lamb naan kebab there for $9.






I didn't have to wait in line to order, but it took them almost 15 minutes to turn out this:




It was delicious, but pretty small. Not worth $9 and definitely not worth a 15 minute wait. But we were at the food cart fest, so when in Rome…


While we were eating we found these two wandering around helping everyone in the heat:






We decided our little sandwiches didn't cut it, and took off in search of some sweet potato fries we saw everyone with. Finally we ended up at Feastro, where we feasted on these for $4.75:


why yes, we did take the exact same photo of each other.
But we decided we'd spent enough and eaten enough. However, The Pie Hole still wins for best name at Food Cart Fest.


We took in some views off the seawall and called it a day.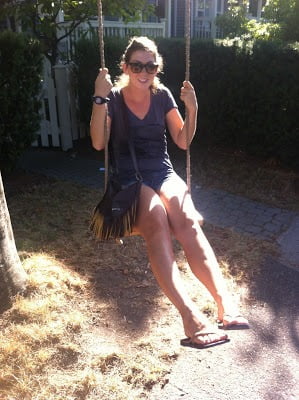 because why wouldn't you go on a swing you found on your walk home?




FINAL VERDICT: The Vancouver Food Cart Fest is a decent way to cure a Sunday hangover. Good tunes, good eats, good location, good people watching. A little pricey for those on a budget – I spent $19.95 including the $2 admission, my lamb kebab, and half of the ice cream sandwich, hibiscus limeade, sweet potato fries and watermelon lemonade. I could have definitely got lunch for cheaper, but it was a fun afternoon with my amiga and a nice treat. The Vancouver Food Cart Fest runs on Sundays in the summer from noon to 5pm… go early. You'll have to battle the lines, but won't risk the disappointment of the carts running out of your fave dish.


(Special thanks to Adrienne for some of the photos above. Also for putting up with me stopping 15 times on the way home to pick blackberries.)